How do I remove the background from a batch of pictures?
Are you into a graphic designing career, or do you very frequently get the task of batch background removal from the images? Then there must be one of the questions in your mind: how do I bulk delete backgrounds? The removal of background from the photos has been made easier with the online and desktop tools available these days. We have created a detailed list for you. Interested in learning more about these tools? Continue reading the article.
Part 1: The Best 10 Online Photo Editor Change Background Color to White
FocoClipping is one of the most efficient tools to help you remove background from image in bulk more quickly. It is an online tool that helps in bulk image background removal in minutes. The tool offers precise recognition of portrait, product, and graphic photos that make it best for business professionals and for someone who is in graphics industry. Here are the features of FocoClipping that makes this online tool exceptional for you to delete the background from the photos. See how its features make it easier for you to make a choice.
Features of using FocoClipping to Remove Background in Bulk
FocoClpping helps in removing the background of 30 photos at once.
Offers professional editor for complete image processing.
You can avail preset cropping size for your images if you are doing it for e-commerce platform.
A great time-saver, downloads images in one click.
1 click to download batch photos in customized files.
How to Remove Background in Bulk by FocoClipping
Here are step by step instructions to remove the background in bulk by FocoClipping. Get started today!
Step 1 : Visit the FocoClipping website and it neat and clean window will ask you to drop or upload a file on it. Simply click "Upload Images" button and add the images you want. You can choose up to 30 images at a time.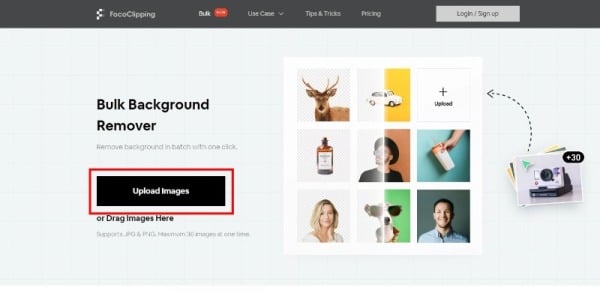 Step 2 : Now, the images will be shown on a window as you can see in the image below. Click on "Start" to begin the process of background removal.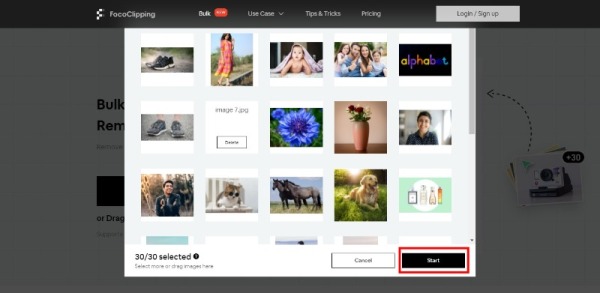 Step 3 :You can now see that the images are uploaded on the screen and the background has been removed automatically. The "Download All" button is located in the top-right corner of your screen.
Step 4 :By clicking it, you get two different types of image format choices: PNG and JPG, which are the most popular and useful. Choose one and click "Download". You will now get your images with removed background.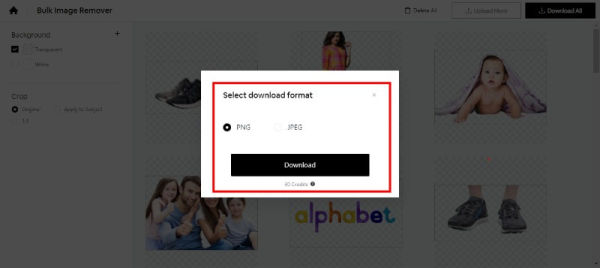 Part 2: Other 4 Online Batch Background Removal Review
You can find a wide range of tools for removing image bulk backgrounds. Some are free and easy to use online sites, but not all of them give you a great experience. We've compiled a list of the best 9 batch background removal tools along with their features, pros, and cons to help you decide on the best one to remove the background from images in bulk online.
Price:$7.99/month
Pixlr lets you remove the background from photos with its easy-to-understand functions and user-friendly interface. Furthermore, the tool has a batch mode, which allows you to remove the background in bulk. Within minutes of launching the online tool, you can drag and drop multiple images.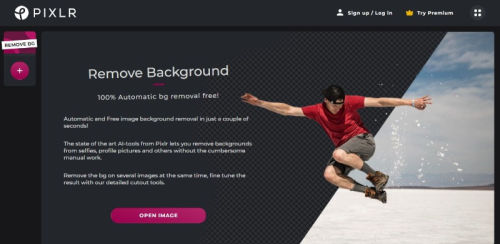 Pros:
A simple way to remove background images.
No limitation on size
It offers better performance.
Cons:
Price: $2.24/month
Another tool that helps you remove background in bulkonline is Clipping Magic. It is another tool that allows you to make your job easier. Using this tool, users can upload many photos at once. After uploading your photos, the online tool will enable you to track the progress of the pictures whose backgrounds are automatically removed. Furthermore, you can also add more files while the process is ongoing. With this tool, you will be able to edit continuously with long intervals as little as a few seconds.
Pricing:It is possible to download free small-size images from Clipping Magic. Full-size downloads start at $2.24/month for 15 credits or more.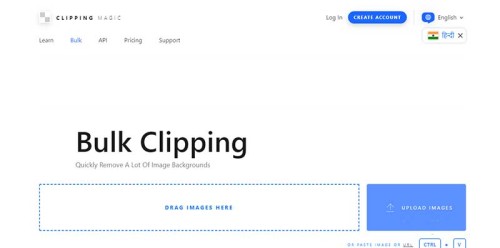 Pros:
The auto-clipping AI is used.
You can make smart edits such as keeping, removing and editing hair with it.
Clips large catalogs with ease.
Cons
Watermarks will be displayed on saved photos.
Quality may vary
You need to subscribe to avail bulk feature
Price: Different plans start at $9 per month.
Dropspace is also among the best batch photo background remover tool available. It allows you to do the bulk edit up to 100 photos per upload. With the help of batch background remover, a user can simply turn out the background to be white and transparent at their convenience. This is a tool with five additional features along with image enhancement and correction. For every site, the image can be optimized and exported in the format the user requires.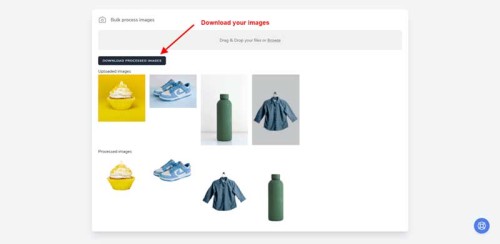 Pros:
Easy to use.
Unlimited storage and backup.
Auto image enhancement.
Budget-friendly option.
Optimisation of the image.
New background can be added.
Cons:
With the free version, only 40 images can be processed.
Price: $18.99 monthly pro plan; $49.99 Pay as you go plan
Pixcut also hits in the category of best online tools to remove background from the image in bulk. A user just needs to upload the image, and it will automatically remove the background. The result can be downloaded in any of the formats as required. Also, the best part is there will be no need for them to seek any technical help in order to use this tool.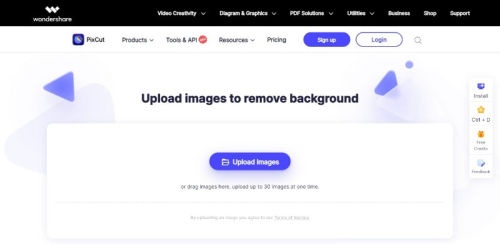 Pros:
Easy to use.
Remove the watermark from the image.
Enlarges the image.
Simple to use.
Artificial intelligence is used with the tool.
Cons:
Some users consider it an expensive option.
Part 3: 5 Desktop Batch Background Removal Review
Price: $0.07/image
It is possible to remove backgrounds from multiple images using Removal.ai, a desktop tool. It also offers its online tool where you can edit and remove photo backgrounds easily. But that is only for one image at a time. Its desktop version makes it possible to save time since it can conduct bulk processes. Adding photos and waiting seconds to get high-resolution results is all that is required.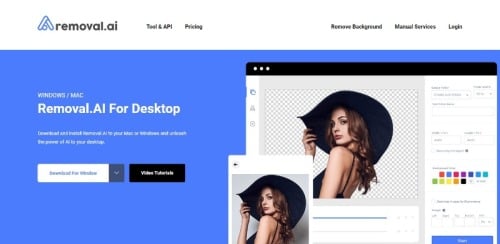 Pros:
Instantly remove image backgrounds.
It is possible to process 1000 images or less in an hour.
Compatible with nearly all photo formats.
Cons:
Results may not always be precise.
You may get disappointed due to the download quality.
Sometimes this online tool works too slow.
Price: $0.14 per image
This bulk image background remover tool helps you remove the background from your product photos so that the same image can be used repeatedly while still creating new material. The Slazzer bulk background remover makes your images more compelling by bulk-chopping the background with just one click. For example, when making a greeting card or taking a photo, removing the background will enable you to reuse the same image repeatedly!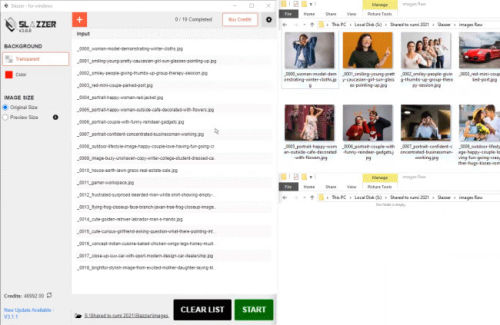 Pros:
Makes the user experience exceptional.
Easily helps you remove background for thousands of images.
Save time, effort, and money.
Cons:
You may experience that this tool is sometimes glitchy.
Price: $29.99/1000 credits
Photoscissors is one of the popular names to remove background. It is compatible with Windows and Mac systems. Users can add multiple images and process them at the same time. It is totally on the user whether they wish to remove the background or wish to keep it transparent colored, or choose any design template. The images can be optimized for any E-Commerce site and other businesses.
Pros:
The free version is available
Output size option can be chosen
Optimization of the images can be done
Cons:
The user needs to purchase the credits for batch removal
With the free version, only single image background can be removed.
Price: Annual Plan $39.99/year; Perpetual Plan $79.99/Year
Wondershare UniConverter is the best software when the user wishes to remove the background from multiple images at once. It comes up with an innovative interface and does not cause any problems. This tool supports multiple formats, which simply means there will be no need for you to convert the image before removing the background. The background of the image will turn out to be transparent just with a few clicks.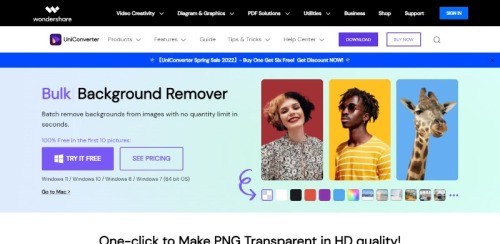 Pros:
Compatible with Windows and Mac.
Removal of background from bulk images is quick and easy.
Additional editing features are integrated into the tool.
Artificial intelligence is used to remove the background and make it transparent.
Cons:
It is an expensive option.
Not supported with Linux System.
Price: $0.099 / credit plan; $0.499 / credit Pay as you go plan
Cutout.pro is among the best automatic online background remover and editors available for users around. When it comes to bulk removing, its desktop version can help you. It helps you to remove all the unwanted objects from the background. Even if you wish to make the background transparent in a video, the same can be done easily. It has an AI portrait enhancer that research and d blur the face. Overall enhancement of the image will be done with these effective tools.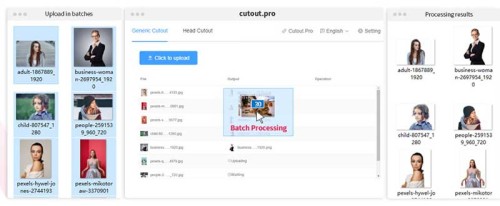 Pros:
Color correction is featured.
Make the background blur.
The screen and webcam recorder options are there.
Free images and search images are available.
Users can use the photo anime option.
Cons:
Some users find it difficult to use.
Conclusion:
Now the most important question arises: which tool should you utilize for bulk background removalfrom images? Well, we highly recommend FocoClipping, but we leave the final decision on you. It's quite sure that having read this article, you have got the answer for one of the concerns at the initial stage How do I bulk delete backgrounds. Anyways, in the above article, in the light of everything we have covered so far, any user reading this has every reason to give this tool a try. You might find that this is the tool you have been looking for!