How can I change my background color?
The most common photo editing required by photographers is changing or removing the background of an image. In this article, we have listed the top 10 free background color changer online tools and mobile apps. We hope some of them work for you!
Part 1: Top 5 Online Background Color Changer Recommendations
As mentioned above, we are going to provide you with the top 5 online image background color changer tools available for free:
FocoClipping
One of the best solutions for free online photo background color changers is FocoClipping. The best part about this tool is that it supports batch image background removal. And it can remove backgrounds for portraits, products, and graphics that many background photo color changers can't easily remove.
Key Features of FocoClipping Background Color Changer:
FocoClipping comes with multiple features that allow you to get the best images. Here are some of its main features:
With its advanced AI algorithm, FocoClipping removes background in less than 3 seconds.
It also offers a variety of background-changing options, from solid colors to preset background templates even customized backgrounds.
It can add a background to the image with only one click.
It has many adjustment options for better precision in your images.
You can also change the background in bulk with the bulk remover function.
The steps to using this free online photo background color changer to change the background color are as follows:
Step 1: Get the Image Imported
First, click the "Upload image" button. Choose the image you want to change the color of in the browser window that opens.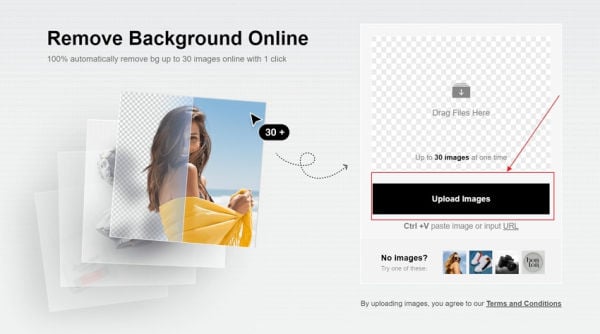 Step 2: Intelligent Background Removal
Once the image is uploaded, the tool will automatically remove the background.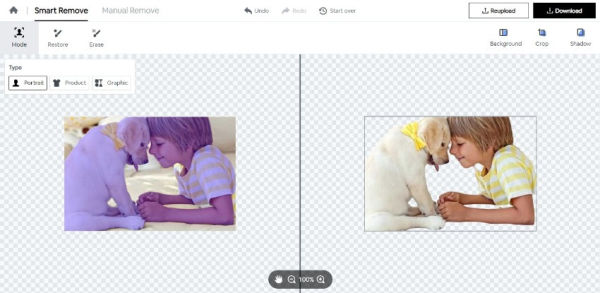 Step 3: Change the Background Color
Now, head to the "Background" option as you can see in the following image. A lot of background color options will be available here. Simply select the one you need to change.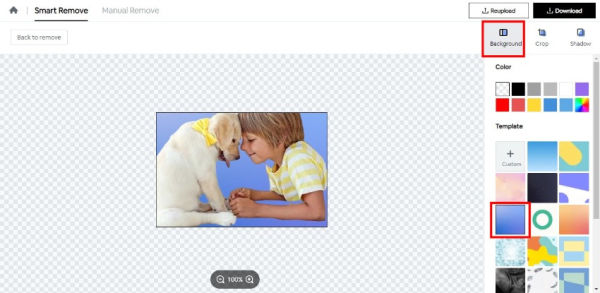 Step 4: Download the Image
Finally, click "Download." A pop-up will appear and provide you with two choices of "Full Resolution" and "Standard Quality". Select the one you need and click "Download" to download your image.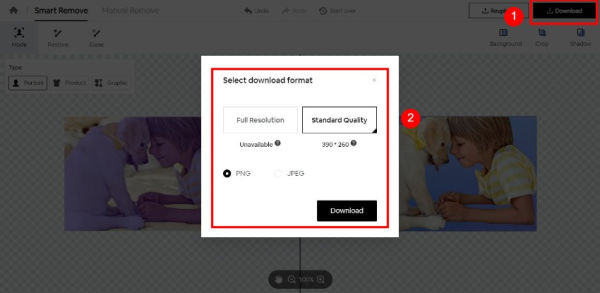 Removing backgrounds from an image can be an annoying task as it takes a lot of time if the user is using professional software. To make this task easy, cutout.pro introduced an online background photo color changer tool that is able to remove and change the background automatically in just 5 seconds.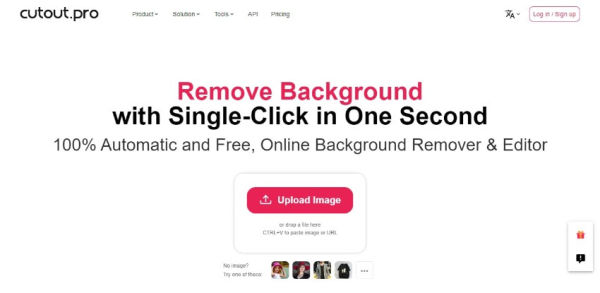 The 3 pros of this tool are:
It works great for various scenarios.
It provides quick service.
It has many cutout tools.
The 3 cons of this tool are:
You get only 1 credit with the free version. A subscription is required if you need more.
It appears to have some bugs.
Users may find it boring.
Changing the background color of an image is a great technique to make your photo look better. Another free background color changer you can use in the list is Fotor. This app comes with great features to help you change the background color of your photo.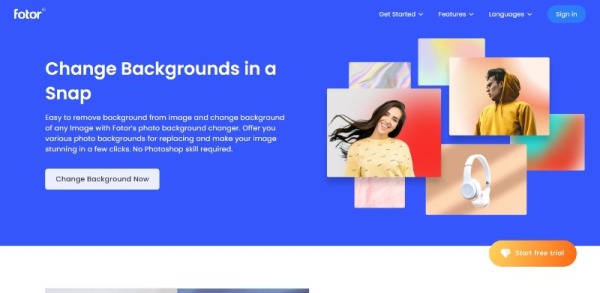 The 3 pros of this tool are:
It provides a great experience using it.
It has many options of photos to remove the background of, from simple to complex.
You don't need any experience or skill to use it.
The 3 cons of this tool are:
The AI of this tool works a bit slowly.
The free version of this tool lacks some features.
It appears to have some bugs which interrupt you while using this tool.
The AI of this tool can do is delete the background image and select a new background to change automatically, so users can save a lot of time by doing it by themselves in Photoshop.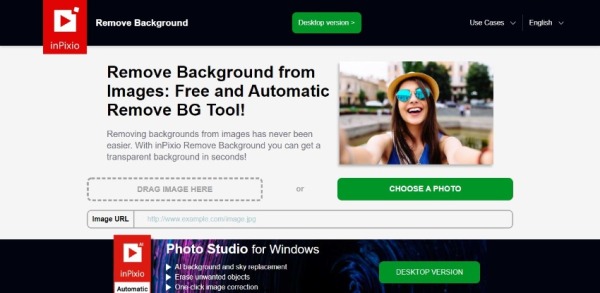 The 3 pros of this tool are:
AI technology is being used by this tool.
It is time-saving to remove the background on it.
It is easy to navigate for users.
The 3 cons of this tool are:
The UI design of this tool is not attractive.
Bugs and glitches are a big issue for this tool.
It does not include other useful features.
The online background remover of this tool instantly detects the subject and gives a smooth and clear cutout automatically. The AI of this tool is capable of handling hair or any other complex edges, which saves a considerable amount of time.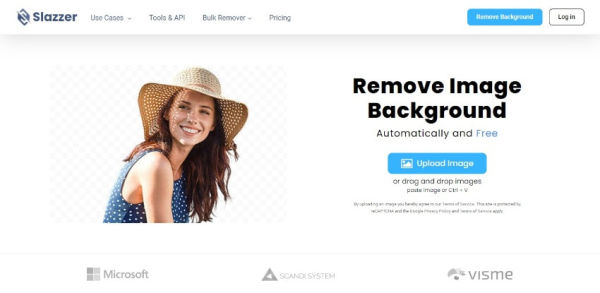 The 3 pros of this tool are:
It is fast-processing and very easy to use.
It uses AI technology for better results.
This tool is free to use.
The 3 cons of this app are:
Many features are unavailable in this tool.
This tool works slowly because of bugs and glitches.
The results from this tool may not be accurate.
Part 2: Reviews of the Top 5 Mobile Background Color Changers
The majority of users now are actually using mobile phones rather than computers to edit photos, so it is common for users to use their phones for editing. Here are some background color changer apps for mobile phones.
The top five mobile background color changer apps are:
LightX
It is a well-organized photo background color changer app that offers various editing functions for free. It has an accurate background eraser. This light app makes it easy to change the background image once its background is removed.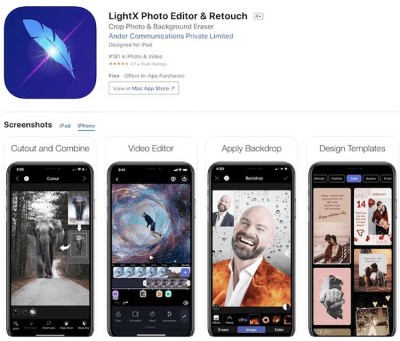 The 3 pros of this app are:
This app is well-organized and very easy to use.
It can perform multiple functions.
The brushes of this app are very easy to control.
The 3 cons of this app are:
The photos can't be moved after they have been edited in this app.
It has large brushes that can't be used for tiny details.
It is kind of hard for the users to understand how to use this properly.
Adobe Photoshop Express:
Adobe Photoshop Express is also on the list of the top five mobile background color-changing apps. It is an excellent app for removing the image's background because the user only needs to upload the image and click the "Cut Out" option from the bottom toolbar to do it.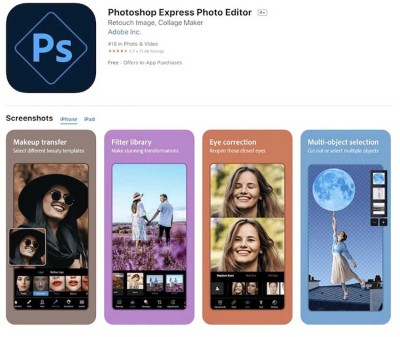 The 3 pros of the app are:
This is an all-in-one editing app.
It is processed quickly and accurately.
It can be used on Android and iOS.
The 3 cons of this app are:
It is free to use only if the user has an Adobe account.
It can be confusing for users to navigate.
Many useful features of this app are only available after you pay.
Superimpose:
It is a powerful app, and it can help the user change to a simple background.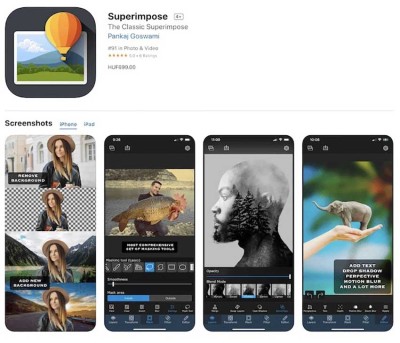 The 3 Pros of the app are:
It offers advanced tools for users to adjust the picture's exposure and saturation.
This app is straightforward to use.
It is very good at performing simple editing features.
The 3 Cons of the app are:
The Android version of this tool includes some bugs that make it very slow.
There are many glitches in the iOS version of this app.
The app lacks some useful features.
Apowersoft: Background Eraser
This background color changer app uses AI technology to make accurate background removal.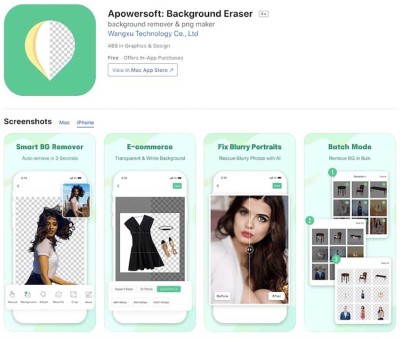 The 3 pros of this app are:
It uses AI technology that makes its editing really accurate.
It is really quick to make batch edits.
It allows users to change the color and remove the background for multiple images simultaneously.
The 3 cons of this app are:
The subscriptions for this app are really expensive.
It can be confusing when placing the background.
It appears to have some bugs and glitches.
Facetune:
The Facetune app has some advanced tools you can use, but sometimes it can be boring.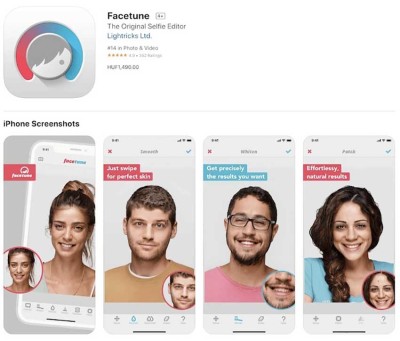 The 3 pros of this app are:
Every tool in this app includes a mini tutorial for you to use it.
The interaction of functions is simple.
It is available on some older versions of IOS.
The 3 cons of this app are:
It is expensive.
It does not include many functions.
The iOS version of this tool is better than the Android version.
Part 3: Q & A of Using Online or Mobile Background Color Changer
What are transparent backgrounds for?
A transparent background in an image is important. A transparent background makes your image look unique as it highlights the main image or object.
Can I make the image background transparent in Android?
Yes, there are numerous Android apps available to remove the background. You can use them to make your image's background transparent.
What is the difference between a white background and a transparent background?
If your image has a white background, it basically has a solid color. So, when you put this image on a website, the background of the website cannot be seen. However, if your photo has a transparent background, the website background can be seen behind your image.
Is Photoshop ideal for changing the background color?
Photoshop is ideal for doing that, but not for beginners. If you are familiar with working with Photoshop, then you can use this software. Otherwise, it is a bit complicated.
What to keep in mind while using an online background color changer?
While using an online background color changer, make sure the online tool is using great AI technology and has enough background color options.
Conclusion
At the end of the article, we assume that you've had a fair knowledge of how to use a photo background color changer online for free and the top 10 platforms that can help you do that. If you still can't figure out which one to use, we recommend you try FocoClipping, since it is the best tool to get your image's color changed in seconds. Its AI algorithm works far better than many of the online tools available. So, go try it.