How can I change my photo's background online?
Taking a picture is easy, but what you do after is really important. Those eye-catching pictures are the ones that had amazing backgrounds. Choosing the right background for your photos can be a great way to make your pictures more appealing. If you are struggling to choose the right background, we've got you.
In this article, we provided some of the best online photo editors to change backgrounds for your images with minimal skills. You can edit it by simply clicking images, changing the background, and uploading. Not all the sites mentioned may have the same options, but you can also opt to use them interchangeably, whichever serves your purpose.
Part 1: Basic Knowledge of Online Photo Editors
Market Background
The demand for content is so high that you need an easier and much faster way to produce eye-catching images. Online image editing tools are some of the best ways to edit or change image backgrounds for free. With that, you can easily make images attract more people to view your website or blog.
Features
There are more than plenty of features that you can explore when you are going through this list of online photo editor-free change background tools. Each feature may be common amongst these apps but they are there for different purposes. The most useful tool among these apps would be the transparent background tool which allows you to change the background color of your image or adjust the transparency. There are of course plenty option of tools to help you edit your images like the selection, layers, size alteration, histogram, and cropping for your images.
Why changes the background
Removing the background of an image is the most common editing operation which most photographers have to do immediately after they finish taking their photos. Here are some of the reasons why background removal is important
Removing Distractions:

Most professional photographers prefer to choose a studio setup in order to avoid multiple distractions causing editing crashes for their photos. However, such a setup is not always available to many entrepreneurs who want to publish their work online. This is where background removal works are charming in creating stunning photographs.

Less Stress on the Eyes:

The images you click can be either amazing or harmful to your viewer's eyes depending on their quality. Too many elements can make viewers feel uncomfortable while viewing your product. This is why changing the background to something softer for the eyes is a wise decision.

Focus where you want them to:

The primary goal of any entrepreneur is to direct their customer's attention to their products so that they can be attracted to hit the "Buy". Needless to say, the best way would be to remove all ornamentations that may distract the viewer's focus.

Eye Candy:

When you scroll through your feed, what do you notice? An image that appeals to you! That is because the photographers behind those images have worked hard to create an attractive photo that was able to take those precious few seconds out from your scrolling. By editing your background, your pictures can do that as well.
Part 2: Top 15 Online Photo Editor to Change Background in 2022
There are tons of online tools you can try out for editing your photos and each of these tools have different features to offer. However, not all online photo editors are the same, some photo editors might be slightly better than most of them. However, you should still try each of these to find the perfect online photo editor to change the background color.
Edit the background out of any image, FocoClipping is a super easy, user-friendly online tool that helps you to make your images look amazing. It is completely free to use and is so simple that only takes three basic steps.
Features:
Highly functional manual background removal tool.
Next Generation features like Multi-Face identification, and AI Gesture Recognition.
Castaway shadows in your images with ease.
Enhance image quality and fine-tune the edges with the selection tool.
Add watermarks, logo designs, and cartoon graphics to your image easily.
Background Removal Guide
Step 1: First, visit the website and upload an image by clicking the "Upload" button or simply by dragging the image into the tool.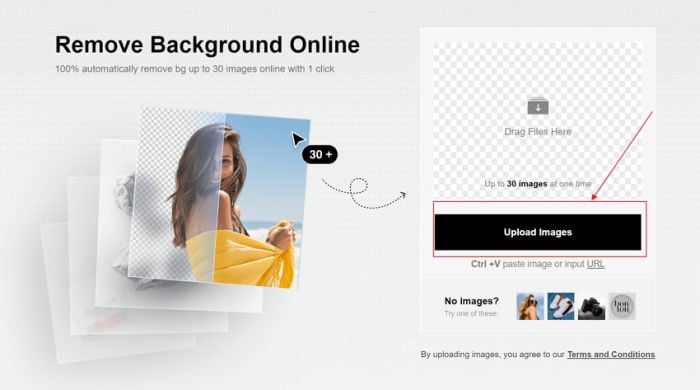 Step 2: Now, you will be redirected to the "Smart Remove" screen where the picture background will be removed by the AI automatically.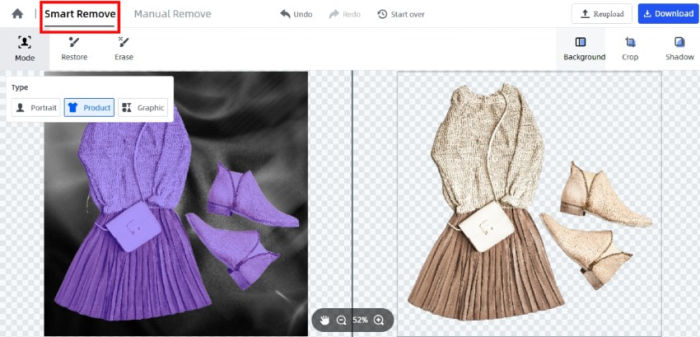 Step 3: Finally, select the type of background options you wish to add from the "Background" option.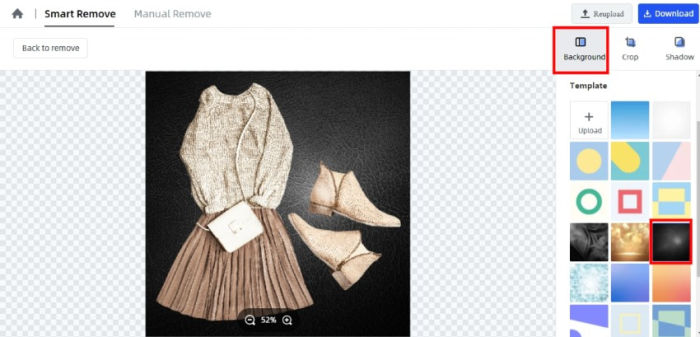 Step 4: Lastly, when you are done with the background change, make sure to click the "Download" button at the top right corner. Then, choose the format and your result image will be downloaded to your device.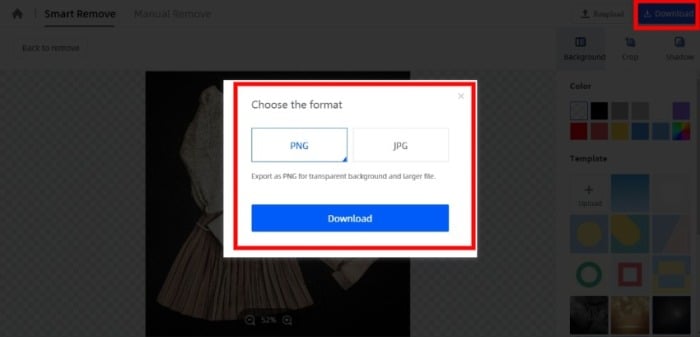 Colorcinch comes with an intelligent background remover tool powered by AI. With just a click away, you'll get your new image with a transparent background. You can then easily add a solid color or choose from its library of stock photos and make it your new image background. It comes with essential editing features that let you enhance your photos and turn them into personalized artwork.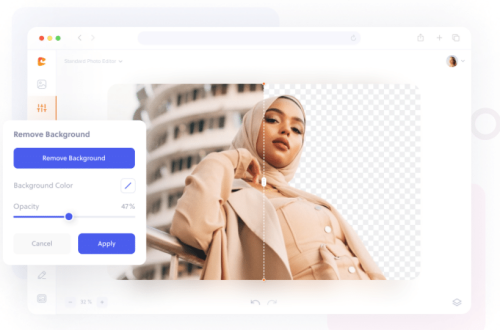 Price: Free, Premium Version at $8.99/month
Pros:
User-friendly UI
Instantly remove image backgrounds with the power of AI and change image backgrounds with just a few clicks
Comes with editing tools -image cropper, resizer, compressor, photo filters & effects, image overlays
Cons:
Limited features for free users
Removal.ai is another tool that uses AI intelligence to remove backgrounds automatically. It has a highly stable interface which assures less removal. accessing time. The tool is particularly good at creating and editing high-quality images.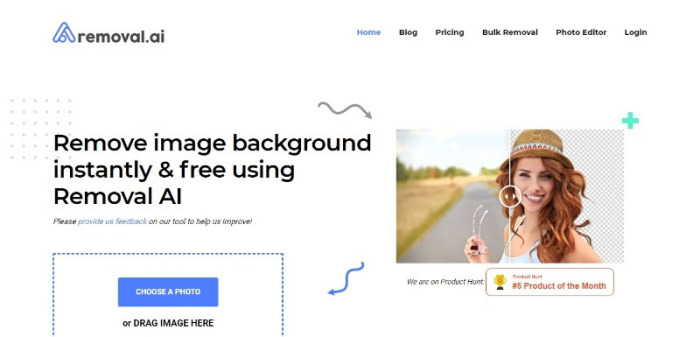 Price: $5.99/image
Pros:
Affordable for professionals like photographers or designers
It has a free trial
Good range of packages and subscriptions to choose from
Cons:
A paid subscription is required for higher resolution image
The image gets discarded automatically in one hour.
Fotor is one of the easiest photo editing software which can be used for both professional and normal editing. It is designed for simple, straightforward photo editing with tools that can be implemented for applying filters, manipulating effects, and other advanced techniques. This application has lots of features for users. You can get impressive results using Fotor for quick background editing.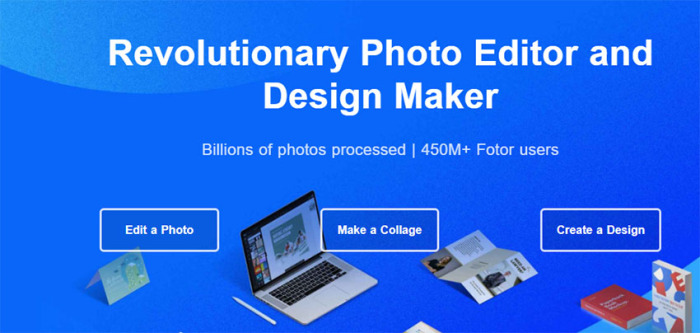 Price: Pro version $ 8.99/month.
Pros:
More than 1000 templates for your design.
Multiple background textures are available.
Seamless user interface.
Cons:
Pixlr is a free-to-use flash-based application that is beneficial to both content creators and artists. You just need an internet connection to access the tools on Pixlr's interface which is filled with interesting tools to help you make your images much better.

Price: $7.99/month
Pros:
Can be used efficiently under any operating system.
Lightweight software with quick functionalities.
Free and safe to use.
Plenty of tools for adjustments, image retouching, and filters.
Cons:
Features are not professional enough for professional use.
BGEraser may not be very popular among the other online photo background-changing tools but it is a great choice for fast editing images. No matter what the kind of image is: car, faces, or animals. Also, the AI is reliable enough that manual background is not necessary.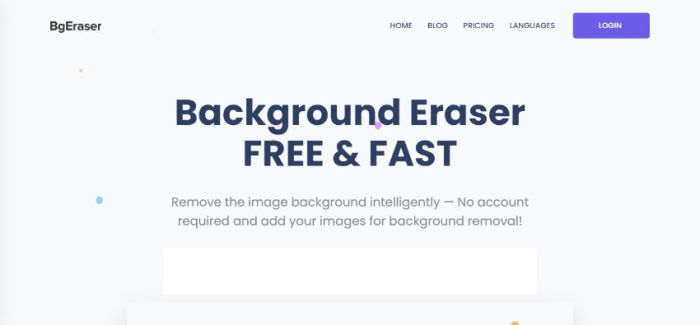 Price: $9.99/month subscription
Pros:
Easy to customize the interface for beginners.
Don't need to log in before use
Accurate and efficient
Cons:
Features are limited features in the free version
Results will get deleted within 24 hours if not downloaded
It has limited image dimensions of 700x700
Adobe Photoshop Express is the simpler free version of the original. Although the Adobe brand gives it a high download rate. This software is still having several useful features similar to Adobe Photoshop just with less profession.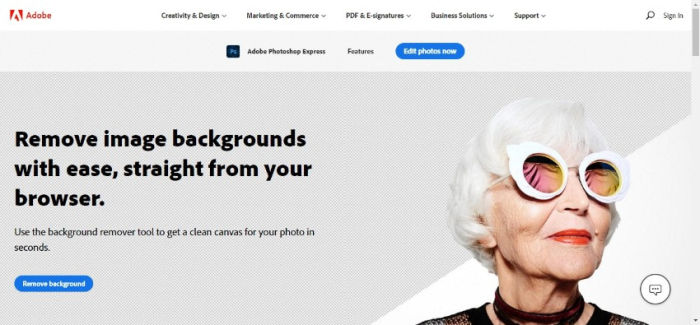 Price: Free
Pros:
Wide range of features that are easy to use for beginners.
Tutorial assistance is available to new users.
Integrated with social media for easy upload.
Cons:
The interface may be slightly sophisticated.
Certain features may not have the expected effect.
Befunky is a basic application for photo editing. It is suitable to be used as graphic design software. Its interface has over 10 modules placed in a side-by-side panel. You can add layouts to your images, and customize and import them easily.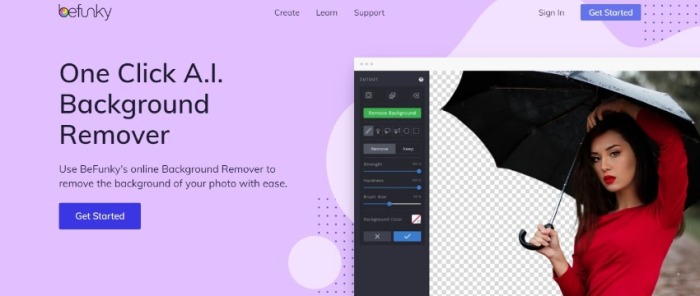 Price: $8.99/month
Pros:
Completely free to use as an online editing tool.
You can edit several photos with it simultaneously.
Its interface is extremely simple to use.
Cons:
Contains distracting advertisements.
Certain features are not free.
Not very reliable when it comes to editing complex images.
Inpixio is a great choice for beginners given its easy customizability. This free software for picture editing is loaded with a few features making it less complicated when using it. Unleash the color and creativity of your favorite click with more than 90 free filters to choose from.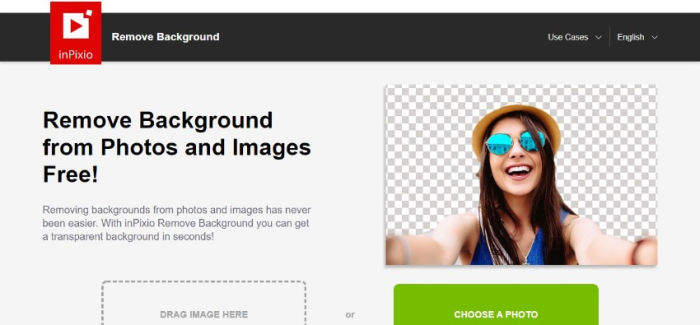 Price: Free
Pros:
Easy-to-use software, comes with detailed picture guides.
Ease your confusion.
One of the best free websites for beginners in photo editing.
Cons:
Not suitable for professional use.
Some versions of it contain the watermark.
Kapwing is yet another background changer on the list. It is a powerful tool and creates images with no watermark on them.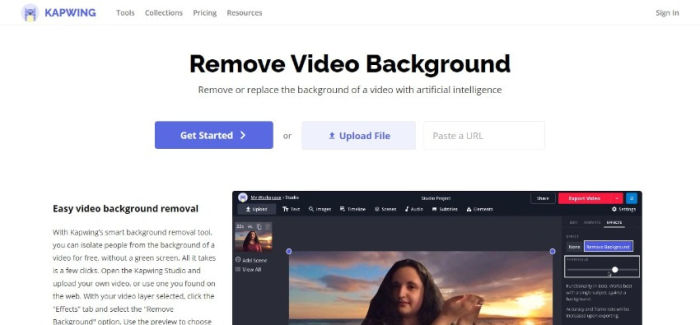 Price: $17/month for the Pro version
Pros:
Some basic features are free and it is easy to use.
No ads
It is safe and secure
Cons:
Not recommended for bulk pictures because it doesn't work on AI.
Time-consuming as it requires manual removal
For more features, one has to upgrade from the free to the paid version
Snappa can erase photo backgrounds with one click. It saves time in every action. Also based on the platform you want to share your edited images, you can select pre-fixed sizes with Snape's image dimension, and function.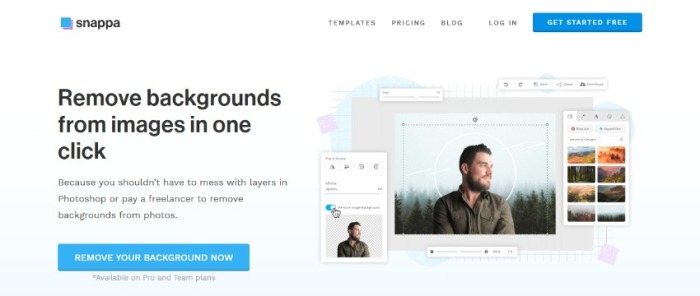 Price: $10/month
Pros:
More than 5,000 high-resolution free photos are to be used when changing backgrounds.
Fast and easy photo editing.
Can be used to add graphics.
Cons:
A number of useful features are only available after being paid.
Not suitable for beginners.
Slazzer is another editor that you can use through your browser. It claims to remove backgrounds in 5 seconds.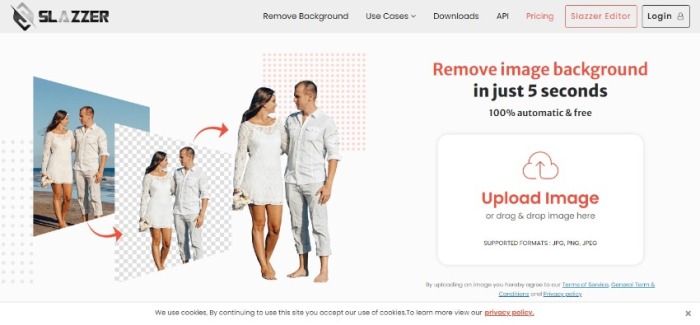 Price: $13.26/100 credits
Pros:
Works in all cases. Ecommerce, photography, and car dealerships
Offers various tools and plugins for editing
Works precisely and offers customized backgrounds to change
Cons:
Images get deleted after 30 minutes.
Remove BG is powered by AI technology to remove the photo's background automatically. It is also accessible through its app version. However, for processing higher-resolution pictures and remaining the same quality, you have to pay for a premium plan.
Price: $7.98/month
Pros:
Easy and automatic background remover.
AI technology makes it fast and free.
Can be used by both beginners and professionals.
Cons:
Output small versions of files.
Cannot manually edit after background removal.
For the best size and quality, paid version is required.
Photo Scissors, like any other photo editing online tool. It allows everyone to do photo editing. It doesn't provide lots of interesting functions is hard to find. On the other hand, it removes background with great work.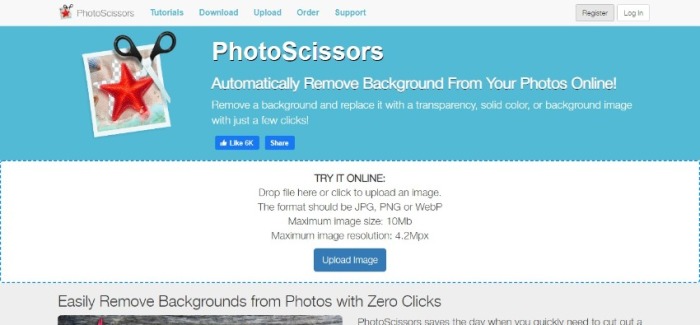 Price: Free
Pros:
Faster than other background-removing options.
Turing is great
Cons:
Struggles with black-and-white photos.
Not good with images that have shadows.
Social book is just the right app for influencers who wish to upload stunning images online. You can edit pictures with just one click to save you a lot of time and effort.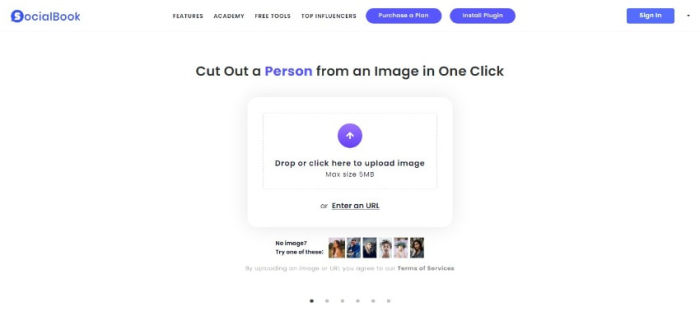 Price: Free
Pros:
Saves money, and saves time.
Eliminates unwanted people from backgrounds.
Cons:
Only a few features are free.
Conclusion
So far, we've concluded that editing image backgrounds are probably one of the easiest tasks you can do for free online while spending no effort with the online tools above. However, we recommend you use FocoClipping as an all-around tool for changing the background since it has the most powerful AI that requires zero effort.