How to change the background color of a picture on an iPhone?
Swiping photos is one of the favorite time-killing activities of many iOS users. But you can often see pictures with an awful background when you click a picture on your iPhone. In this situation, you may want to know how to change backgrounds on iPhone photos. we're here to help you!
In today's article, we are going to share different tools that can help you change the background of an image to make it looks appealing. Whether you are clicking a Portrait or a Landscape picture, these tools can help you change the background without any trouble.
Part 1: How to Change Background on iPhone Photos
One of the easiest ways to change the background on iPhone Photos is to use FocoDesign: Insta Story Editor, which is a free graphic designing app for iOS that comes with different features to edit your photos. With FocoDesign, you can edit your iPhone photos videos and make them look awesome for your Instagram account.
Among other features, FocoDesign also offers a background remover that allows you to remove the current background and replace it with a custom one. So, if you're looking for a quick solution to change the background of an iPhone photo, make sure to install FocoDesign: Insta Story Editor.
Step 1: Launch the Focodesign app and tap "Remove" from the main interface.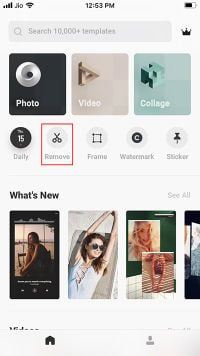 Step 2: Upload the image you wish to change the background of from the Gallery. It will then upload the image and automatically remove the background of your image.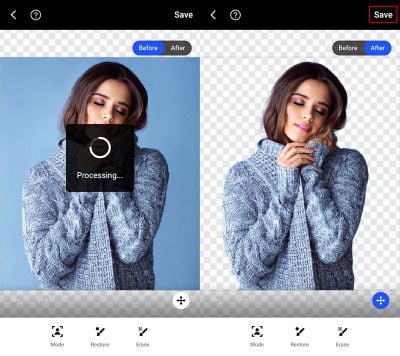 Step 3: Then tap "Save", the image with the changed background will save to your album.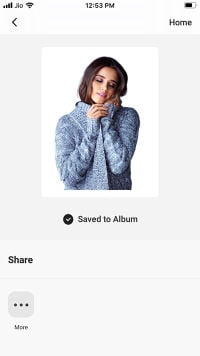 Part 2: Other 6 Photo Background Apps for iPhone to Change the Background of Your Photos
Like FocoDesign, there are several other iPhone apps that you can use to change the background picture on an iPhone. To save you from the trouble, we've picked 6 of the best photo background apps for the iPhone.
Background Eraser
Price: Free
If you're simply looking to remove the background and make your picture transparent, Background Eraser is the right tool for you. It offers a one-click solution to remove the background. Unlike many other photo editing tools for iOS, Background Eraser has an intuitive interface, which means you'll be able to remove the background without any trouble.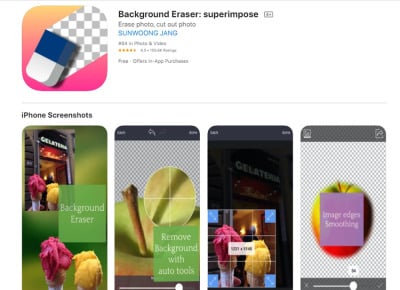 Pros:
It removes background with one click
It uses Erase tool to reduce the file size of your pictures
It uses the Color tool to remove colored backgrounds from your pictures
Cons:
Doesn't allow the users to change the background
Leaves a watermark on the pictures unless you sign up and paid for a subscription
Magic Eraser Background Editor
Price: Free
Magic Eraser is another background remover that can help you erase the background and save your pictures in PNG format. It has an auto-removal feature that'll automatically erase the background from an image. All you need to do is tap on a specific color and the tool will automatically erase the colored background.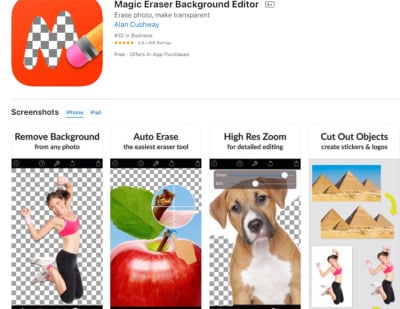 Pros:
Remove background from different types of pictures
Use the Magic Wand Tool to remove the background easily
Save images with a white background
Cons:
The app doesn't work well for pictures with multiple objects
Object Removal Lite
Price: Starting from $3.99 per week
There are many situations when users want to remove a specific object from the background. In this case, instead of using a background remover, we recommend installing "Object Removal Lite" on your device. It's a free editing tool for iOS that's designed to help users remove specific objects from a photo. You can use the tool to remove different types of objects from the backgrounds such as buildings, people, objects, animals, etc.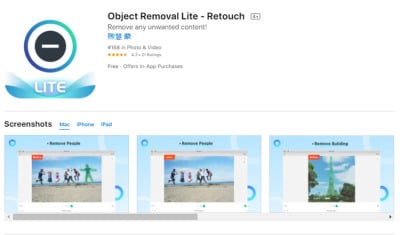 Pros:
Delete different objects from the background
Apply filters to make your pictures more appealing
Save pictures in PNG and JPEG formats
Cons:
If you only want to remove background from one image, Object Removal Lite is an expensive option.
Cut Paste Photo & Blend
Price: Free
Cut Paste Photo & Blend is a fun tool that allows you to edit your pictures. As the name implies, you can cut out objects from one image and paste them on different backgrounds. Alternatively, you can also replace the background of a picture with this tool. It has several built-in templates that you can use as the new backgrounds.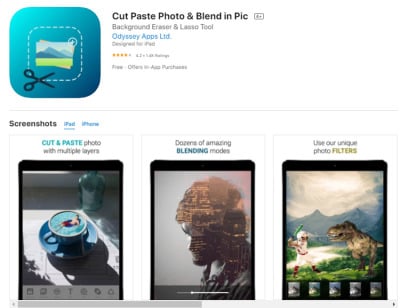 Pros:
Cut object from an image and paste it on custom backgrounds
Replace backgrounds using built-in templates
Erase the background of any image and make it transparent.
Cons:
You can't get accurate results all the time
Focos
Price: Free
Focos is a professional photo editing tool that's primarily designed to help users adjust the blurriness of the background. The main selling point of this tool is to achieve Digital single-lens reflex camera-like results for your iPhone pictures. It allows you to apply a blurred background effect to regular photos and make them look like professional portraits. In addition to this, you can also apply filters to enhance the quality of your pictures.
Pros:
Adjust the blurriness of your portraits
Readjust the focus after clicking an image
Apply filters on RAW images to make them more appealing
Cons:
You'll only get limited features with the free version of the app.
Photo Background Changer
Price: Free
Photo Background Changer is also a free background tool for iOS that can help you change the background easily. It has many temples that you can use as the background for your pictures. You can also add multiple objects on a single background. Another major benefit of Photo background Changer is you can connect it to your iCloud account and export the pictures directly to the cloud.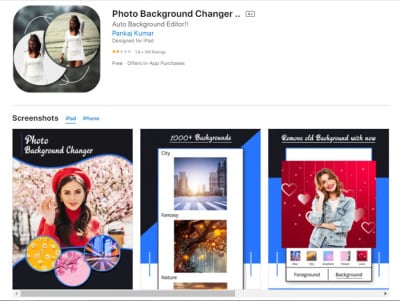 Pros:
Choose different types of backgrounds
Paste the subject from one image to a different one
Import custom backgrounds
Cons:
iCloud Connection may not be stable all the time.
Part 3: [Bonus] Change Background on iPhone Photos without Downloading Apps
Now, if you don't want to download an app on your iPhone, another way to change the background on iPhone photos is to use an online tool. After testing several tools, we've found the best tool for the job which is FocoClipping. It's an online background remover that's primarily designed to erase the background and save transparent pictures.
This tool comes with a Smart-AI feature that can automatically detect and remove the background from the image. It also has a "Manual Mode" to remove background from complex images. Once you've removed the background, you can replace it with a custom one. To do this, you can either use one of the built-in templates or upload a custom background as well.
Key Features of FocoClipping
One-click background removal from an image.
Smart-AI to automatically delete backgrounds.
Built-in templates to change the background.
Save HD Quality pictures directly on your computer.
Apply filters and adjust the transparency of an image.
Guide to Change the Background of An Image Using FocoClipping
Step 1 Go to FocoClipping and click the "Upload Image" button to upload the image you want to change its background. You can also drag & drop the image to directly upload it to FocoClipping.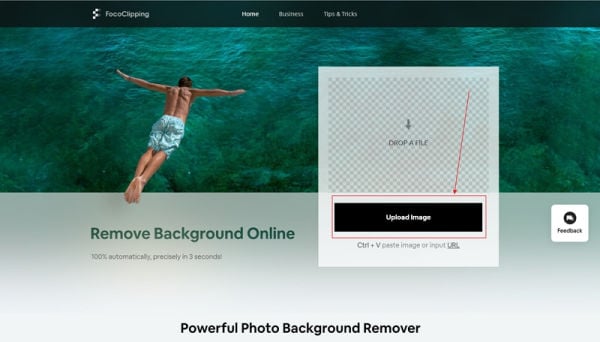 Step 2 This tool will automatically start scanning and erasing the background. Please be patient with it as this may need a few times.
Step 3 Once the background is removed, you can see the transparent image on the right side of the screen. Then, click the "Background" button in the right corner and choose one of the solid color backgrounds from the list. You can also tap the "Upload" button to use a custom background.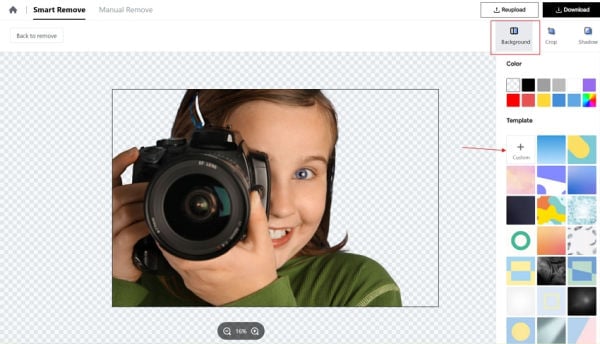 Step 4 Finally, click the "Download" button to save the image on your phone.
That's how you can change the background of photos on your iPhone using FocoClipping.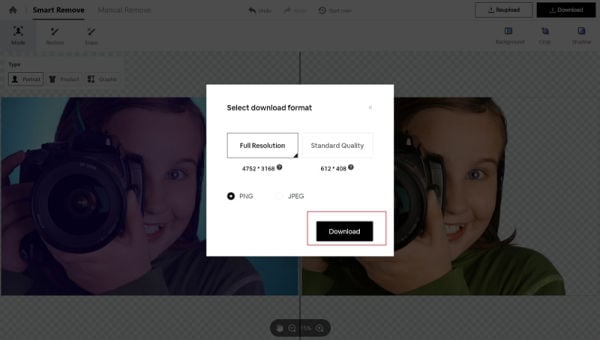 Conclusion
It's not a secret that the iPhone has one of the best smartphone cameras which allow users to get high-quality pictures. However, if you think the background of a picture is not appealing, you can use any of the tools mentioned above to change the background on iPhone photos. These tools will help you erase, edit, and replace the background from different types of pictures.