In this digital era, eCommerce websites have become the modern-day retail store where customers can purchase different items from the comfort of their homes. An eCommerce website allows businesses to embrace digital transformation, list their products, and reach a wider audience to generate higher revenues. The major reason why it is highly booming is because of its feasible approach. And that's why customers choose this over visiting a physical store. Above all, many retailers are choosing to leave their brick-and-mortar business model behind to build sales-driven online stores.
But, how can one get started with creating an eCommerce website? In this guide, we have compiled a detailed step-by-step procedure to build an eCommerce store from scratch. Follow this guide and you'll be able to design a user-centric and easy-to-navigate online shop and accelerate your business growth more effectively.
Part 1: What is an eCommerce website?
Now, before we go any further, let's first understand what eCommerce websites are and how they operate in today's tech-savvy world. In simple words, an eCommerce website is an online store that allows shoppers to buy different items from various sellers.
There are different types of eCommerce marketplaces, starting from exclusive online shops such as Samsung's own product website to aggregated eCommerce marketplaces like Amazon. The latter is basically an electronic platform where multiple sellers can list their products and buyers have the liberty to compare different prices and choose the right seller accordingly.
So, if you are creating an eCommerce website, it would be crucial to decide the business model that you want to follow to sell your products.
Part 2: Which is the best eCommerce website?
To understand the development process more conveniently, let's first decide what the best eCommerce website looks like. As of today, Amazon is the most popular eCommerce venture in the world. Studies show that Amazon processes nearly 1.6 million packages every day. If you also want to follow in Amazon's footsteps and launch a website that drives sales, it would be crucial to follow the right development practices. Here is a list of the top 5 golden rules to develop cheap eCommerce websites to drive sales. These rules include:
Quick Navigation
The general thumb rule says that it should not take more than 3 clicks for a user to reach the desired product page on an eCommerce website. Even if you're selling thousands of products on your online store, make sure to design a fully navigable shop so that your customers can look for items in no time.
Faster Checkouts
Do you know that the slow checkout process is one of the biggest reasons behind the high cart abandonment rate for many online stores? If you want to keep cart abandonment low, it would be important to optimize the checkout process to ensure your customers can place their orders within seconds.
Secured Payments
Another prerequisite of building an eCommerce store is integrating a secured payment gateway so that customers can process their payments without any hassle. In fact, if you prioritize security over unnecessary animations, there's a huge probability customer will choose your eCommerce website over other available options.
High-Quality Product Pages
Your product pages will eventually encourage the customers to make the final purchase. That's why it's crucial to design highly engaging product pages that can deliver a seamless shopping experience to customers.
Product Images and Descriptions
The final and probably the most valuable asset of a sales-driven eCommerce store is its product pages and product descriptions. It's worth pointing out that you cannot attract the desired sales from your customers if the overall quality of your product pictures isn't up to the mark. So, after designing your eCommerce store, the last step would be to add visually engaging product pictures to entice the customers more effectively.
Part 3: How do I create an eCommerce website?
So, now that you know the basic principles of building a successful eCommerce store, let's start with the guide to creating top eCommerce websites that drive sales.
To build a new eCommerce store from scratch, the first thing you'll need is an eCommerce platform - also known as an eCommerce website builder. For readers who don't know, an eCommerce website builder is an online tool specifically designed to construct online stores and integrate the required features. Here's a list of some of the most popular eCommerce platforms you can use in 2022 for creating an eCommerce website.
Magento
Shopify
BigCommerce
WooCommerce
Wix
Prestashop
All these eCommerce platforms offer distinctive features that allow merchants to build customized online stores for their target audience. After you have chosen the right eCommerce platform (website builder) for your store, the next step would be to either hire a team of professional eCommerce developers or execute DIY development. Based on your decision, the eCommerce website costs would automatically differ and you'll have planned a budget accordingly.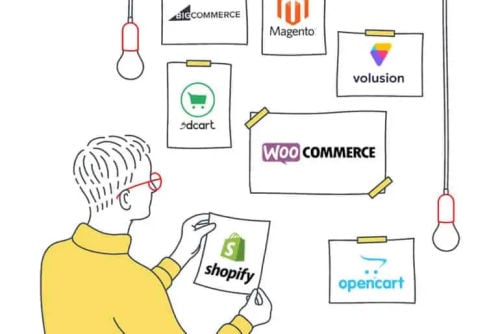 In case you choose to develop the entire website on your own, the first step would be to choose a dedicated theme. Now, almost every eCommerce platform offers a plethora of free and paid themes that merchants can use on their online stores. Keep in mind that all of these themes are fully customizable, which means you can tweak them based on your specific customer preferences.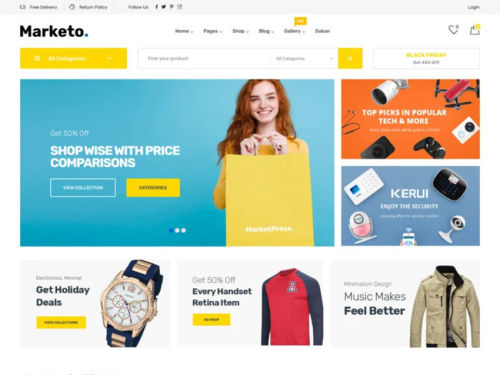 After choosing the right theme for your eCommerce website, you can get started with listing your products and directly move towards the final deployment.

Part 4: Helpful eCommerce Website Tool Recommendation
1. Remove eCommerce Website Image Background with FocoClipping
So, now that you know how to build a custom eCommerce website from scratch, let's talk about a tactic that'll help you maximize user engagement on your website. As we mentioned earlier, using high-quality pictures in an online store is the key to engaging customers more effectively.
One of the easiest ways to add high-quality product pictures to your online store is to remove their background and make them transparent. Experts believe that transparent product images directly highlight the primary subject and make the pictures look more appealing to the end users.
Now, while there are dozens of tools you can use to remove background from product pictures, we recommend using FocoClipping. It's an online background remover where you can remove background from any picture with a single click. The tool is powered by a smart-AI feature that automatically separates the foreground from the background and instantly removes the latter without losing any important details in the foreground.
Features of FocoClipping Website Design Tool
Remove website images background with standard quality and HD quality choice.
Process up to 30 pictures simultaneously using Fococlipping's Bulk removal.
Change image background with a custom one easily.
Integrate Fococlipping into other designing tools for better productivity.
Multi-functional photo editor choice to perfect your photos.
Tutorial to Remove Product Image Background with FocoClipping
Step 1: Upload the Image
Go to fococlipping.com and click on the"Upload Images" button. You can add up to 30 pictures at once in Fococlipping's editing panel.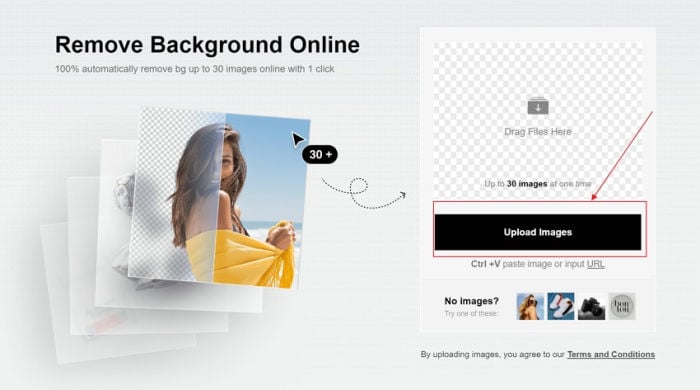 Step 2: Remove the Background
After you've uploaded the picture, FocoClipping will automatically start removing its background. This process will only take a few seconds to complete. In the end, you'll see the transparent version of the picture on the right side of the screen.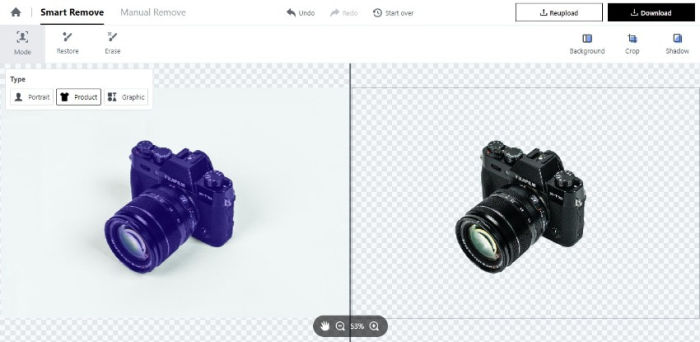 Step 3: Download the Image
Once the background has been successfully removed, the last step would be to click the "Download" button at the top-right corner to download the transparent image on your system. Then, you can choose between the PNG and JPG options as per your requirements.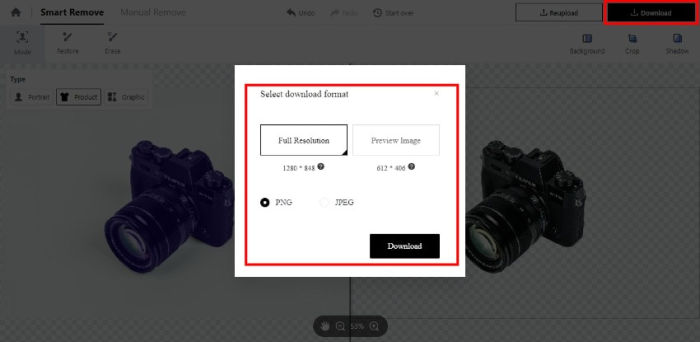 2. Create animated banners for eCommerce website with Saola Animate
Saola Animate is an ultimate tool allowing you to create HTML5 animations and interactive web content effortlessly, without coding skills. You can do almost anything from responsive banners, and animated e-cards to interactive presentations then embed them into e-commerce sites with ease. Using a keyframe-based animation system, Saola Animate helps create animations more easily than ever. That is to say, add two keyframes defining two different property values. This will create a smooth transition of the property over time. Besides, with the help of the Preset Effects and Auto-keyframe mode, you can reduce your animation creation process in a minimal time since keyframes are generated automatically in a flash.
Animations created with Saola Animate can run perfectly on different screen sizes as well. That's thanks to the responsive and flexible layouts, which is a strong point that a powerful web animation tool like Saola Animate should have.
Conclusion
With the eCommerce industry growing at an exponential rate, many retailers are planning to launch their personalized eCommerce stores. Fortunately, with access to tools like Shopify and Magento, it has become relatively easier to construct online shops from the ground up. However, if you want to build a sales-driven online store and compete with the likes of Amazon, it would be crucial to follow the right development approach. For instance, make sure to optimize your product pages by adding high-quality & transparent product pictures. To do this, simply visit Fococlipping and let its smart AI feature automatically detect and remove background from your product images.