Are you aware of the importance of having a functional eCommerce website? Are you aware of why people are investing a lot of money in the best eCommerce site design? Well, in the global economy, eCommerce websites are more important than ever. With the rise in internet access and the increase in people who shop online, designers are needed to create websites that stand out and attract customers.j One way to do this is by designing an eCommerce website that stands out from the rest. If you're looking for tips on how to make your website stand out in 2022, read on.
Here in this article, we will help you to get well-versed with some of the most important tips and other aspects that are a must to know while finalizing the eCommerce site design. Let's have a look!
Part 1:5 Best eCommerce Website Design Samples
Before exploring the best tips, we would like to let you know about some of the best eCommerce Website design samples.These are as follows:
Hebe
Hebe is one of the most beautiful websites that you can encounter. You find it beautiful due to its photography along with site topography. The website is very easy to navigate and the font is a little bit thick compared to other site fonts that we have encountered online.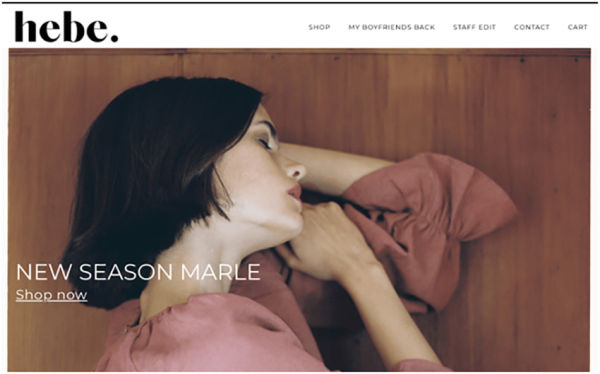 Bliss
Bliss website is as its name suggests because it is utilizing light colors along with a great contrast that gives a soothing feeling to a user. The template doesn't sound to be very vibrant to the eyes of the user and navigation through the website is very simple. Undoubtedly, they have done a great job with photography as well!
Dress up
When we are talking about clothing brands, Dress Up is hitting the top in terms of quality along with the website they have created. They are considering contrasting colors and text to highlight all the basic that is in link with the website along with new arrivals, seasonal promotion, and sales. They have also offered the option to chat with us which allows customers to have a conversation about any doubts they are having during the shopping experience.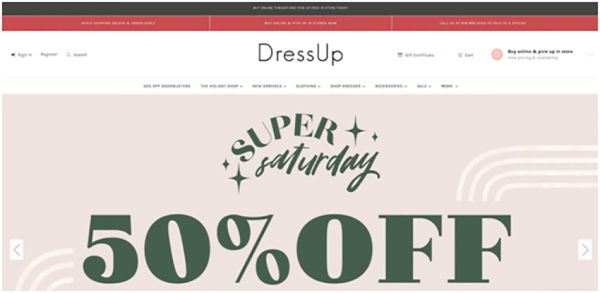 Bohemian traders
Bohemian trader is among those website samples that can be in consideration for a clothing brand. The template turns out to be very simple to navigate around and users can simply check out the products on a single page. Categorization has been done in a manner that just by clicking on a particular option the whole collection will be available and users can choose their favorite products.
The checkout experience is also very simple over the Bohemian trader website which again lets users trust it more.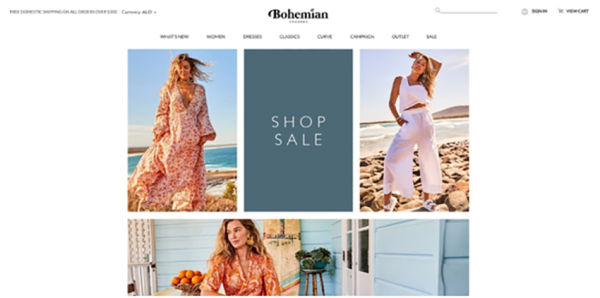 Magic Spoon
Magic spoon is a website that represents a breakfast brand. Undoubtedly, they are doing the job by putting the products on their E-commerce website in a way that customers will be able to find it out and if they are looking forward to placing the order, they can go for it. It is having a light blue background that spreads through pink and purple palettes. Also, the navigation through the website is very simple which allows users to check out the products that they need or they do not.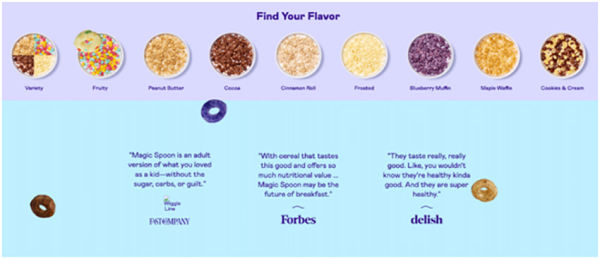 Part 2: 10 Helpful eCommerce Website Design Tips for Designing eCommerce Website
A lot of people think that the design of the eCommerce website is a very important aspect of the business. The design can make or break the business, and it's important to do your research before you start building your website. After exploring all these samples, you might be getting curious to know about the tips that can help you to design a website more effectively. Here we are exploring the important tips to consider while designing an eCommerce Website: -
Tip 1: Best eCommerce website tool you can't miss
The primary tip that is a must to consider is having a tool that can help you to get the best images for your E-commerce website. If the images are not representing the product efficiently you will not be able to rule out the e-commerce era. For that, the Fococlipping tool is one of the best tools to try.
This tool comes up with a simple interface that allows you to remove the product image background so that it can fit according to the e-commerce site's needs. Until and unless the product image is not satisfying the criteria of the image required on the E-commerce website, you cannot make it visually appealing to others and users will not be able to understand what the product is all about. Additionally, you can change the background color as per your need too.
In most cases, it happened that the images act as one of the most important factors to stand among the crowd of E-commerce websites available.
Features of FocoClipping eCommerce Website Tool
Overall, this tool will act as a solution for all the editing needs that are required for making perfect images for the E-commerce website.
If you want to know how this tool can help you with better images, here are the steps to be followed:
Step 1: Visit the Website
Firstly, open your browser and visit the website of FocoClipping. The first page will show you an "Upload Image" button. Just click on it to get your image uploaded.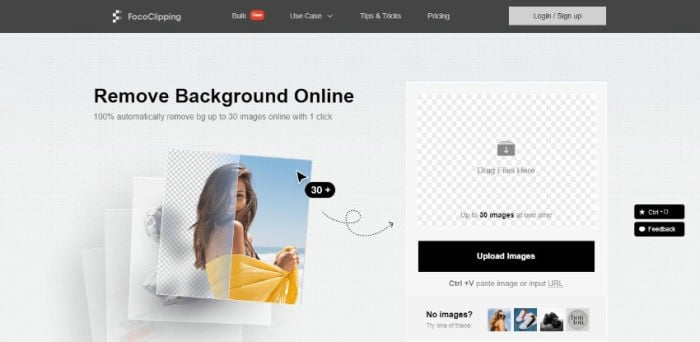 Step 2: Remove the Background
When the image is uploaded, the AI of the tool automatically detects it and removes the background of the product as you can see in the image below.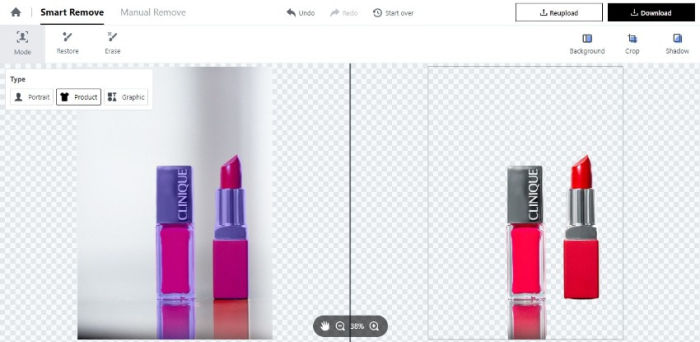 Step 3: Add Custom Background
As mentioned earlier, you can also customize the product image by changing the preferred background. FocoClipping already gives you several options as you can see in the image. Just click the "Background" button and you will get the options.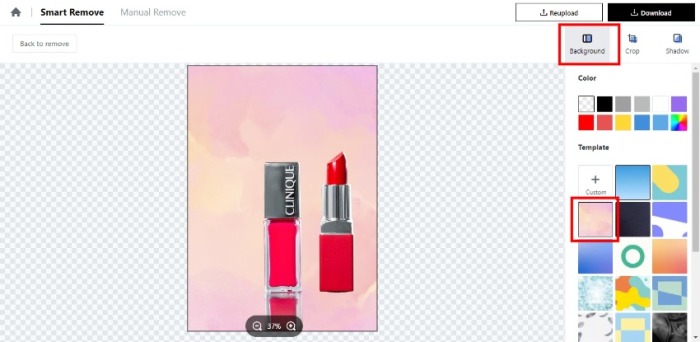 Step 4: Download the Image
Once you are done with the customizations, you can simply click on the "Download" button. Then select the resolution and image format as per your need.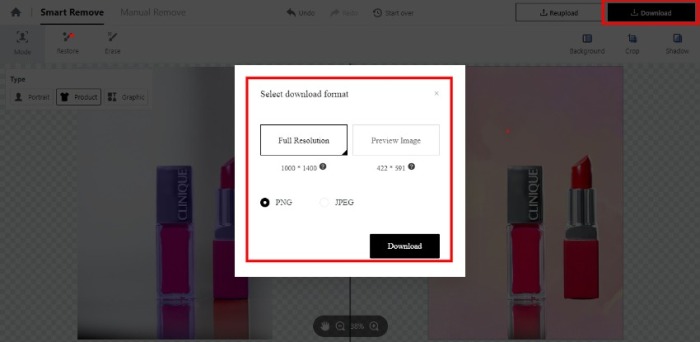 Tip 2: Make It Easy for Customers to Reach You
One of the most important aspects of an eCommerce website is the customer experience. When choosing an affordable eCommerce website design, it is important to make it easy for customers to reach you. This can be done by creating a contact form, setting up a secure checkout process, and improving your website's design.
Tip 3: Be Consistent with Branding
Branding is a critical part of any eCommerce website design. This will help customers feel more confident when making a purchase. By being consistent with your brand, you help customers feel like they are dealing with the same company when they visit your website. Consistent branding across all your websites will help you target your traffic and make sure that your eCommerce website is successful. This can result in increased customer loyalty and more sales.
Tip 4: Optimize Product Pages
Optimize your product pages to help increase sales and attract more customers. Product pages are the foundation of any eCommerce website, and they play an important role in building trust and credibility with potential buyers. By using keywords, easy-to-find pages, and a variety of design elements, you can create a website that is both unique and successful. Start with a strong title that accurately reflects the product and use clear, concise language on your product pages to simplify their readability and attract attention from potential buyers.
Tip 5: Make Your Site Mobile-responsive
Designing the eCommerce website for a mobile device can be a great way to improve customer experience and reduce your overall development time. By making your site mobile-friendly, you can create a more customized and engaging experience for your customers. Additionally, using responsive design techniques can make your site look more modern and sleeker on any device. This is a strategy that helps websites look better on different devices, including smartphones, tablets, and computers. Responsive design can be applied to any site, but it's especially important for online stores that sell products that might not be viewable on a desktop or laptop.
Tip 6: Keep It Simple
If you want to design an eCommerce website, keep it simple. If you keep it simple, it will be easier for you to create a structure and layout that is both efficient and attractive. This is a basic rule that can help make your website more user-friendly and enjoyable to use. By keeping your website simple, you will also be able to improve its usability and overall effectiveness.
Tip 7: Display Customer Reviews
Displaying customer reviews is a tip for designing an eCommerce website. Discuss it with eCommerce website designers and it can help you with creating a better customer experience and increase your sales. By using customer reviews as part of your eCommerce website, you can create a community of customers who are happy with your products and services. Additionally, by sharing positive feedback with your customers, you can build trust and credibility within your business.
Tip 8: Provide User-friendly Navigation
Navigation on an eCommerce website should be user-friendly so that the customer can quickly find what they are looking for. This can be done by creating a menu system that is easy to navigate and using a clear, concise structure for the site's content. Additionally, it is important to make sure the site is easy to navigate, as customers may not have time to learn the site's layout before shopping.
Tip 9: Use Colour to Your Advantage
One of the most popular options when it comes to designing an eCommerce website is to use color to your advantage. By using different colors on your website, you can create a more appealing and memorable experience for your customers. You can also use this option to differentiate your site from its competitors.
Tip 10: Create an Easy Checkout Experience
With an eCommerce website, you need to create an easy checkout experience for your customers. This will help them feel confident about making a purchase and increase the likelihood of a sale. By following these simple tips, you can create an eCommerce website that shoppers will love.
Conclusion
In conclusion, these are some tips for the best eCommerce site designing that will help you get the most out of your business. By following these simple steps, you can create a successful online presence for your business. But make sure, along with all these tips, do not forget to consider FocoClipping. This is one of the best tools for generating high-quality images for your website that turns out to be helpful in standing amongst the competitors.