Are you looking for an online free tool to create an icon transparent background? Well, you are just in the right place. In this end-to-end guide, we will talk about free online tools that can help you remove background from your logo easily and without any hassles.
So, why would you even want an icon with transparent background?
There are a number of different reasons why someone would want to remove background from their logo. Someone's unwanted background details make your logo dull. Besides, some eCommerce stores make having a transparent product image/icon a necessity.
Don't worry! No matter what the reason behind you wanting to remove background from your image is, you will get your perfect solution in this guide. Without further adieu, let's begin!
Part 1: The Easiest Way to Make Icon with Transparent Background Online in 2021
Before creating this guide, we tried and tested multiple online tools that can help you remove backgrounds from your images, and the most convenient tool, hands-down, is FocoClipping. It is an online free tool that makes your images transparent in one click and helps you get an icon transparent background.
Fococlipping is a quite popular online tool that is specially created to remove background from all kinds of images. This online tool is powered by AI technology that enables it to remove background in just a few seconds.
Here are some features of Fococlipping that make it a perfect choice to get your icon with transparent background.
Key Features of FocoClipping
This tool allows you to observe & change the effects of any edits you make in real-time.
FocoClipping has two primary features to clear background - Smart Remove and Manual Remove.
Use this online tool to improve the visibility of your icon swiftly.
FocoClipping allows you to easily add a custom background of your choice and vitalize your icon by adding shadows.
3 seconds to make logo with transparent background.
How to Create A Transparent Logo Using FocoClipping
Now that we know the top features of this online tool, follow these simple steps to use FocoClipping to get the icon background transparent.
Step 1 Click on the above link followed by the "Upload Image" button. Get your icon uploaded that you want to edit.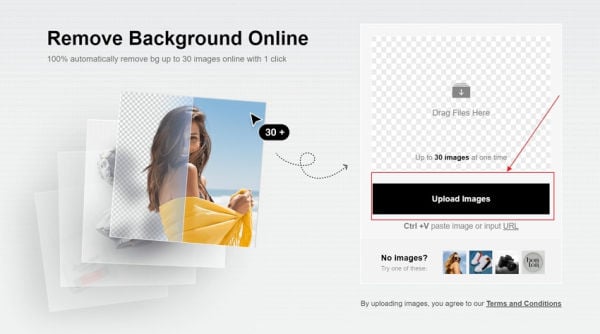 Step 2 Your icon will automatically open in the "Smart Remove" feature of FocoClipping. Your next screen will look something like this.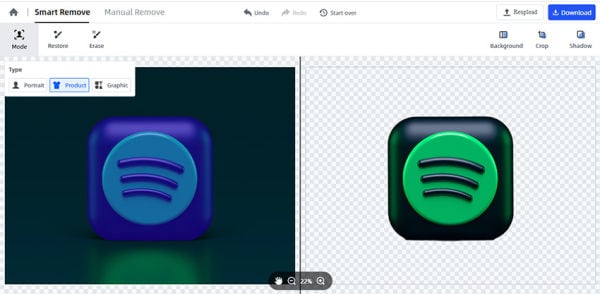 Step 3 Now click on the "Download" button given at the corner. And then, choose the format and within a few seconds, you will get your icon with transparent background.
And that's it. Using FocoClipping is super easy and fun. It saves you tonnes of resources and helps you expedite your design process effectively.
Part 2: Make Icon with Transparent Background by Canva
Well, who hasn't heard of Canva. Canva is becoming increasingly popular among users and business owners from different industries. It has made the design more accessible and easier for newbies and even experienced designers.
Here's how to get an icon with transparent background using Canva.
Guide to Make Icon with Transparent Background by Canva
Step 1: Go to the official website and click on the "Create a design" button. Choose a canvas of your choice.
Step 2: Go to "Uploads" and click on the "Upload Media" button. Choose the icon you want to edit.

Step 3: To remove the background of your icon, click on the "Effects" button and click on the "Background Remover" option.
And that's it. It works perfectly but here's the catch. You will need to be a Canva Pro user to remove background from your logo using Canva. Well now that it is out there, FocoClipping is online but also a free tool to create an icon with transparent background.
Part 3: Free Sites Recommendation for Transparent Background Icons
Now, these were the most popular ways to get an icon with background transparent. Want to download free transparent icons? Here is a list of the top 20 online platforms where you can find a wide variety of transparent icons and download them for your projects. Yes, you heard that right. Let's explore.
IconFinder
IconFinderis the most popular online place to download free icons with transparent backgrounds. There are dozens of icon categories at IconFinder that'll make it way easier to download the right type of icon for your design.
Flaticon
Flaticon is another popular place to download a variety of transparent icons. With a fully functional search filter, you'll be able to find a specific icon without any hassle. Another benefit of Flaticon is that it allows users to download both individual designs and complete icon packs.
Shutterstock
Shutterstock is probably the most popular online library right now. Apart from copyright-free music and images, you can also find transparent icons and icon bundles at Shutterstock. However, Shutterstock isn't available for free. Even if you want to download a transparent icon, you'll have to buy its subscription plan that costs around $29/month.
PNGTree
PNGTree is a place where you can find free vectors, transparent backgrounds, and even templates to start your designing projects right away. The platform comes with an extensive library and almost 5000+ artworks are released every day. This means you'll never run out of options while creating your designs.
TheNounProject
TheNounPorjectis a relatively new platform where you can download free transparent icons for your projects. The platform also comes with its own editing panel where you can make adjustments to the desired icon before saving it on your PC. However, the editing panel is only exclusive to people who sign up for the monthly subscription plan.
DryIcons
If you're looking to download simple icons without going through the sign-up process, DryIcons is the right platform for you. There are over 1000+ free icons available on DryIcons that can be downloaded with a single click.
Icons8
Icons8is an online platform that's managed by a team of experienced designers. There are well-categorized lists on the website, which will make it piece-of-cake to download the desired set of icons. You can browse through different categories such as Animals, Astrology, Business, etc., and get transparent icons easily.
FreePik
As the name implies, FreePik is a place where users will have the liberty to download free transparent icons instantly. With a huge icon library and a quick downloading process, you won't find it challenging to download the desired icons at all.
Vecteezy
Vecteezy is a great platform to download vectors and transparent icons for free. With its Sort By feature, you'll find it much easier to narrow down the list and find specific icons for your project. There's also a dedicated search bar at the top of the screen that'll help you look for different icons easily.
StickPNG
StickPNGis another place where you can download icons with a transparent background for free. Although the data isn't as extensive as other websites, you'll still find all the basic transparent icons. So, if you don't want to go through a long process of signing up with your credentials, StickPNG will be the right platform for the job.
CleanPNG
CleanPNG is an open platform that's managed by a community of experienced designers. You can also upload your custom backgrounds to help other users download icons for free. Like any other professional platform, CleanPNG offers a variety of categories to help users pick extremely specific transparent icons.
VectorStocks
VectorStocks is a place where you can find different types of vectors, simple pictures, and transparent icons. While the library is quite extensive, it's worth noting that not all content is available for free. At VectorStocks, you'll find varying prices for different designs.
Pixabay
Pixabayis one of the most reliable places to download free vectors and transparent background icons. Unlike other platforms, Pxiabay allows users to sort results by applying different filters such as orientation, color, and category. In fact, you can even find icons with a specific size by applying the size filter.
FreeIconsPNG
If you're looking for a platform that lets you download free icons with a transparent background, FreeIconsPNGis the right place. It offers free icons, images, vectors, and also comes with an editing panel that'll let you resize the image as per your project's requirements.
PNGKey
PNGKeyis an underrated platform that not many people know about. However, if you're planning to download social media icons and other transparent icons, PNGKey has plenty of data to cater to your different requirements. Simply type the icon name at the top search bar and PNGKey will spit out different results accordingly.
SubPNG
SubPNGis another online platform to download PNG images and transparent background icons for free. The primary categories on the website include Flower, Frame, Heart, and Wedding. But, if you're looking for a different vector/icon, you can also use the search bar to find the specific icons.
SimilarPNG
SimilarPNGis a website whose interface looks a lot like SubPNG. In fact, the entire downloading process resembles that of SubPNG. The only difference is that SimilarPNG's media library is quite big and you'll be able to find different types of PNG images without any effort.
TransparentPNG
TransparentPNG is a widely popular online media library that offers different types of PNG pictures and transparent icons. On the home screen, you'll see a list of all the top transparent icons of the day. But, you can also use the search bar or browse through the categories to look for specific designs.
PNGItem
PNGItem has a huge library and quick "Filter" option that'll allow you to search for different PNG designs easily. All the data is available for free and you can even upload your custom backgrounds to spread the word about your designs.
Pinterest
Pinterest is undoubtedly the most popular image-sharing platform on the Internet. Apart from scrolling through its daily feed, you can also use your Pinterest account to find transparent icons for your projects.
Conclusion
We listed some useful sites that can help you make your icon background transparent in no minutes. No matter there are too many options to choose from, having the right kind of tool is a blessing. And FocoClipping makes your life sorted in that case. Not just because it had powerful AI but it works efficiently, fast, and without compromise on quality. Apart from transparent backgrounds, it has a lot of customized backgrounds to choose from. We can't ask for more right? So, head to the website and have fun with your icon now.