In our experience, one of the things that we have seen designers don't like is images with unwanted backgrounds. Well, not just designers. It could be anyone from someone creating a presentation to someone pitching their idea to a group of investors. In such situations, there comes a common question - How to make background transparent?
Now that we understand the gravity of the situation, let's get into how to fix it. Well, there are multiple ways to create a transparent background of an image. You can use editing tools like Photoshop to do it but the thing is most of the professional editing tools need some kind of professional knowledge. Their UI is not very friendly and can take very long for someone with zero design experience.
For the very same reason, we have tried many tools and come up with 2 awesome and easy ways to make background transparent. Let's begin!
Part 1: The Easiest Way to Make Background Transparent [Free & New Released]
Fococlipping is a widely used tool that is made primarily for removing unwanted background details from an image. It's an AI-powered editing tool that enables its users to create images with transparent backgrounds. Besides this, it also has a bunch of other cool features like shadows, specific crop size, and much more!
The AI powering this tool is super strong and one of the reasons why it is gaining strong traction is because of its ability to edit an image in a detailed manner. Let's look at some of the top key features of Fococlipping.
Key Features of FocoClipping
make the background transparent of any image using its two features - Smart Remove and Manual Remove.
allows you to pick any detail in your image and make it clearer & more perfect.
It is a web-based tool and, as mentioned earlier, is powered by smart AI.
Have the present results of every minor editing you do in real-time.
Cast shadows of the main object in your picture and vitalize your design using Fococlipping.
Guide to Make Background Transparent by Fococlipping
Those were some of the key features of FocoClipping. Let's look at a step-by-step tutorial on how you can use it to create a transparent background of any image.
Step 1: Upload the image to make its background transparent
Go to FocoClipping's official website. Just click on the "Upload Image" or "Try Samples" button. If you want to try this tool before you create a transparent background for your image, you should click on "Try Samples" and get familiar with its features.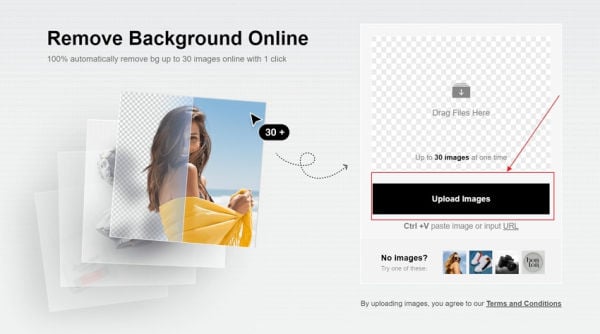 Step 2: Get started with removing background from image
Upload your image. Your image will directly open in the "Smart Remove" section of FocoClipping. The AI that powers this tool automatically identifies the main object in your image and makes the background transparent for you. It also detects whether your image is a Portrait, Product Image, or any other Graphic and removes the background to make it transparent accordingly.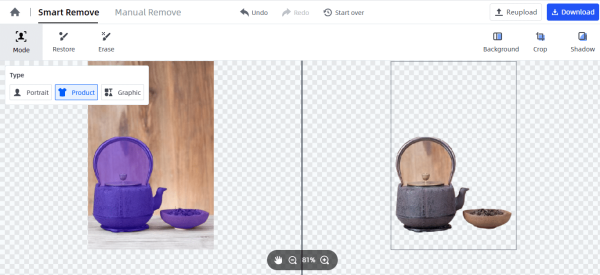 As you can see, most of our work to make background transparent is handled by this tool. For removing the background within the object, you can use the "Erase" feature of this tool and then remove the remaining area.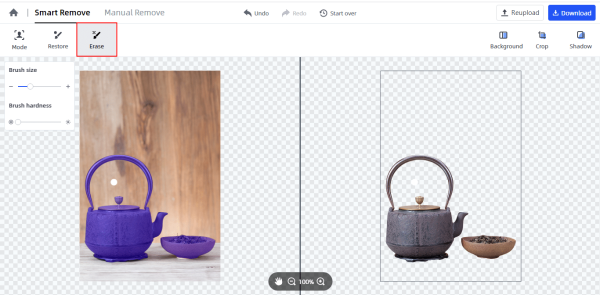 Tip: If a major chunk of your background is not detected by this tool, you should use a bigger "Brush size" of the "Erase" tool to effectively erase the area.
Step 3: Make finishing touches
You can also choose a background color of your choice from a plethora of options that appear on the right side of your screen by clicking on the "Background" button. Besides these features, you can choose to add shadow effects to your final edited image and make your entire picture look more lively.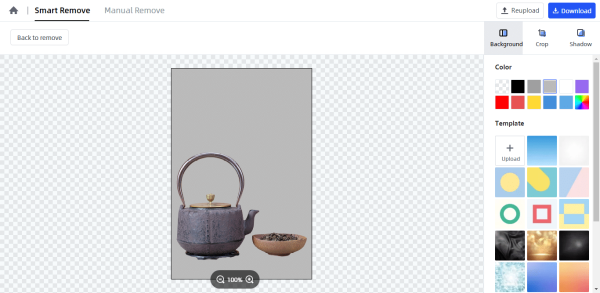 Step 4: Download the processed image
You can download the final image in both JPG and PNG format when you hit the "Download" button on the top right.
And that's it. Using FocoClipping, you won't need to download the tool and anyone, who knows how to use the web, can easily create a transparent background using it. The AI used in this tool makes it unique and super easy to use.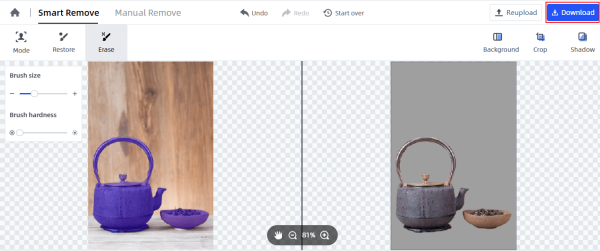 Part 2: Make Background Transparent by Photoscissor
PhotoScissors is another web-based tool. You can use it to make background transparent of an image of your choice without any hassle. As with FocoClipping, you don't have to download this tool which makes it even more friendly to use. Most of the editing tools out there are heavy and require high-end computers to function properly.
Follow these simple steps to use PhotoScissors to make background transparent of this product image.
Step 1:Go to the website of PhotoScissors and click on the "Upload Image" button.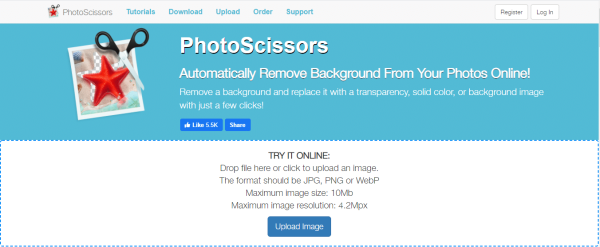 Step 2: The next screen of this tool contains the product image with a transparent background. If a part of the image is still left, you can use the green marker to highlight your product or you can use the eraser to remove any part of the image that you don't want to include in the final result.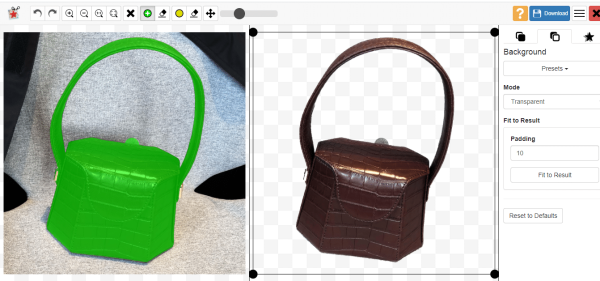 Step 3: You can choose a background color/image of your choice after you make background transparent.
Here are 3 Pros of using Photoscissors to make background transparent.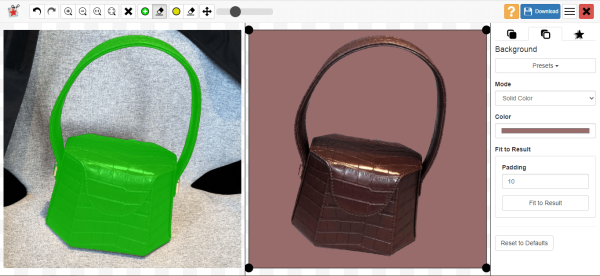 PhotoScissors is an AI-based tool.
As mentioned earlier, PhotoScissors is a web-based tool. So, you won't have to download it to create a transparent background for any image.
It lets you format your product image according to a platform of your choice such as eBay, Amazon, etc.
Here are 3 Cons of using Photoscissors to make the background transparent.
The interface of this tool is not very friendly.
It works best with only product images.
If you are not a paid user, you can only download an image in low resolution.
Conclusion
These were two awesome ways to create a transparent background of an image of your choice. They both are AI-powered web-based tools. While PhotoScissior is a Freemium tool, FocoClipping is a free tool (as of now). You can download your final image in high resolution using FocoClipping. FocoClipping can be used to create transparent backgrounds for product images, portraits, as well as graphics.
Removing background from any image can be irritating but using these tools makes the entire process simple and hassle-free! We hope that this article helps you remove unwanted background elements from your images.