I have tried some image transparent makers that can remove backgrounds from photos. I don't know which one is the best among them. Can someone suggest to me some good background-removing tools that I can use?-Quora
There are many transparent image editors. Each of them has some benefits and limitations. These tools are available online, for desktops and you can also get them on android and iOS. As there are plenty of background remover tools, one can get confused while selecting the perfect tool. We have searched and reduced that large list to only 10 background removers. Our list includes online tools, and apps for desktop, Android, or iOS. Some of them are paid and some are free. You can select the tool according to your need. All of these tools give accurate results and they have an easy-to-use interface.
Part 1: Best Transparent Image Editor You Deserve to Own
There is a huge list of transparent image editors. Most of them are paid and some of them are free to use. Many tools provide a free version and a paid one. The free version usually has limited features, to enjoy all features of those tools you must purchase their subscription. But there is a free tool that is free and accurate. That tool is FocoClipping. It is a great transparent image maker.
FocoClipping provides all of its features for free. Also, there is no limit to per day or per month downloads. Furthermore, its AI algorithm minimizes all of our efforts. Just upload the image and download the image with a transparent background.
Features of FocoClipping:
Easy to use, quick performer, and precise background removal tool.
Remove backgrounds from photos and make images transparent with only a single click.
Uses smart AI technology to perfectly make images transparent in no time.
Preserves every small detail of a photo including hair as well.
Allows users to cast shadows into images easily.
How to Make Image Transparent with FocoClipping
The use of FocoClipping removal tool is not difficult at all. If you know how to use a mouse then you can work with this tool without any hassle. To learn the exact use of this tool, just follow the provided steps.
Step 1: Open any browser on your screen. It can be chrome, Mozilla, safari, edge, opera, or any other browser you use. Now type "FocoClipping" in your search box and hit the enter button. Click on the first link on your screen and you will find the following interface on your screen.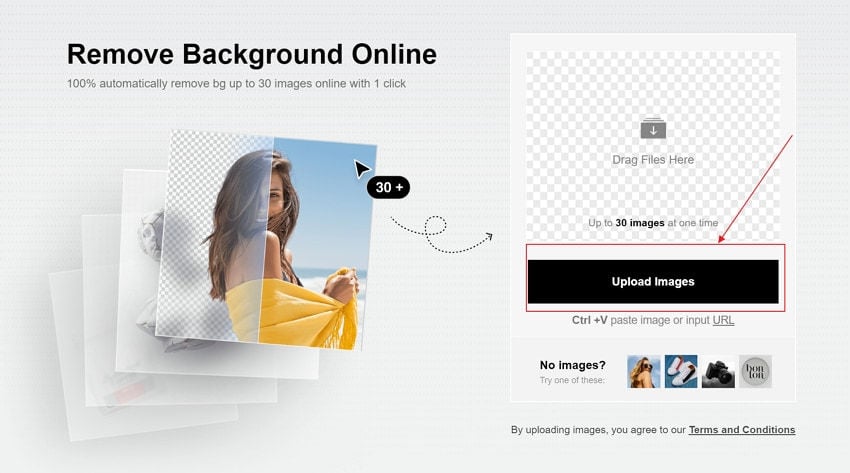 Step 2: Now upload the image which is going to become transparent. Click on upload image, find and open the image. As FocoClipping is already set to Smart Remove within a few seconds its background will be gone. After uploading the image you will see the following output.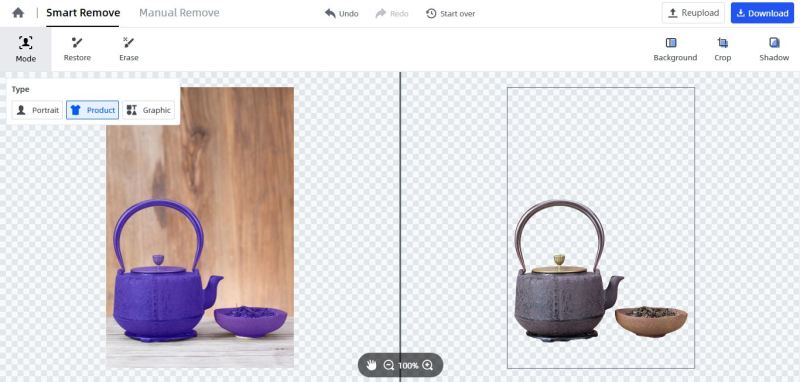 Step 3: Now, most of our work is done. But still, you may want to add a new background to the image or crop it to reduce its size. You can do both of these tasks in FocoClipping. On the right side of the screen, you can see these three buttons "Background, Crop, and Shadow". Use the first one to add a new background and to reduce the size of the image click on Crop. Using the shadow button you can adjust its opacity and brightness. Also, you can change the size of the outline.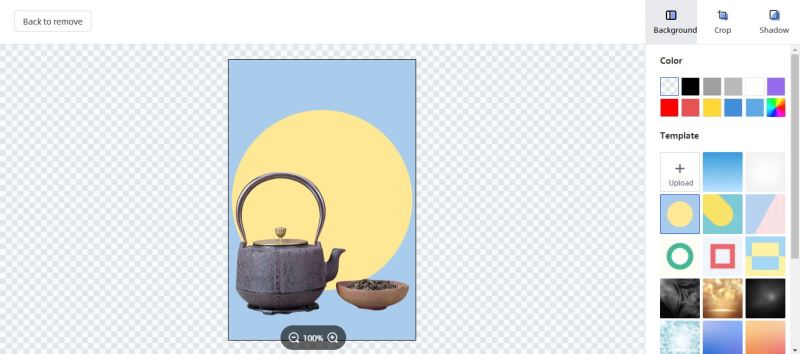 Step 4: You can also restore parts from the real image. Just select the Recover brush, and drag it over the part of the image which you want to recover. And to erase more you can use the Erase tool.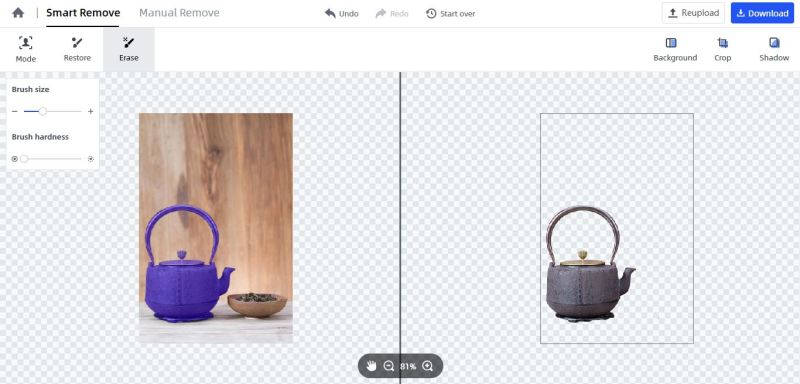 If you like to do your work manually then switch to Manual Remove. You will find all the necessary tools which are needed for removing the image background. But we do recommend not wasting time on manual removing because the Smart Remove is able to do our work pretty efficiently.
Step 5: When you are satisfied with the entire editing, download the image to your device. You will not have to sign in to download the file, just click on the Download button and you will see the following window on the screen.
Choose one of the given formats and hit the Download button again. Remember if you are storing the image with a transparent background then choose the PNG format. The JPG format does not support a transparent background.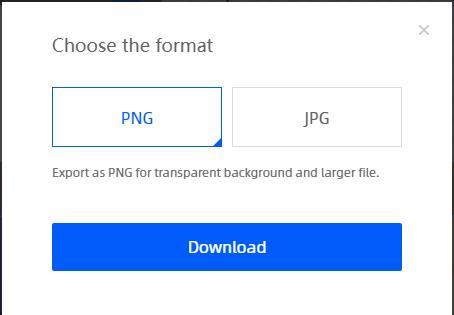 Part 2: Other 9 Transparent Image Editor Recommendations
You can always trust FocoClipping. But you should know the other tools which can make your image transparent. You can find these tools for your Desktop, or you can get them for your android or ios. Also, you can find more tools online for free and there are paid ones as well. We have reduced that large list for you. You can choose one from our provided list according to your need.
This is also an online site. And it works based on an AI algorithm. You can trust this site to make your image transparent. It will give you quality results. Its working environment is similar to FocoClipping. Just open the site and upload your image without any trouble. But, in this tool, you get to set the background transparency. After you have your required output just download it to your device without any hassle. This online tool can provide the output quickly. It is one of the best transparent background editors.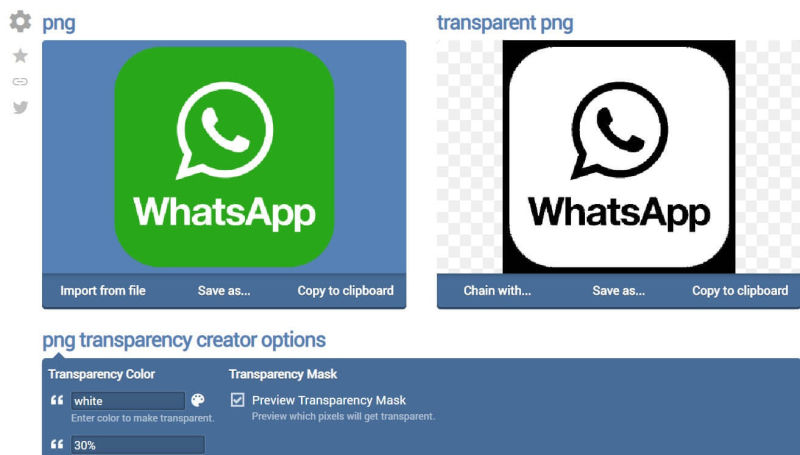 Available: Online
Key features:
Its interface is user-friendly.
You don't have to download or install anything.
Provides quick and efficient results.
Image online. co is also an amazing online website for making images transparent. This tool is completely free and does not involve any hidden charges. Also, this tool supports all image formats. If you are an expert at using a mouse then you are welcome to use this tool. To remove background just select the background which you wish to remove. This tool also offers many other editing tools. It offers tools like resizing the image, image color picker, merging images, pencil sketching the photo, adding text to the image, adding a logo to the photo, and more tools. Thus it is a full-pack photo editor for free. But, you cannot use an image with the same foreground and background color because to remove background in this tool you need to select the background color.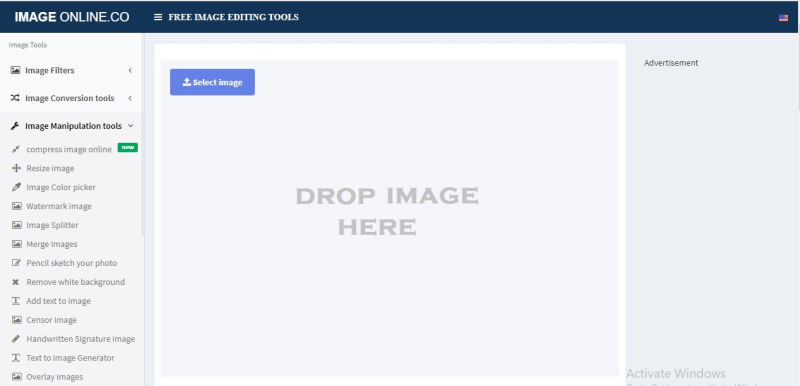 Available: Online
Key features:
Completely free.
Provides many editing tools.
Provides an easy interface.
Another reliable online background remover that requires zero budget. With its strong AI technology, it can easily separate the foreground from the background. And you don't need to be an expert for using this tool. It also demands only clicks to remove the background. If you are not satisfied with its auto output you can use the Keep and Remove option to make the output useful. Also, it allows you to add a new background to the image.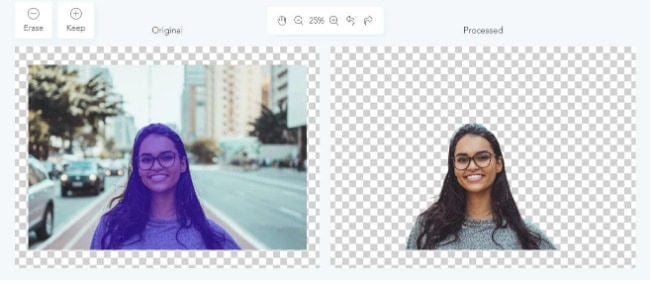 Available: Online
Key Features:
It is easy to use and ideal for beginners.
It allows you to upload images in batches.
Do not compromise on quality.
If you want to remove the background on your desktop and you are not interested in using photoshop. Then you can use PhotoWorks, it is a simpler tool as compared to Photoshop or illustrator, and even a beginner can handle it effectively. . But still you will have to apply a few manual settings like selecting the foreground. PhotoWorks is capable of providing effective results. You don't even need an internet connection to use this tool. It is a wonderful transparent background generator.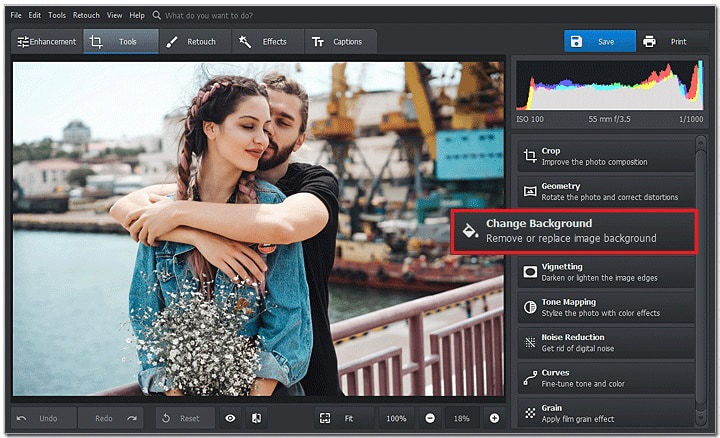 Available: Online
Key features:
PhotoWorks is a free tool.
The interface is easier to use.
The results are always effective.
If you are familiar with Microsoft Publish, you must know that it is usually used for making designs, calendars, posters, greeting cards, and more. But you should know that you can also use it for removing the background. This tool comes with the Microsoft office package. As it is easier to use you will feel comfortable using it as compared with other complex photo editors. It is a good transparent background remover.
Compatibility: Desktop
Key features:
Provides an easy interface.
The results are accurate.
You can also use it for making designs.
It is true that photoshop is a bit difficult. But, once you know its use you would not want to go anywhere else. Because I am a professional. You can easily edit all photos once you know how to use them. You will find all of your solutions in one place. And removing background in photoshop is not a big deal. It provides multiple solutions just for removing the background. It is the most reliable png transparent maker.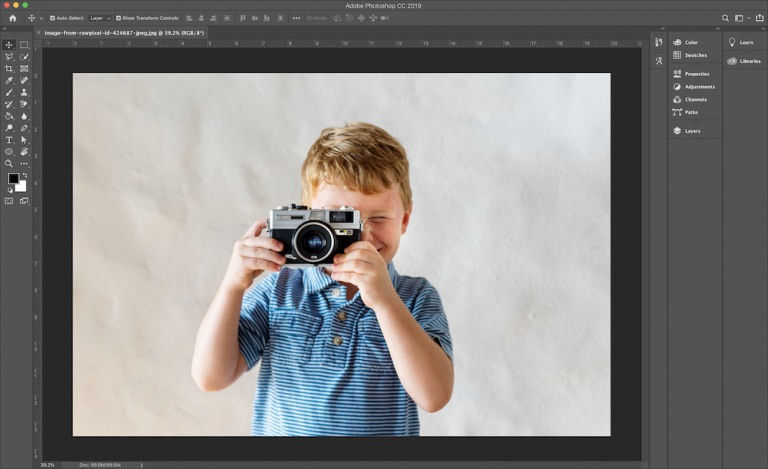 Price: You can buy its monthly subscription for 9.99 dollars.
Compatibility: Desktop
Key Features:
It is a professional tool.
Provides more control over editing.
Can be used for all photo editing tasks.
Make Background transparent is an android app. It will make your image transparent within no time. Also, this tool is super easy to use. This app also provides tools that are necessary for making the background transparent that as a magic tool, lasso, and eraser tool. With the help of these tools, you can refine the output image. This tool also includes a Soften feature that can refine the edges of the foreground. The good news is that it is free.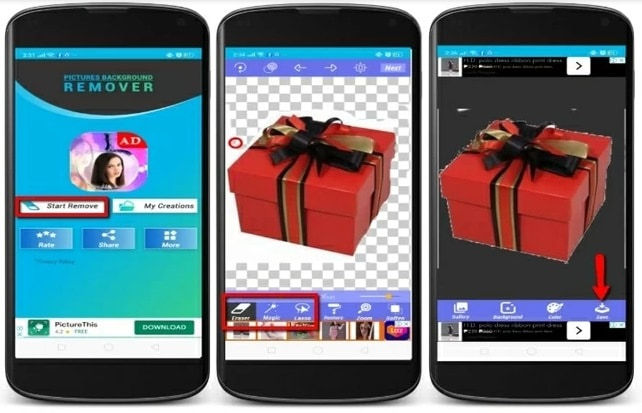 Compatibility: Android
Key features:
Available for Android.
Tools are very easy to handle.
Covers only a small space.
It is an app for iOS. You can use this tool on iOS 10 or above. This tool is very simple and easy to use. You don't need any prior photo editing skills to work on this tool. To remove the background it provides tools like lasso and erases. Use Background Eraser and get rid of all unnecessary parts of the image. You can save the output image as PNG or JPG. This tool stands with a user rating of 4.4. The cost of this tool is only 0 dollars. And it is not a typing mistake.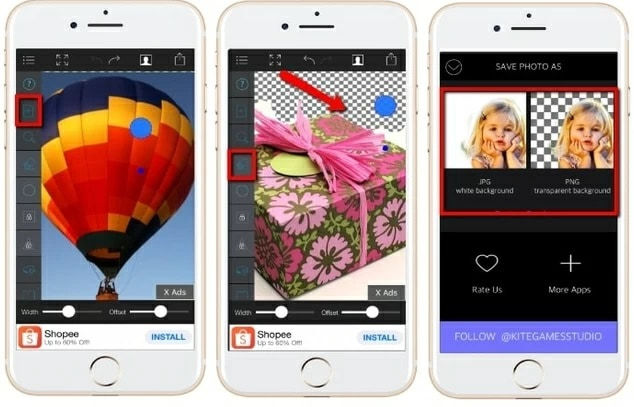 Compatibility: iOS
Key features:
Compatible with iOS 10 and above.
Provides a user-friendly environment.
The results are always accurate.
It is also an iOS app that is easy, convenient, and reliable. You can use this tool on iOS 11 or above. You can trust this tool as it has a user rating of 4.8. With this tool, you can easily cut unwanted objects from the image. It comes with two eraser tools. One Magic Wand removes all the similar colors automatically. For manual removal, it provides the Eraser tool. This app is also free. It will cover 27.1 MB of your storage.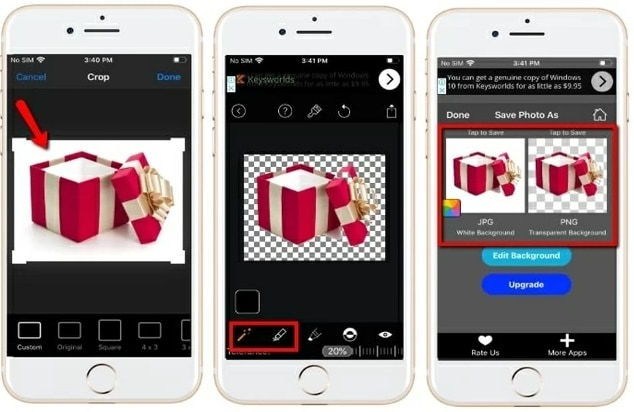 Compatibility: iOS
Key features:
Compatible with iOS 11 or above.
An efficient tool.
Supports all file formats.
Conclusion:
To remove an image background you just need a perfect photo editor that erases background. You can use an online tool, a desktop app, or a mobile app. All of these tools have their own features and drawbacks. Some of them have a complex interface. You may not want to learn that. Then you can use online tools which are simpler than other tools. Just a few clicks and your work is done.
Of these online tools, FocoClipping stands out. It works accurately, provides a user-friendly interface and it is available 24/7. Without any cost it also provides support. Thus it becomes a reliable tool to make images transparent.