Wanna replace the solid color or opaque part of your images with a transparent one? Then you need this complete tutorial guide titled 3 best methods to make background transparent online.
It's so appalling seeing solid colors in the background of an image. This is because, solid colors in the background of an image make the layering of the image hard, and also, unrealistic. However, a profound solution has been found to this- replacing the solid color background with a transparent one. With that, the professionalism of your photography work won't be doubted by anyone. But how do you accomplish this? Well, to answer this question, keep reading.
Part 1: The Easiest Method to Make Image Transparent Online Free
To make an image have transparent background is a tedious task to accomplish as you need to choose a professional photo editing program with fantastic features from the tens of thousands available on the internet. But don't worry about that, we've explored the internet and found one of the best- FocoClipping. We selected it because of the high speed, simple user interface, and stunning editing features that you can use to pimp your images. The program uses smart AI technology to automatically edit images such that it fits your taste. You can also switch to the Manual Mode to edit your images manually. Both features do not reduce or diminish image quality.
Key Features to Make Image Transparent Online by FocoClipping
Supports rich editing features like the application of filters, addition of elements, cropping, trimming, and more.
Uses the built-in multimodal identification system to identify some human traits.
The user interface is made simple and clear so anyone including those that aren't tech-savvy can operate it.
Used a complete AI technology to remove opaque or solid colors from image backgrounds.
Can be used to remove smaller details of images.
Guide to Make Image Transparent Online Free by FocoClipping
Check out the stepwise guide below to replace the solid backgrounds in your image with a transparent one using FocoClipping:
Step 1:Visit the official website of FocoClipping by clicking on the link given above. The interface below will appear on your screen immediately.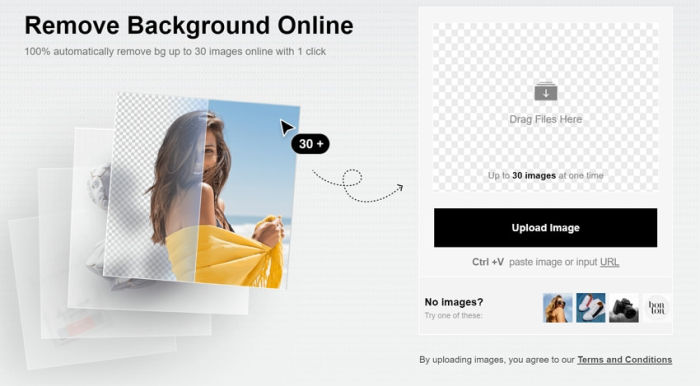 Please ensure that you are connected to a stable internet service to ease and hasten your work.
Step 2: Click on the "Upload Image" button to add your desired image to the program. When you do that, a file manager will pop up for you to select an image whose background needs to be transparent.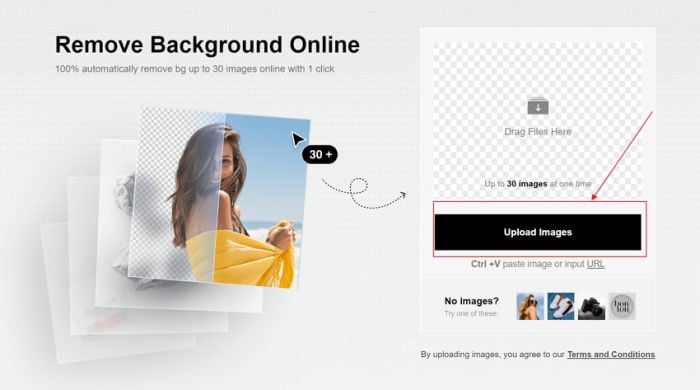 Step 3: Next, FocoClipping will automatically remove the solid colors from the image background thereby making it transparent. It employs smart AI technology to do this.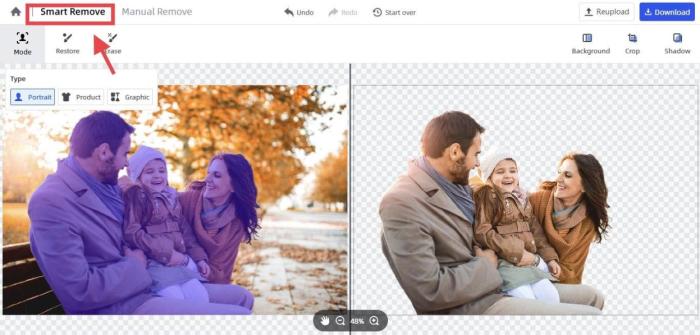 You can select the "Manual Mode "to edit the image yourself. Use features such as crop, background eraser, shadow, and others to adjust the image so it looks exactly like you used the "Smart Remove" feature.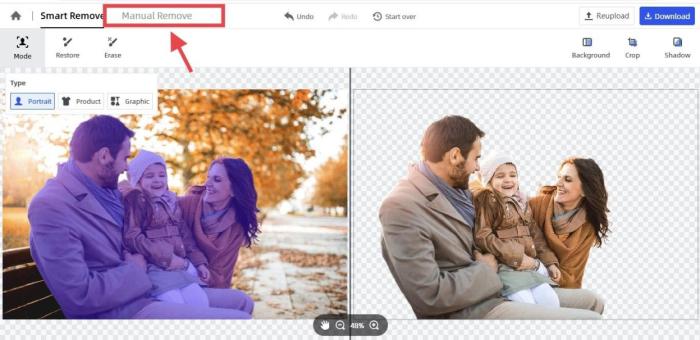 Step 4: Now that you are done with editing and removing solid colors from your image background, click on the "Download "to add the final image to your PC hard drive. Choose either the PNG or JPG format as your desired output format.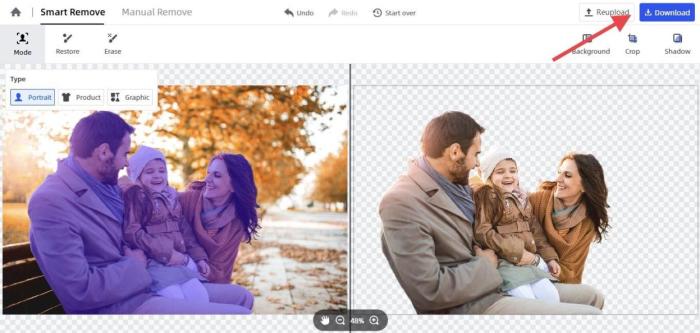 Part 2: Make Image Transparent Online by Clipping Magic
Clipping Magic is another web-based program that you can use to remove solid colors from image backgrounds. This program has got similar features as the FocoClipping photo editor. Some of them include; built-in AI technology for the automatic editing of photos, scalpels, smooth edges, and many others. These features are free to use, however, if you need to remove watermarks or download edited files, you must subscribe. The subscription price ranges from $3.99 to $19.99/month- there is flexibility.
Features
You have to subscribe to a package to remove watermarks or download edited images. And these subscriptions are billed automatically unless you cancel.
It supports many editing features that you can use to adjust your image so it looks professional and more realistic.
Supports the bulk clipping of images-you can remove unwanted objects or solid backgrounds from more than one image at a time.
Guide to Make Background Transparent Online by Clipping Magic
Below, you will find the stepwise guide you need to follow when using Clipping Magic to make the image have a transparent background:
Step 1: Click on the link above to go to the official website for Clipping Magic where you will be removing the solid color backgrounds from your image.
Step 2: Mark the part of the image you will like to keep with the "Green Tool" as shown in the image below.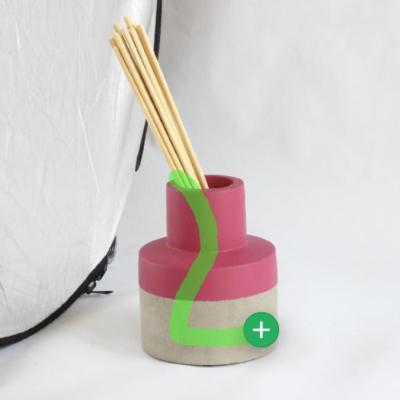 The outcome of what is done above is shown below: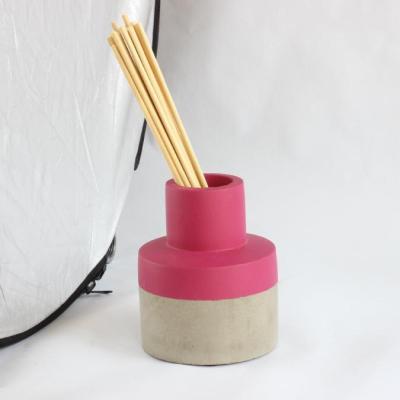 Step 3:Mark the image background that you want to make transparent with the "Red Tool". Check the image below to see how this is done.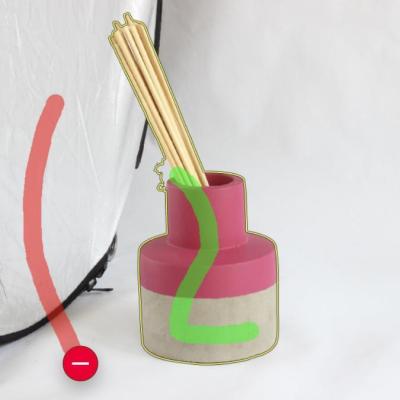 The result of what is done is shown below: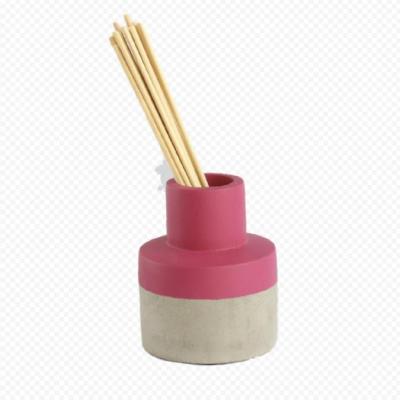 Step 4: Now you have an image with a clear background. You can spice the final image with the different editing features Clipping Magic supports. Add drop shadows, adjust the background color, crop the image to remove some rough edges, etc.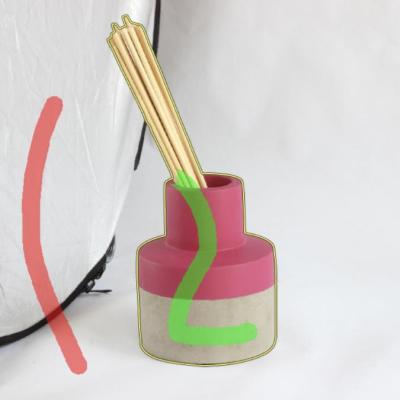 Here is the result of the finishing touches you make:
How does it look now?
Lovely right?
Alright, the next thing to do is download the final image by clicking on the "Download "button.
Part 3: Make Image Transparent Online by Snappa
Snappa is a handy photo editing app designed for both amateurs and professionals to edit images and create graphics. It can also serve as photo erasing software- can be used to remove or erase unwanted backgrounds like solid colors from images. This program saves you time and stress as you can easily share your graphics directly on social media platforms like Facebook, Twitter, Instagram, and many others. Snappa offers two basic subscription packages: Free, Pro, and Team subscription plans. The free plan has some restrictions so you have to subscribe to other plans to enjoy all the features of this app.
Features
It's very simple to use and has over 200 ready-made templates that you can use to create lovely designs
Let's you share your designs directly on social media channels so your friends can see how creative you are
Removes image backgrounds with just a few clicks
Guide to Make Backgrounds Transparent Online by Snappa
Here is the stepwise guide you need to follow to make the image background transparent using the web-based program, Snappa:
Step 1: Download and install the Snappa app on your PC. Wait for the installation to complete, then run it.
Step 2: Add your desired image that you will like to remove or replace the background. Once the image is successfully uploaded, click on "Remove Image Background" at the left-hand pane of the app.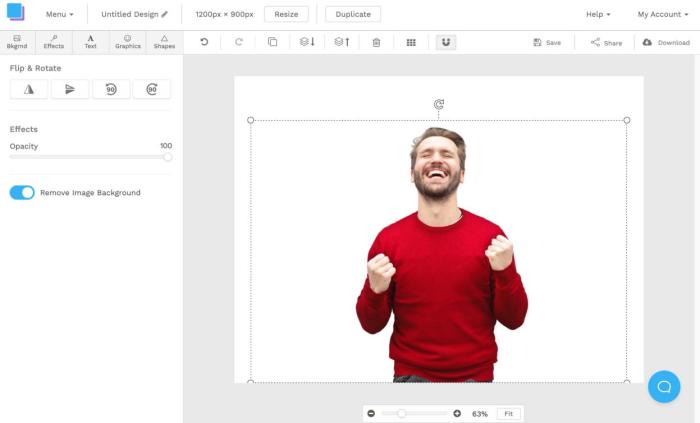 Step 3: The background will be removed automatically. You can then edit the image to your taste manually by clicking on those editing features at the top of the app.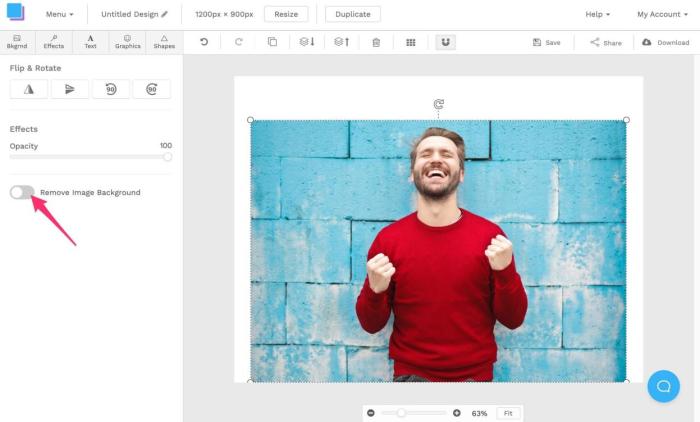 Conclusion
And that's all for the tutorial guide- the 3 best methods to make the image transparent online. Use any of the toolkits introduced above to remove solid colors or opaque backgrounds from your images. But if you are confused about the method to use, we recommend the FocoClipping method. It's very easy to use, fast and free.