If you are someone who is into online product selling or marketing, what can bring you to the top list is how you present your product image. Yes, product photography carries weight and highlights the standard you have to offer. This is where clearing image background comes into play. Not everyone is a pro and many of you would like to learn how to clear background from images. And hence, we would like to help you by illustrating 4 hot solutions to get your purpose served. The solutions we are going to give you in this article will help you to easily remove background from your picture removing any unwanted details to keep the subject in the focus. Let's begin without any further ado!
Part 1: The Highly Recommended Solution to Clear Image Background [Easy]
Fococlipping is a highly recommended tool that is made just for the purpose of removing background details from an image. It's an AI-powered tool that specializes in enabling people to clear background images and do a bunch of cool stuff like add shadows, define specific crop sizes, and much more!
Its AI is super strong and it is especially known for its ability to edit an image in detail. Let's look at some of the top key features of Fococlipping.
Key Features:
Allow you to remove the background of any image using it's "Smart Remove" as well as "Manual Remove" features.
Pick any detail you want to make it clearer and more perfect.
Cast shadows of the focused object in your picture and vitalize your design.
Enhance the visibility of your focused object using a wide array of filters and enhance effects.
Provide preview mode of the results of your editing in real-time.
Now that we know the key features of FocoClipping, let's look at a step-by-step tutorial on how you can use it to clear background image.
Step-by-Step Tutorial to Clear Image Background by FocoClipping
Step 1: Go to their official website and click on "Upload Image" or "Try Samples". If you want to try your hands on this tool, you can go to "Try Samples" and play around with its features.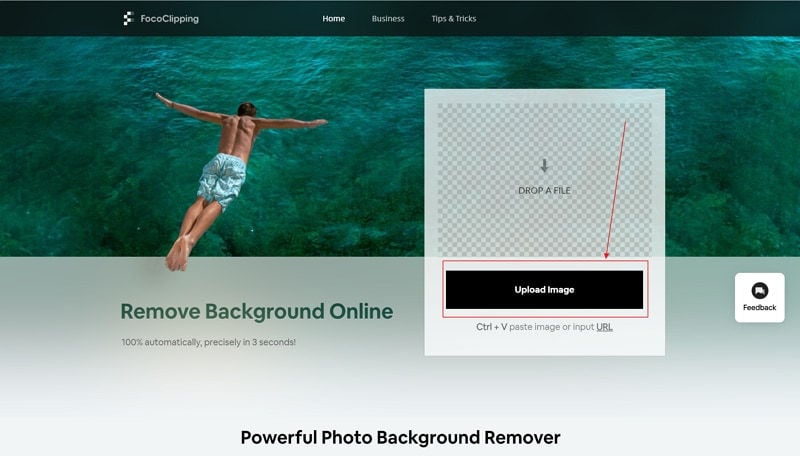 Step 2: Once you have uploaded your image, it opens directly in the "Smart Remove" section of this tool. The AI used in this tool automatically detects the focused object in your image and removes the background for you. The tool also detects whether your image is a Portrait, Product Image, or Graphic and clears the background accordingly.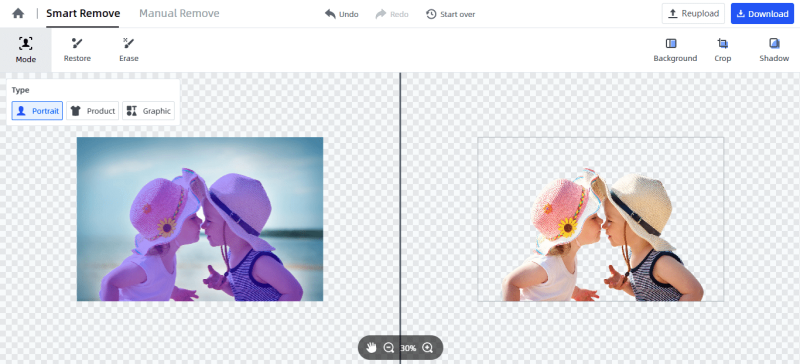 Step 3: You can choose a custom background color from a variety of options that appear on the right side of your screen. Besides, you can add shadow effects to your edited image to make the entire picture look more lively.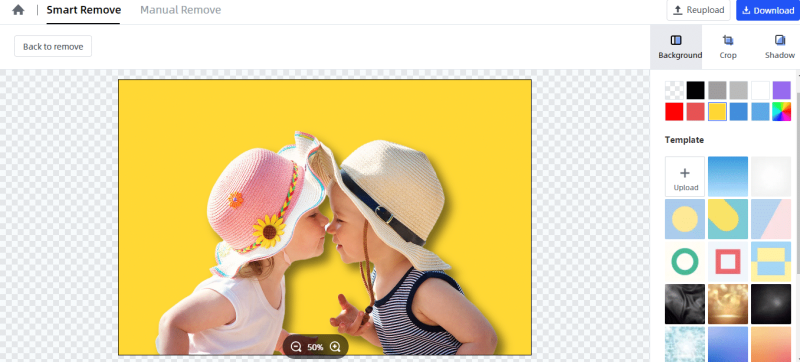 And that's it. As you can see, you don't need to download anything and anyone who knows their way around a computer can easily clear background image without any hassle. There is a "Manual Remove" as well that allows you to select the focused object and remove background image just as easily.
The AI used in this tool makes it more unique than any other tool you would find to clear background images in the market.
Part 2: Clear Background by Photoshop [Complex]
Adobe Photoshop has become a household name for photo editing. It's been in the market for a really long time now. Having said that, it is still considered a tool of experts, and rightfully so. The entire interface of this tool can confuse someone who is using it for the first time. There is quite a bit of a learning curve with Adobe Photoshop, unlike FocoClipping.
Apart from these, here are a few other disadvantages of Photoshop.
Photoshop is not very friendly when it comes to editing vector graphics.
Photoshop is also known for its history of releasing untested beta versions of features.
The monitoring progress facility is only available for a handful of Photoshop features.
It is an expensive tool.
It requires a huge memory space and a high-end graphics card/processor to function smoothly.
Despite its disadvantages, Photoshop is a household name for photo editing and we will look at how to clear background images using it.
Guide to Clear Image Background by Photoshop
There are many different ways to remove background image from a picture using Photoshop. We are going to demonstrate one of those ways in a step-by-step format.
Step 1: Open Photoshop on your desktop. Drag and drop the image you want to edit. Go to the "Layer"; dropdown option, click on "Smart Objects", and then select "Convert to Smart Object".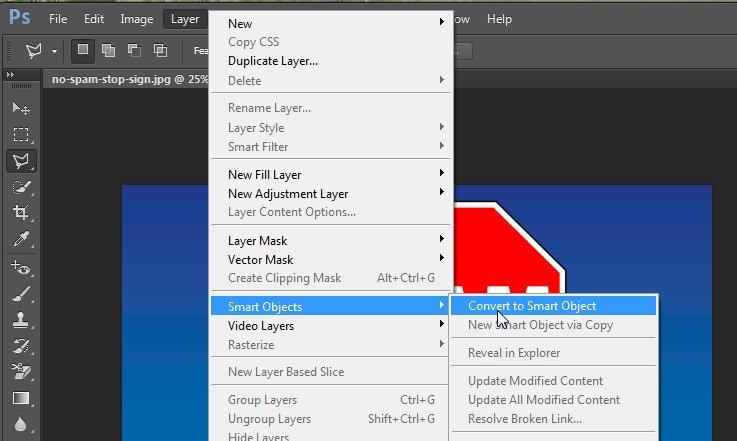 Step 2: Click on the "Layer" menu once again. Go to "Rasterize" and choose "Smart Object".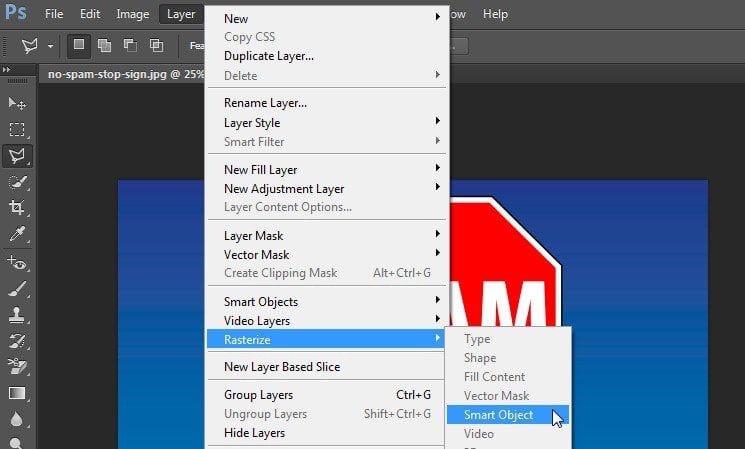 Step 3: Zoom in on your image to make sure that you can work on it in detail. From the toolbar you see on the left side of your screen, choose a tool called "Polygonal Lasso Tool". Once you have selected it, trace the border of the focused object in your image; the part which you want to highlight.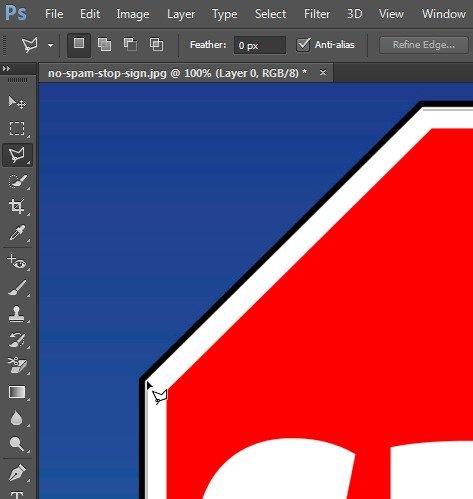 Step 4: Once you have highlighted your entire image (when the start and endpoints have met), click on the "Select" option from the top of your screen and then choose "Inverse". This basically means that you want to select everything else other than what you have selected till step 3.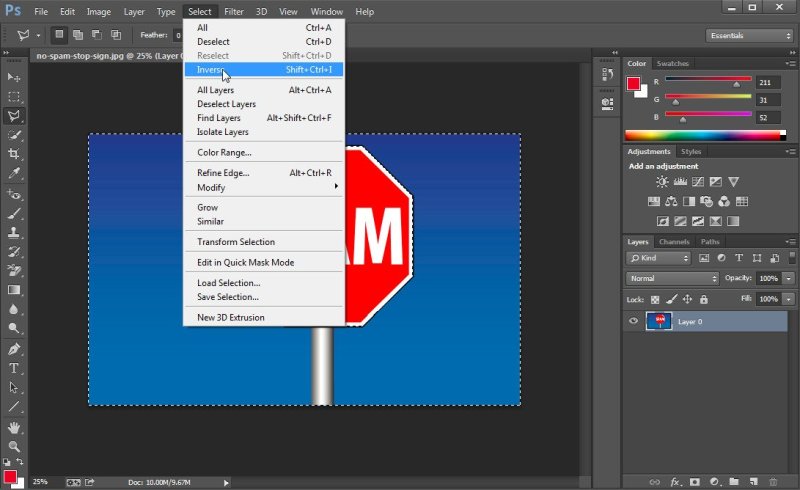 Step 5: Click on the "Delete" key from your keyboard and bam! The background of your image except for the part you have selected is disappeared.
And that's how you use Photoshop to clear background images. But here's the thing. This method works fine for pictures with straight edges only. For other images, there are other tools and methods to remove background from them.
As you can see, removing background from an image is much more complicated with Photoshop than FocoClipping. When using FocoClipping, you just have to upload your image and let "Smart Remove" do the rest.
Part 3: Other 2 Hot Solutions to Clear Photo Background Online
In this section on how to clear background image, we are going to talk about two other tools you can use to remove background noise from your image. We are also going to give you a short description of how to use these tools to remove background from your image to give an idea of how they work and which one to choose for your project.
1. FotoFuze
FotoFuze is another online tool that you can use to enhance your image and clear background image from your photos. It is mainly used for product photographers to edit and improve the overall look of their products.
You can use it for a bunch of different things. Here are some of the key features of FotoFuze.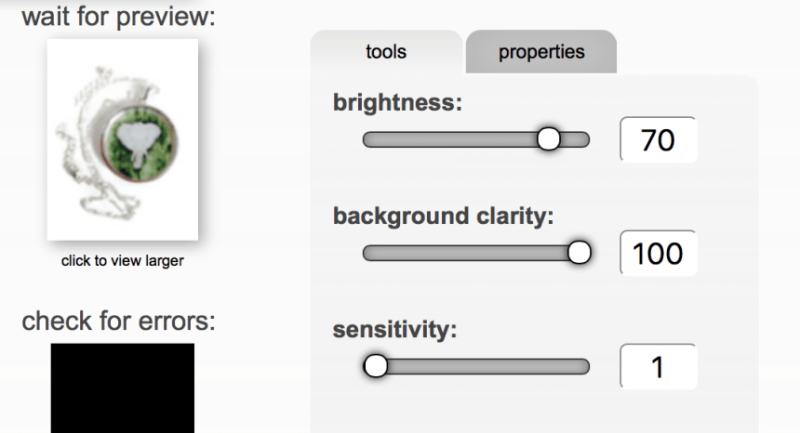 FotoFuze is mainly used for editing product pictures.
It is a web-based tool that allows you to clear the background from your product's image and enhance it to give it a professional touch
You can change brightness, sensitivity, background clarity, etc. using this tool.
Now that we have a basic idea of what FotoFuze is and what its key features are, let's quickly look at how to use it to clear background of your image.
Go to the website of FotoFuze and create your account. Now upload the image you want to edit (remove background) using FotoFuze. Click on the "Magic Highlighter" tool and use it to highlight the outline of your object, much likely how you did in photoshop. Check the preview window to see if the outcome is on the lines of what you want. If not, you can check the "Error Overlay" section to look for errors or increase/decrease the brightness as and when required.
If we talk about the cons of using FotoFuze for removing background images, here are a few. FotoFuze doesn't work perfectly for pictures that have uneven backgrounds. Besides, it specializes in product photography and editing. If you plan to use it for some other type of image, you should consider using another tool like FocoClipping for the same.
2. PhotoScissors
PhotoScissors is another online tool that you can use to clear background from any image you want to. It is a web app tool that explains why it is quite popular among users from all across the world. Here are the top 3 features of PhotoScissors.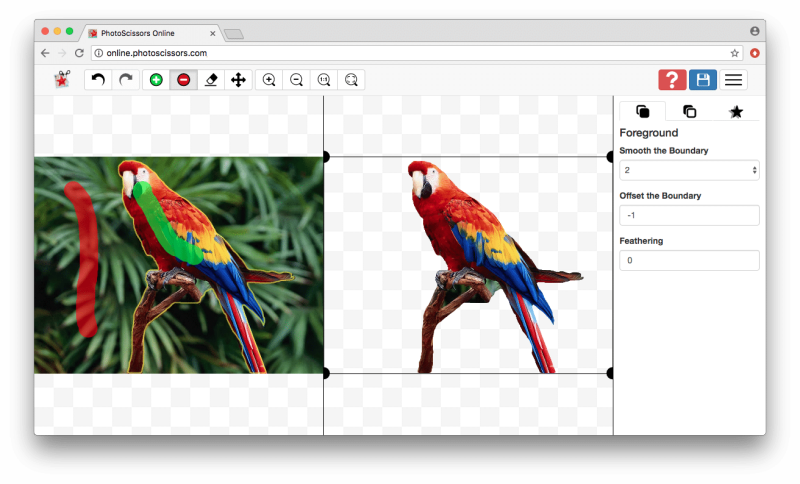 It is a Freemium tool.
PhotoScissors is a web-app-based app. So, you don't have to download anything before editing your picture.
It has a premium option for users that only paid members can use.
Since it is a web-based tool. you just have to go to their website and upload your image to get started. Once you have uploaded the image, use the green marker to mark the focused object of any image and a red marker to mark the background image of the app. Once you have highlighted all these, allow the tool to work its magic and produce the image just as you wanted.
PhotoScissors is a web-based free-to-use tool, it also comes with a bunch of cons that you should address before getting started with this tool. The free version allows images under 2 MB to be cropped only. Besides, you cannot edit images with a resolution above 2.1 Megapixels, which is not much.
Final Words
We have discussed 4 hot solutions to clear background image and we hope that these helped you choose the right software for your needs. Having said that, all the tools except for FocoClipping have their own sets of disadvantages of using them.
To reiterate, FocoClipping is an AI-powered tool that can be used to clear background images. You can use it to remove background images from portraits, products, and graphic vectors. Go to the tool's website now and check it out for yourself. The best part is you don't have to download anything to edit your app.
What are you waiting for then? Head over to their website and clear background from your image right now!