Whether you are an expert photographer or a learner, you will agree with me that the removal of white backgrounds from images is one of the critical aspects of photo editing. You might wonder why critical Well, that is because it depicts the professionalism of your artwork and can be very tedious. Here in this article, we are concerned with the later part- eliminating the stress you pass through while performing the task. We will share with you 2 great methods to delete photo backgrounds on your PC for free.
Part 1: Delete Image Background by FocoClipping [Free & Online]
FocoClipping is a web-based program designed for a variety of photo editing purposes such as the editing and removal of photo backgrounds. This all-in-one program uses the smart AI algorithm built-in to automatically delete unwanted details/objects from portraits, products, and graphics so they look real and more professional.
Also, you can use it to edit complex images with details by switching from the "smart mode" to "manual bg mode" where the blue mark signifier "keep" and red mark depicts remove. When the manual editing is over, automatic editing occurs as the program employs advanced technology to automatically erase unwanted backgrounds.
Furthermore, FocoClipping allows you to replace image background colors with its ready-made templates. Rich in editing features like cropping, trimming, casting shadows, and more are supported by this program. More features such as batch portraits and the clipping of product photos are expected to be added to the program soon.
Key Features of FocoClipping
Its friendly user interface makes it easy for a non-tech-savvy person to edit and erase photos.
You can use it to erase solid colors or opaque objects from the background of any photo, both simple and complex images.
Built with a multimodal biometric system to identify people with greater reliability.
This service supports fantastic editing features like cropping, trimming, shadows, etc,.
It uses smart AI technology to delete unwanted backgrounds from an image.
Guide to Delete the Image Background By FocoClipping
To delete background online freely, visit the official website of FocoClipping, and then follow the stepwise guide given below to complete this operation:
Step 1: Add an Image
On visiting the homepage for FocoClipping, the interface below will appear on your PC screen. Click on the "Upload "icon to add an image whose background needs erasing. When you hit the upload icon, the program will direct you to your "file manager "where the photo is located. Select the photo and then click on "Open".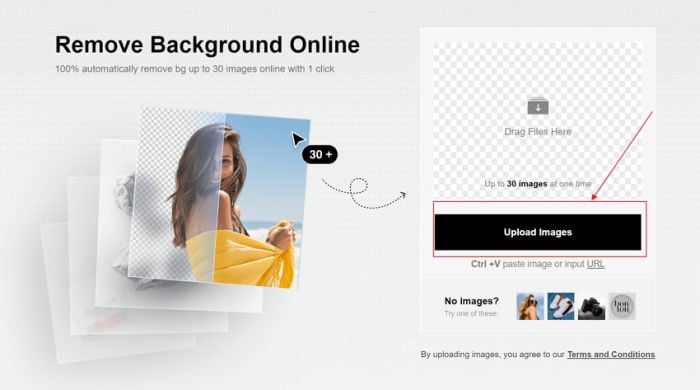 Step 2: Automatic Editing
After the successful importation of the image, FocoClipping uses smart AI technology to automatically delete unwanted details from the background.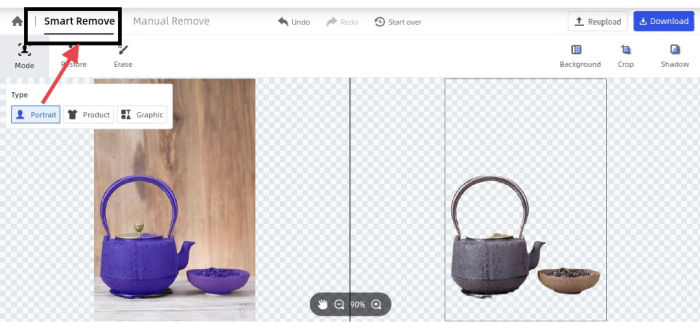 When you check the image above, you will observe that the cover on the kettle is off. Well, you can use the "Restore" tool to put it back on the kettle.
Step 3: Manual Editing Mode
In the case of a complex image, FocoClipping supports manual editing which can be activated by clicking on the "Manual Remove" button as shown in the image below. Also, use features like crop, shadow, and add background to edit the photo to your taste when you aren't satisfied with the result of the"smart remove" feature.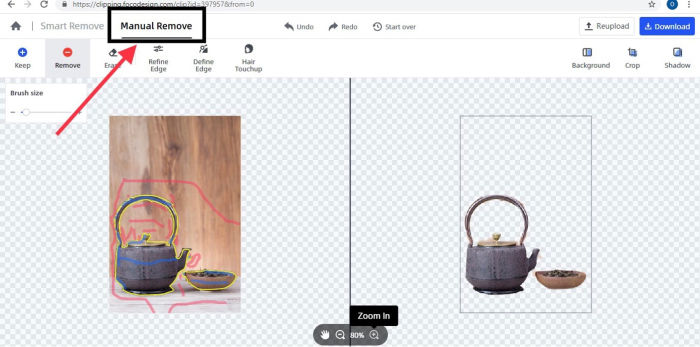 Step 4: Download Converted Image
At this stage, the photo is ready for download. Hit the Download button at the top left corner of the program to add the converted image to your hard drive. Mind you, the program will ask you to select an image format from the list (PNG and JPG)it supports.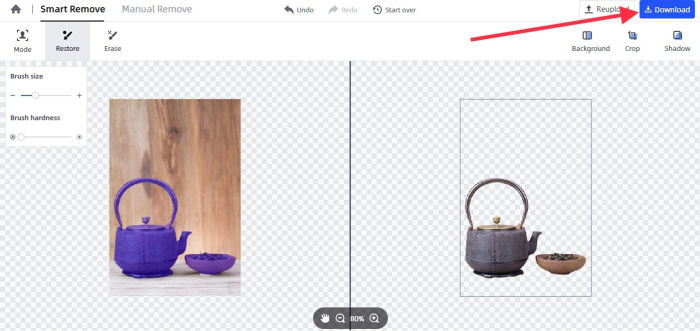 Part 2: Delete Image Background by Illustrator
Aside from FocoClipping, Adobe Illustrator is another powerful photo editing toolkit you can use to delete backgrounds of PNG and JPEG without quality loss- the colors and shapes of the image remain intact. Not only does it support the removal of solid color backgrounds from images, but it does support the sketching and designing of multi-layered diagrams. The program has many aesthetic features, but end users need to pay a premium to access all these features. And this price is usually too high compared to the sister software FocoClipping that is free to use.
Guide to Delete the Image Background by Illustrator
To eliminate backgrounds from images with Adobe Illustrator, download and install a compatible version of the program on your Windows or Mac OS, then follow the detailed guide below:
Step 1: Import the Image
Once the successful installation of the program, run it. When the program opens, import your desired image by clicking on "File" "Open". Select an image from your image file.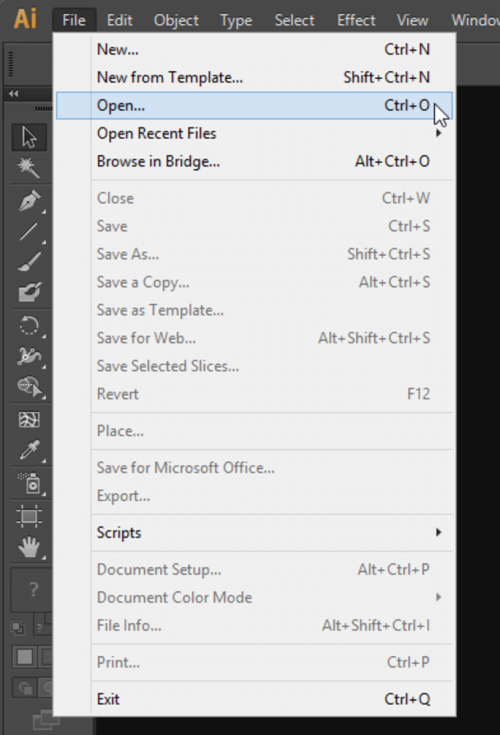 Step 2: Activate Transparent Guide
To save time and reduce stress, validate the "Show Transparency Grid" option to see if you are making your image background transparent or not. Do this by clicking on "View" "Show Transparency Grid".
Step 3: Trace the Image
Use the "Image Trace "option to isolate the subject of your photo from the white background. To do this, hit "Windows " Image Trace.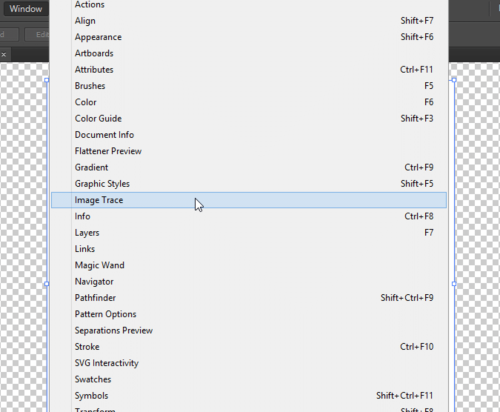 Step 4: Adjust Tracing Settings
Next, adjust the tracing settings of Adobe Illustrator to delete white backgrounds from the image. Below you will find the necessary adjustments:
Preset: Leave this feature.
View: Choose Tracing Result
Mode: Choose Color
Palette: Select Full Tone
Advanced: Expand this, and then scroll down to "Method". Change "method" to abutting.
Option: Validate the "Snap Curves to Lines "and "Ignore White "features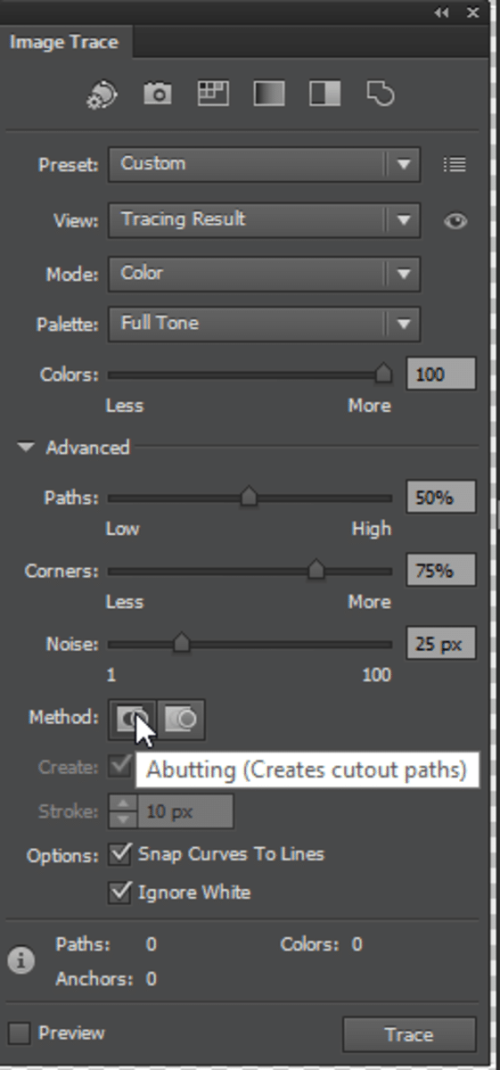 Step 5: Preview and Save the Image
On completing the steps above, export and save the image on your PC. To do this, click on "File " "Save As".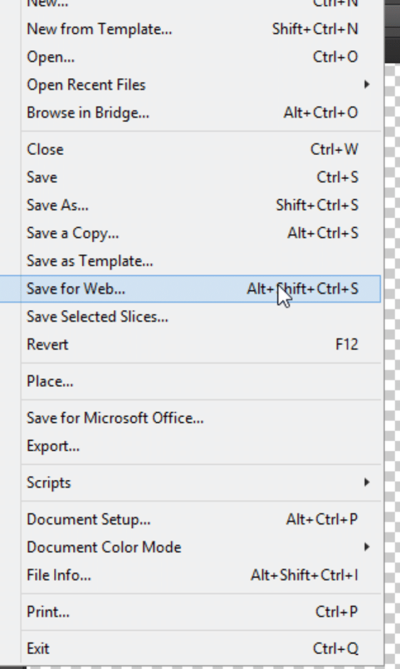 Pros
It has an intuitive user interface
Remove white backgrounds with zero quality loss
Use it to make a sketch or design graphics
Cons
End-users must download and install the software on their PC to use it
It doesn't work on Linux OS
You have to subscribe to a package to enjoy all the features
Part 3: Comparison Table of Using FocoClipping and Illustrator to Delete Image Background
| | | |
| --- | --- | --- |
| Item | FocoClipping | Adobe Illustrator |
| User Interface | Simple user interface | Clean user interface |
| User Experience | Great | Superb |
| Output Quality | High-quality | High-quality |
| Price | Free | $19.99-$29.99 |
Conclusion
Now you have the complete tutorial guide to delete image backgrounds using FocoClipping and Adobe Illustrator at your fingertips. Which of these programs do you find excellent to use?
FocoClipping right?
Well, there is no doubt you will make such a decision. Visit the official website for FocoClipping today to erase solid backgrounds from your images for free.