Are you struggling to remove image backgrounds? Then keep reading to discover how you can remove image background freely with just a few clicks.
Part 1: Remove Image Background Free by FocoClipping [Online Tool]
FocoClipping is of course the best photo editing program that every photographer and graphics designer must have at his or her disposal to eliminate unwanted backgrounds in any picture or design, especially portraits, products, and graphics. This top-notch toolkit is built with smart AI tech for the automated removal of backgrounds from images. To activate this feature, you select "Smart Mode" at the top left corner of the program interface and see the magic of FocoClipping. Also, there is the manual bg mode which is often used for images with complex details.
How does it work?
Select the "Manual Mode" option which is located beside the Smart Mode, use the "Blue" color to mark the foreground, and the "Red" color to mark the background. FocoClipping will immediately use the AI algorithm to remove the marked background leaving the foreground. So simple!
Aside from the removal of backgrounds, you could leverage the rich editing features of the program to pimp your image. There are tons of thousands of customized templates supported by the program that you can select from to design your image backgrounds. To increase productivity and eliminate stress, try the program today. No installation or registration is required- it's free to use.
Key Features of FocoClipping to Remove Image
Smart or manual mode to erase unwanted backgrounds from images with premium quality.
Customize your image backgrounds with the ready-made templates supported by FocoClipping.
Support a multimodal biometric system that recognizes a human face and eye traits during editing.
Contain a clean user interface so end users can run their photo editing projects smoothly.
Designed with a GPU accelerator and multicore processor, two basic components that enhance the speed of operation of any software or program.
Guide to Remove Image Background Free by FocoClipping
Here is a stepwise guide you need to follow to remove image background using FocoClipping:
Step 1: Insert an Image on the Program
Open a web browser on your PC and then enter the link to FocoClipping's official website. The interface below will pop up on your screen: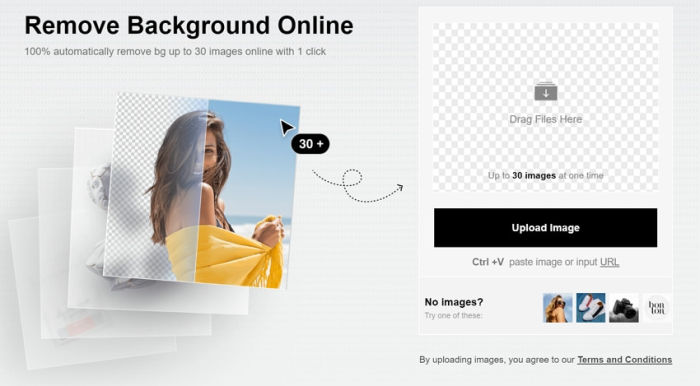 Now, tap on the "Upload" button to insert your preferred image to remove the background.
You will be directed to your device file manager where your images are saved. Select one and then click "Open".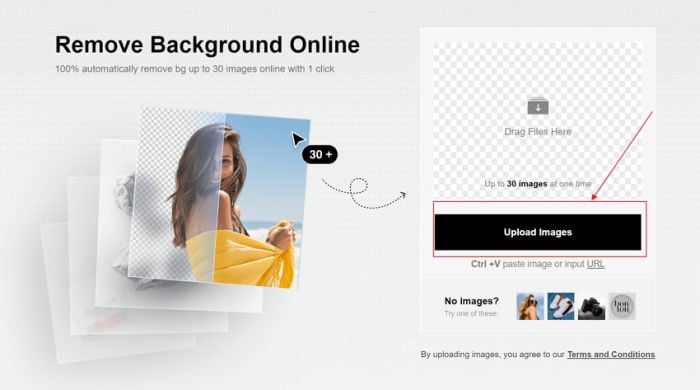 Step 2: Auto-Editing with Smart Remove
On inserting the image, FocoClipping will use the smart AI algorithm that is built into it to remove background from the pics.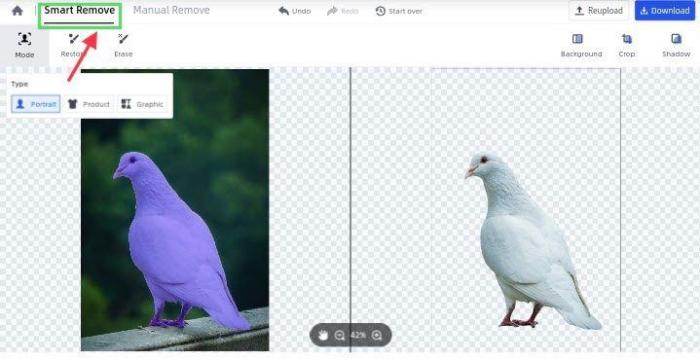 Step 3: Enable Manual Remove to Erase Complex Details
Since the Smart Remove mode is designed to only remove backgrounds from images and nothing else, there is a Manual Remove mode for you to remove complex details. To activate it, tap on the icon, "Manual Remove", at the top of the FocoClipping window. Use the "Blue" color to keep and the "Red" color to remove.
Step 4: Export the Image
Now that you've successfully removed the background from the image, tap on the "Download" icon located at the top right corner of your screen to export the image to your hard drive.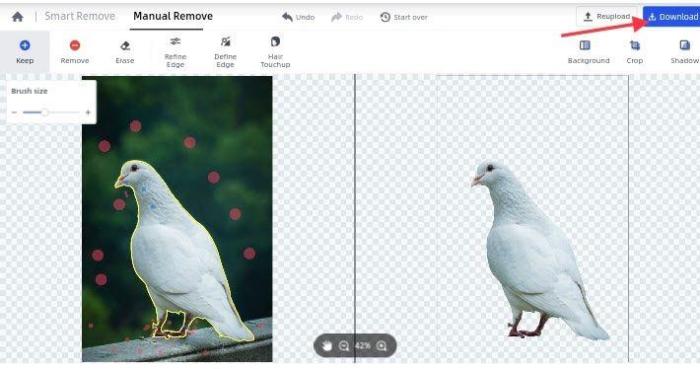 Part 2: Remove Image Background Free by Airmore
Another amazing program that you can use to remove photo backgrounds online freely is Airmore, an image collection library where marketers, designers, and many other online creatives visit to find high-quality pictures for their businesses. This stock photo industry employs the service of a smart AI feature to perform all its operations such as the removal of solid colors from the background of an image and the optimization of the image library. It has a simple user interface- a feature that makes it easy for end-users to navigate around quickly. With all these superb features, Airmore is not without its shortcomings as end-users need to subscribe to access all the aesthetic features it has, and there is no room for manual editing.
Guide to Remove Image Background by Airmore
To remove unwanted details from the background of an image using Airmore, follow the guide below:
Step 1:Visit the website for Airmore on your PC.
Step 2: Insert an image to remove the background from your device's hard drive by clicking on the "Upload Image" tab on the right of the program.
Step 3: In case you have complex details on your image, you could process them by using the manual editing feature which has the "Erase" and "Keep" buttons on the upper left corner of the program.
Step 4: Download the edited image after a few seconds.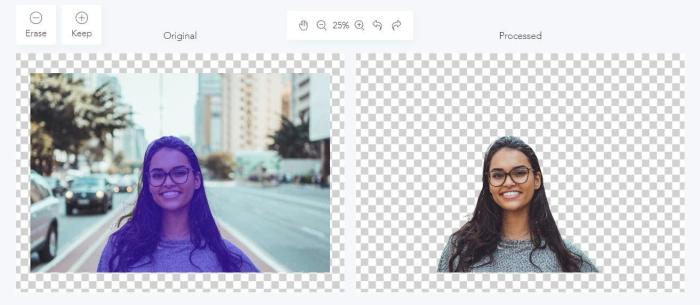 Part 3: Other Free Tools to Remove Image Background Easily
Aside from web-based programs, there are installable photo editors available on the internet that you can download on your PC or mobile device to remove unwanted backgrounds for free. This part will focus on providing you with a top-quality photo editor for each gadget; PC mobile device.
This open-source photo editor is the best for eliminating unwanted backgrounds from pictures as it works perfectly across multiple platforms such as Android and iOS. Basically, Apowersoft Bg Remover is free to use, but you need to make an in-app subscription to prevent watermarks from appearing on your photos. And for me, the subscription is worth it- compared to other apps, Apowersoft Bg Remover renders a smooth service. Also, it has a simple interface and a fair sheer speed of operations.
Pros
Works smoothly on all Android and iOS devices
It has an intuitive user interface
The speed of operation is fair
Cons
Presence of a watermark on images when you do not subscribe to a plan
You might lose image quality while editing or erasing the background of an image
The application doesn't support batch processing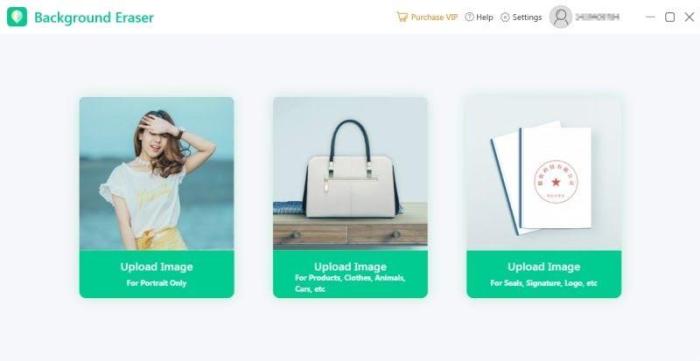 Teorex PhotoScissors is a popular photo editing and graphics designing toolkit with fantastic editing features. The software removes backgrounds from images freely and quickly on all PC OS. It has a friendly user interface with a drag-and-drop feature for inserting images. Unlike other photo-erasing software, there is no limit to the size of the image file you can upload on Teorex PhotoScissors. It supports both manual and auto clipping so there are two ways to edit photos on the app. With manual editing mode, you can mark the foreground and background (the part you want to erase) of a picture, then wait for the AI tech to generate a result.
Pros
Intuitive user interface with drag and drop feature enabled
End-users can switch between manual editing and auto-editing mode to execute any task on the app
There is no limit to the size of the file you add to the software
Cons
There is no hair touch up and define edge features
End-users need to subscribe to access all the features of the software
It doesn't support the sharing of images directly on social media channels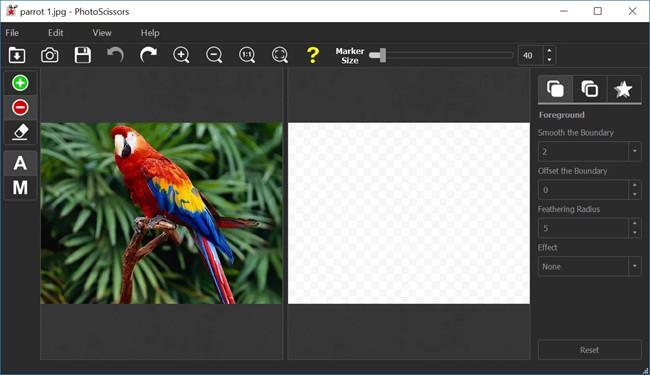 Conclusion
Background removal shouldn't be a tedious task with this guide. Select any of the 3 photo editing/erasing programs (installable and non-installable) given in this article and follow the stepwise guide given underneath to remove backgrounds from your images freely and quickly on your PC. All the 3 programs are great, but for quality maintenance, we recommend FocoClipping. The program also has an excellent sheer speed which makes it stand out amongst others.