"How can I make an image with no background? I don't know how to do it. So I need to know how to make pictures with no background."
The internet is loaded with questions regarding how to make an image with no background. How to add a certain background to my image? How to edit my video so the background is white or transparent? All this is for good reason too. Sometimes the background of a picture is just not good enough to be shared with other people.
That is why people try to use photos with minimal background or pictures with no background at all. Doing this is also fairly easy. There are tons of websites and software that allow you to remove background from your images and videos. You won't even need to do anything, just upload the picture and the background will be removed automatically. This article will teach you how to do that and introduce you to a free online tool that you can use for this purpose as well. So, let's get into it.
Part 1: Why We Need to Make Images with No Background
No one is perfect. You don't always get a dreamy background when taking a picture. Sometimes we dress up, feel really good about ourselves and decide to take a few pictures only for it to be ruined by our messy room in the background or just trash lying on the street in the backdrop of our beautiful photograph.
Think of this, you are getting married, you got a professional photographer to create beautiful memories and when you see the photos, there is someone throwing up in the background. You might get mad at the wedding photographer but it's not his fault.
What would you do if your favorite Instagram model posted a destination holiday picture and a shark was eating another shark in the background? The horrible scene won't leave your memory anytime soon. You might even unfollow that personality.
Similarly, E-commerce sites need good product photographs for their website which can appeal to the customer. If the product photograph has a weird background, this might put off a likely buyer. That is why people, especially e-commerce sites, try and picture with no background. This not only puts the product in the spotlight but also removes any distractions that may be caused by the background.
That is why it is important to know how to create images with no background or how to remove those horrible backgrounds from your beautiful memories. That is exactly what we are going to talk about in this article. Whether you are looking to remove ugly backgrounds from your own pictures or want to provide this service professionally to other people. This article will teach you the basics of how to make pictures with no background.
Part 2: The Easiest Way to Make Images without Background
If you want to make images with no background by using the easiest way possible then this part will help you without any doubt. We have used many other ways and found out that Fococlipping, an online web-based photo background removal tool, can perform far better than many other tools that can give you photos with no background. This amazing background removal free online tool can easily help you create pictures without background within minutes! Also, it has advanced AI technology that can automatically remove background of an image instantly. It has a manual editing system and some other cool image editing features that can help you make your image look more professional and good-looking.
Key Features of Fococlipping:
It removes background of an image with a single click with the help of an advanced AI system.
It can easily detect multiple people in an image without any human touch.
It can separate the details of your image even if it's about a single hair!
It allows users to enhance the images with different filters and background color pre-sets.
It allows users to use a manual removal mode that can help them remove background of complex images manually with more details.
Steps to Make Pictures with No Background by Fococlipping:
Step 1:First you need to visit the FocoClipping website from your computer browser.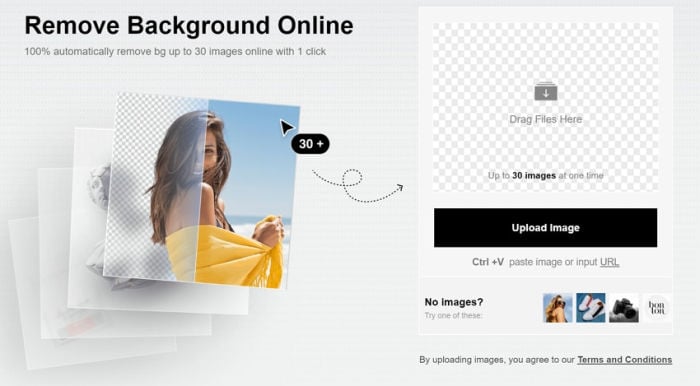 Step 2: Now you need to click on the "Upload Image" button to browse and select the image from your computer file manager that needs background removal. After selecting the image, click on the "OK" button and it will be imported into the system.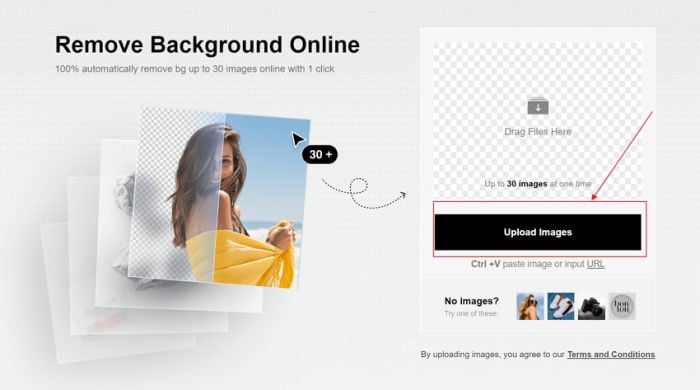 Step 3: Next, you'll see that the smart AI system of Fococlipping will automatically remove background parts of the image just like below. This is a very precise and advanced background removal process without you doing anything at all. So just sit tight and let Fococlipping AI do its thing for you.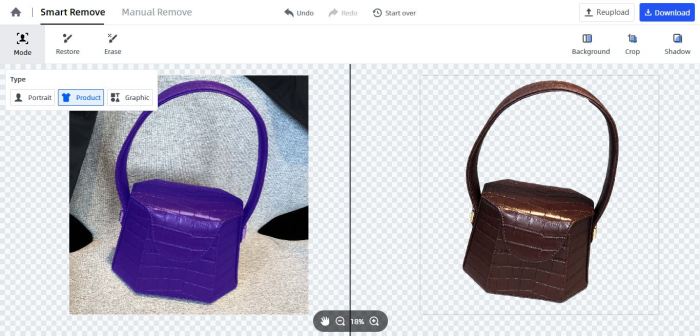 Step 4: Finally you just need to click on the "Download" button so that you can download the image into your computer storage. In this stage, you can also select "PNG" or "JPG" as the output format of the image when you click on the download button. Just choose the desired file format and the image will be downloaded.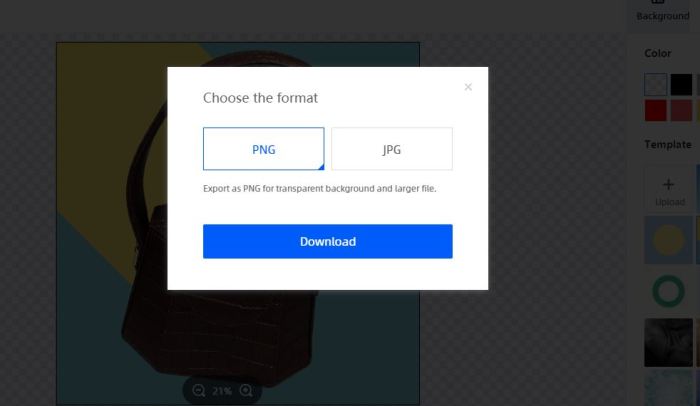 Part 3: Make Images with No Background by PicMonkey
Another way to make photos with no background is by using PicMonkey. If you can get a pro PicMonkey subscription, then you'll get to use the automatic background erasing tool and make photos without backgrounds in no time. Then download the image to your computer for further use. PicMonkey has various other features that can help you make your image look professional but the drawback is the free trial version doesn't allow you to use most of the advanced features. It doesn't even let you download the image without being a premium subscriber.
How to Make Images with No Background by PickMonkey
Step 1:Browse the official website of PicMonkey from your browser and log into your account. Then upload your image into the system to proceed forward.
Step 2:Then you need to click on the "Layers" icon at the top right corner of the window. Next, click on the padlock icon from the Layers panel so that it creates the image in its own layer.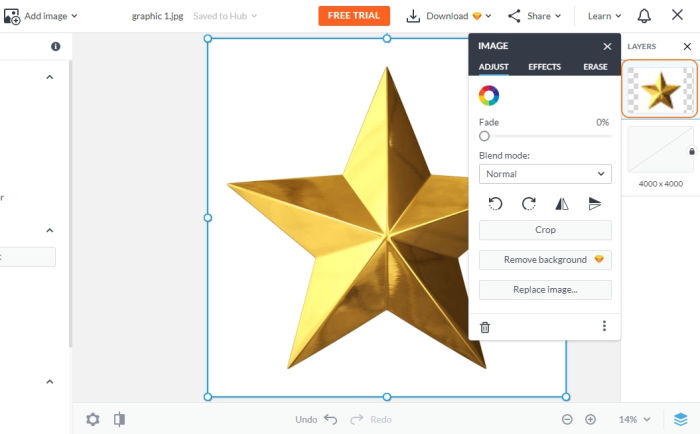 Step 3: Now you need to click on the image layer to open the Image palette.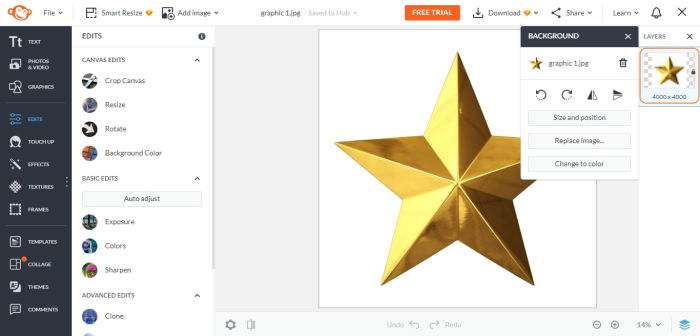 Step 4:Now that your image is already selected, click on the "Remove Background" option to remove the background of your image.
Step 5:Finally, your image will be completely transparent with no background. Now click on the "Download" button to get the image into your computer.

Conclusion:
To conclude this article, now you know the best way to get an image with no background is by using Fococlipping free online tool. You can use other free or paid tools for testing purposes. But if you can trust us because we are the experts, then you should know that we have tested many other tools in order to get photos with no background. But so far, Fococlipping has turned out to be the best one among them. So start using this free online tool for photo background removal and editing without having any second thoughts. Don't forget to let us know in the comments!