I want to remove the background of my picture online. If there is any free tool available please let me know. I am confused about choosing the right one for me-Quora.
Many people want to remove background from images online free. The problem is, there are many online background removal software available on the internet. How do you know, which one will be good for you? Don't worry if you are reading this article, because we have described the best way to remove background from your image online without any hassle. With the help of the detailed guideline from this article, you'll get to remove picture background online free without any complication. Let's get into the details and know which tool can be used in this process to get the best result.
Part 1: The Easiest Online Background Eraser Recommendation [Totally Free]
You may be looking for a tool that can help you to remove image background. There are many tools some are free and some are paid. They all offer different interfaces and tools to remove the image background. But if you are looking for a free and effective tool then Fococlipping is the tool you are looking for. This tool can help you to remove background online for free. Fococlipping is a free-to-use online tool. It provides good control over editing. Its Smart mode automatically removes the background. But it allows you to restore part of the image you don't wish to remove. You can always rely on it to remove background from an image online for free.
Key features
Remove background automatically within a single click with its clever AI system.
An advanced multi people detection system that helps to detect multiple people in a picture.
Separate every little detail of your picture, even in the hair as well.
Keep the edge of the images with proper details instead of messing them up.
Enhance their images with different filters as well.
Guide to Remove Background from Image Online Free by Fococlipping:
Step 1: You can type FocoClipping in the search box and search for the tool. Select the first link after the search is complete. Else you can follow this link FocoClipping.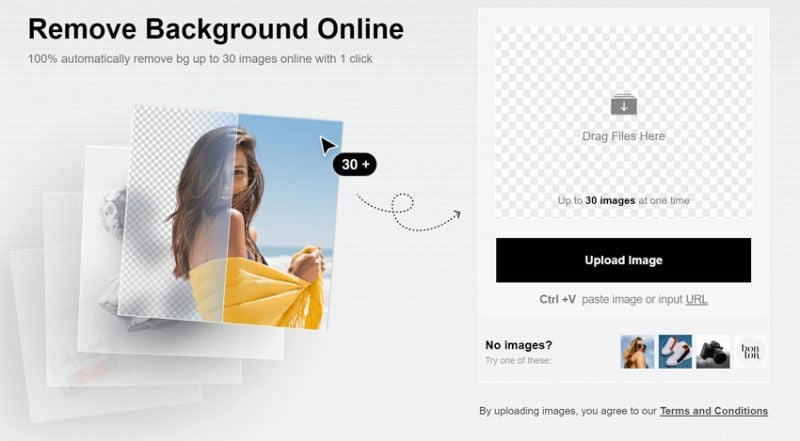 Step 2:Next on this site you will see such an interface like below and you need to upload your desired image into the system.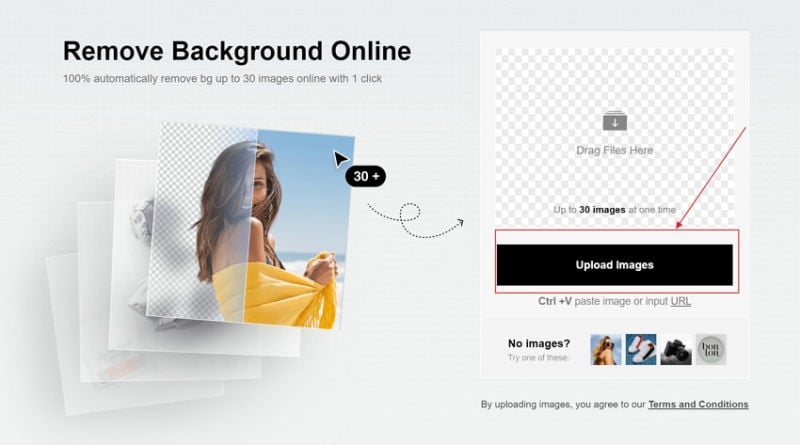 Step 3:After the image selection it will automatically open in the editor. By default, FocoClipping is set to "Smart Remove" so the background will be removed automatically. You can select one of three modes in FocoClipping to display your picture. The modes are portrait, product, and graphic. Portrait and product mode is simple but the graphic mode displays your image graphically.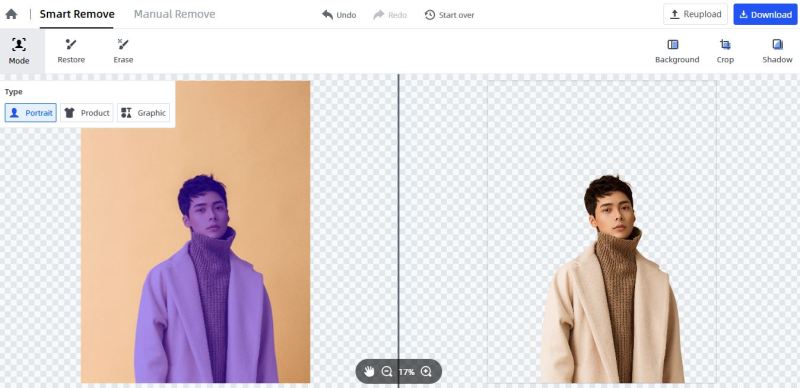 Step 4:Now check if you need to manually edit the image or not. If it's needed, then you need to go to the manual editing process by using the "Manual Mode" option. This mode will allow you to use the Remove, Keep, Erase, Define Edge, Refine Edge, Hair Touchup, etc. tools so that you can precisely edit the image and remove the background. It will also allow you to add a news background to the image, crop it or add a shadow.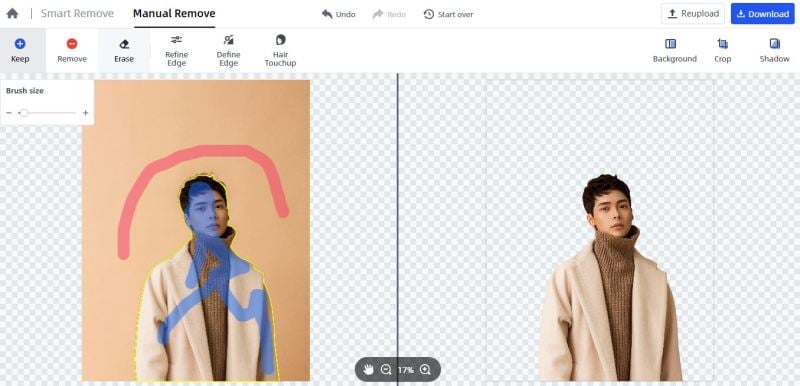 Step 5: Finally if you are happy with the background removed and edited the picture to make it ready, you can click on the "Download" button to download it. The system will allow you to choose the "PNG" or "JPG" format of the image. After that, the image will be downloaded to your computer.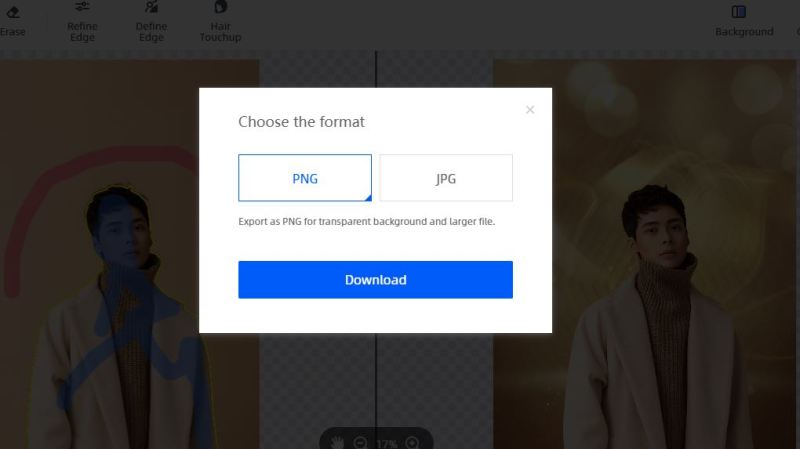 Part 2: [Bonus] How to Remove White Background Online For Free by FocoClipping
You may be wondering how can I remove white background of my images? Well, it is not rocket science if we have FocoClipping, the easiest online background remover. You may want to remove the white color on the background. You can also change it to a suitable background of your choice; it's very easy. Let's learn its procedure in detail.
Guide to Remove White Background Online for Free by FocoClipping:
Step 1:Get access to FocoClipping. You can search on google or you can follow the link FocoClipping.
Step 2: Select your image with a white background. Let's add some colors to it. In this case, I have chosen the following picture.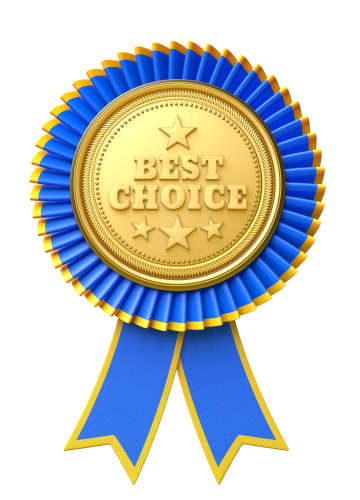 Step 3: Let's see what change is given to it by the smart removal of FocoClipping.
As you can see in the above picture the white background is gone. Now you can keep your image this way or you can add a background color or add another background to it.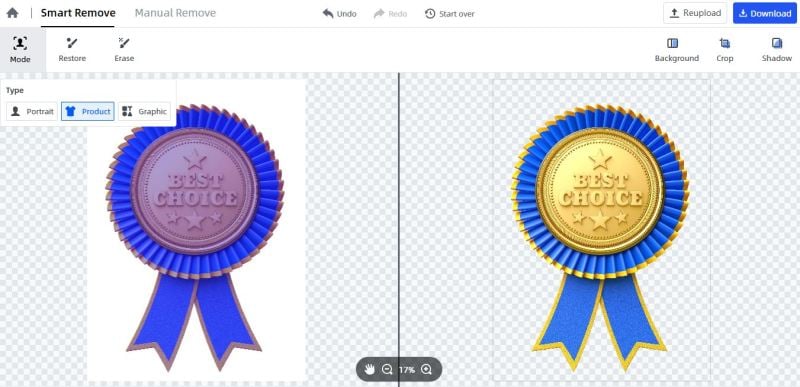 Step 4:To add some flavors to the picture you can click on the background button from the right side of the screen. You will find multiple colors and background templates there. It is your choice either to choose a background from the given templates or you can upload one of your choices.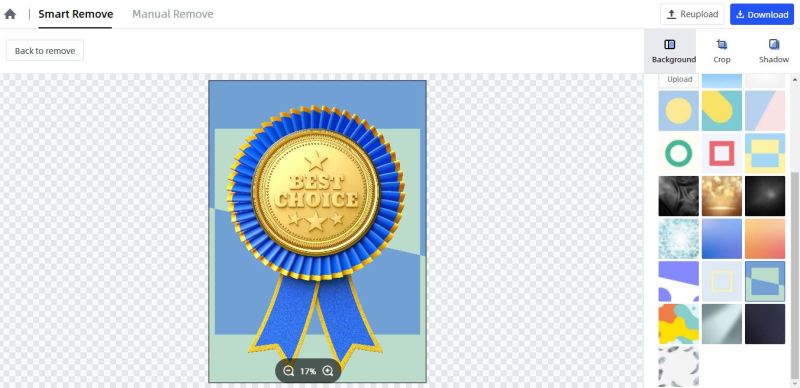 Step 5:Finally download the image into the computer and finish the process.
Conclusion:
Now you can remove background from images online free using FocoClipping. It is indeed one of the easiest and effective online background removers. If you are using this tool then you will not have to purchase any tool. It has all the features which are necessary for a background remover. It just allows you to remove the background but also you can edit it. You can always rely on it.