Can anyone tell me how to Remove Background from Image Free without using Photoshop?
Photoshop has since long been the industry standard for editing images. There are a variety of free or inexpensive applications available with similar tools. There's all you can do via Photoshop, from photo editing and compositing to digital painting, animation, and graphic design. Yet, it is a tedious task for many users because Photoshop is not easy to use and you need professional skills to use it. So, instead of using Photoshop to remove background, you can go for several other online platforms available which can help you to remove background even if you are a newbie. Here we will discuss these online ways.
Part 1: New Released Online Solution to Remove Background from Image Free
More than using software and cell-phone based applications; people prefer web background remover that lets you do the background removal online without downloading the software on their device and FocoClipping is one of the best online background removal tool.
There are several features offered in this online background removal which enables you to remove background and even you can replace the old background with a new one using this program. This website is totally user-friendly and you won't face any issue in understanding the interface even if you are a newbie who never edited any image.
Key features
Advanced AI of the website enables users to remove background from image free with one click.
FocoClipping has options to apply colourful background and you can apply millions of colour to the photo background.
Over 10 free templates to use with the transparent background image.
The website also allows you to upload your own templates from the system.
HD output quality up to 3000x 3000 pixel.
Guide to Remove Background from Photo by FocoClipping
Step 1:You can locate the websitehttps://www.fococlipping.com/to remove the background online, select the option "Upload" on the Home page. A dialogue box appears. Select the desired image file and press Enter or click on "Open". A workspace opens up on your browser.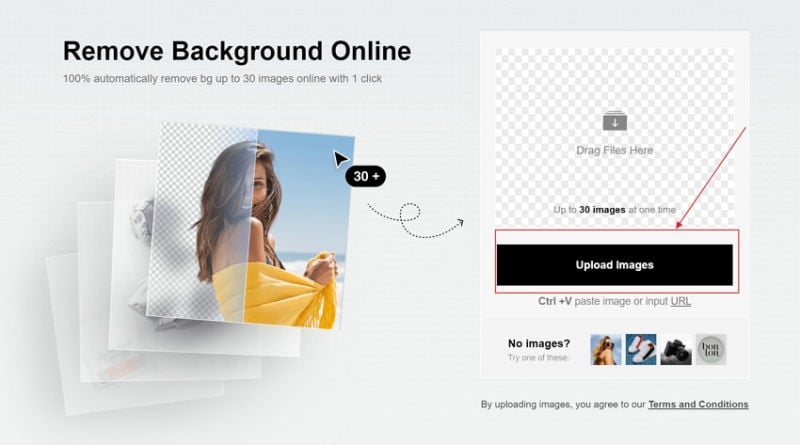 Step 2: The image will be opened in background removal and smart remove of the website will automatically remove image background with the help of powerful AI of website.
After removing background if you are still facing the issue of background then you can simply go for the manual remove tab.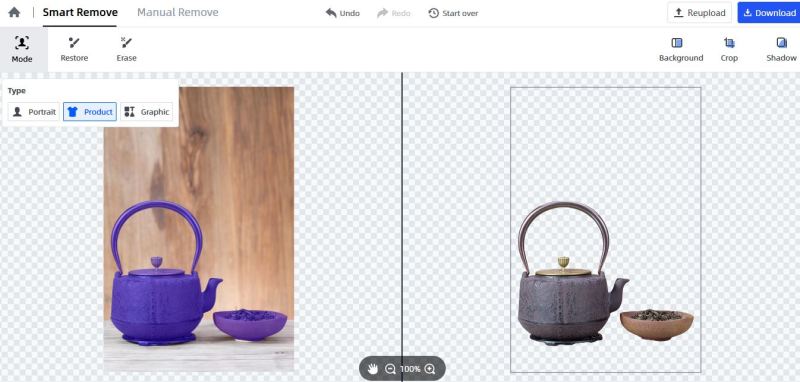 Step 3: In the manual removal of the website you can use erase, remove, keep, define the edge and refine edge and hair touchup options to remove background completely and making is perfect.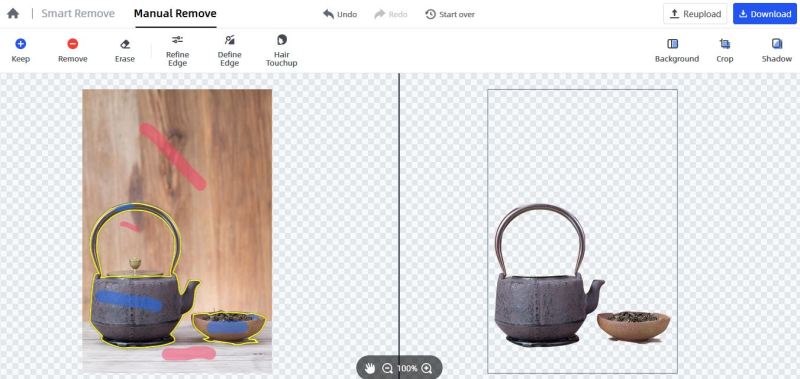 Step 4: After doing the background removal process, now click on the "Download" button at the upper right corner and then select the .jpg or .png format to save the image on your system then click on the "Download" button again and the image will be saved in your system.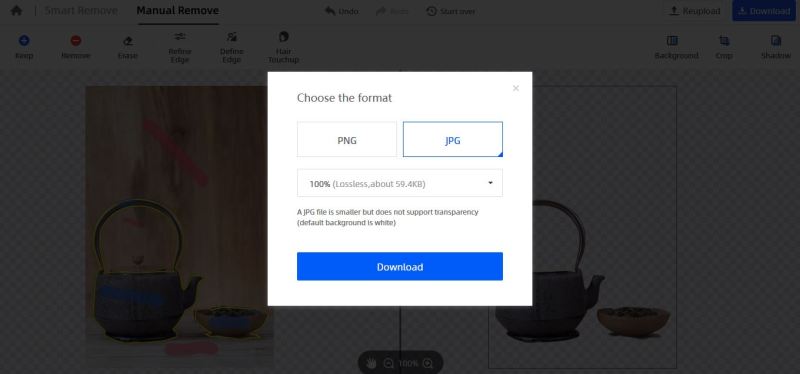 Benefits of Online background removing tool of FocoClipping
FocoClipping lets you save on time.
Processing the image with other photo editing software takes a bunch of time, whereas, with this web app, the same can be done in real snappy time. In situations where you're in a rush to finish off work, FocoClipping is perfect for you.
Also, mostly all photo editing software is heavy in storage. You don't need to introduce heavy software on your computer when you have online tools to bank on and save on computer storage and prevent it from being slow.
The photo editing software such as Photoshop, Illustrator, and Corel PaintShop charge a ton of money from you for usage. In contrast, FocoClipping provides multi-software features with an easy user interface and free of cost.
Part 2: How to Change the Background Using FocoClipping [Bonus]
FocoClipping offers a one-click removal of background with its powerful AI that selects the content most appropriately on selecting the removal type, whether a person, product or text in the Smart Remove. It recognizes the area you'd want to omit in these kinds of images and smoothly picks up the right content, giving a hassle-free, quick and smooth output. So much and free of cost is what makes FocoClipping a handy web and cell phone application.
It also lets you make alterations manually using the Manual Mode, wherein you can add a new background of your choice to your images as well.
Steps to Change Background by FocoClipping
Step 1: Open the PNG or JPG file of the image whose background has been removed using the "Upload" button at the homepage of the website. After removing background click on the Background icon in the right-hand corner.
Decide whether you want to add a solid colour to the background or a pre-provided template.
There is an option of uploading your template by clicking on the Upload icon or picking your colour from the colour palette.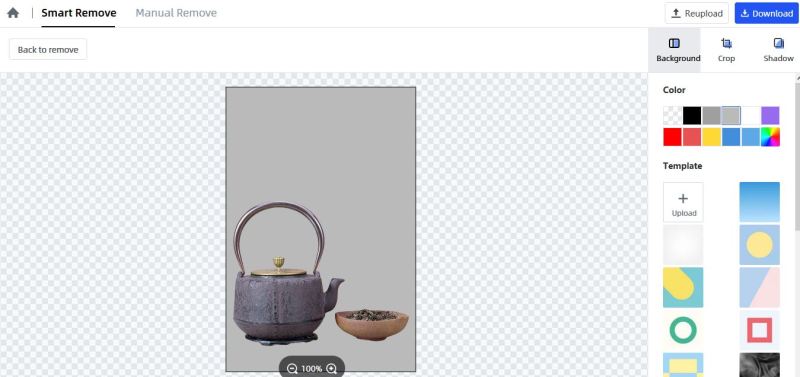 Step 2: You also get options to give depth to the picture by adding Shadow and using the Crop tool for eliminating certain portions proportionately.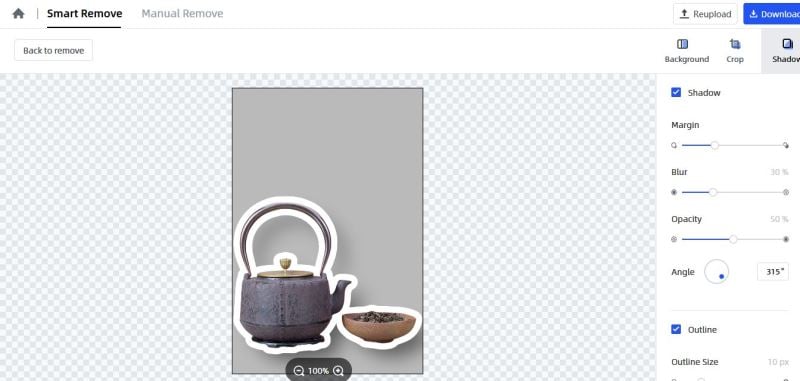 Step 3: Once you are done, click on Download to save the image and pick the file format you desire, whether PNG or JPEG. You are ready to show off your newest content on social media.
Conclusion
FocoClipping has a user-friendly interface. It compensates for various applications because it is ideal for web-based businesses like affiliate marketing. It is easy to use and manipulate and allows smooth background removing of images, changing background of images with over 10 premade templates and millions of colours. Thus, the scope of content creation and creativity is vast and lets the user explore widely. Background remover online applications make image processing relatively easy, unlike how it was done previously when one had to dedicate long hours to editing images and videos. These web applications are quick to access and understand, letting you achieve desirable output and letting you save on storage, time, and money.