Photo editing processes, especially background removal, can be challenging when you don't have the right toolkit at your fingertip. There are over 1000 photo editing programs available online. Most of them claim to provide excellent results, but just a few are a perfect fit for you. This article will introduce you to the top 8 fast online free image background removers you can use to erase unwanted backgrounds from images without downgrading the quality. These programs have been tested and are approved by experts in the photography industry. So let's check them out.
Part 1: Best Free Online Image Background Remover
Whether you are a newbie or an expert photographer, FocoClipping is that all-in-one program you need to transform and remove image backgrounds. The top-rated toolkit employs smart AI tech in executing all its operations, both automated and manual editing. Although "Smart Remove" is the default mode of operation, you can switch to manual editing by selecting "Manual Remove" at the top right corner of your screen. When you do that, 5 icons; Blue, Red, Hair Touchup, Define Edge, and Refine Edge, will appear underneath. Each of these icons has significant importance. While the "Blue" and "Red" colors signify keep and remove respectively, the other 3 icons have got an impact on the image. Aside from the removal of backgrounds, you could also erase unwanted objects or subjects from your images with FocoClipping. Furthermore, the program supports hundreds of customized templates that you can use to pimp your image backgrounds. Also, there are rich editing features like trimming, cropping, shadow, and background that are supported by the toolkit.
Key Features of FocoClipping to Remove Image For Free
Supports a multimodal biometric system to recognize certain human traits usually the eyes and face.
Uses a smart AI feature for the auto-clipping and manual removal of unwanted backgrounds.
Don't need to install the program before they can use it. Just ensure you've got an internet connection on your PC.
The program features advanced tools like the hair touch-up, defining an edge, refining edge, and erase tools.
With just a few clicks, you can remove unwanted backgrounds from portraits, products, and graphic designs.
Guide to Remove Image Background by FocoClipping
Here is the technique to remove image background using FocoClipping:
Step 1: Access FocoClipping Official Webpage to Import an Image
With the help of your internet-enabled Windows or Mac OS, you can access FocoClipping's official webpage. Just enter the website link in your web browser or better yet, tap on the link above, and you will be directed to the service page. Once you do, the interface below will come up on your screen.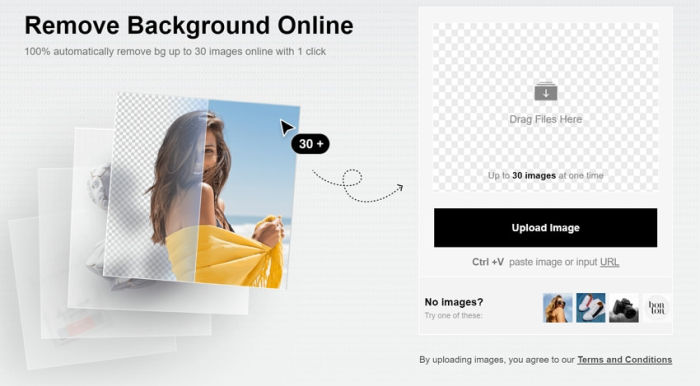 Now click on "Upload" to import an image from your device.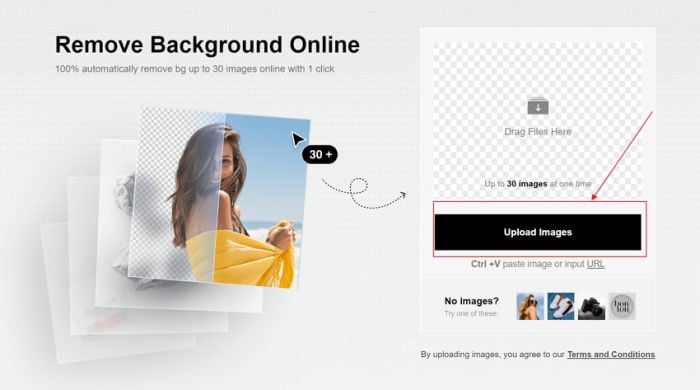 Step 2: Auto-Clipping
After adding an image to the program, the smart AI feature will automatically clip out the unwanted background making it transparent. Mind you, the object or subject of the image will be left behind.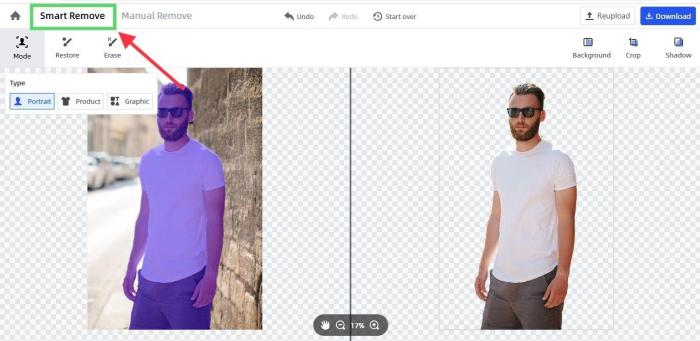 Step 3: Use the Manual Remove Feature
In case you don't get what you want while using the "Smart Remove" feature, you can make a switch to "Manual Remove" to make necessary adjustments. To use manual editing, you have to enable the feature by clicking on "Manual Remove".When you do this, some icons will appear underneath as discussed above. Apply each of them based on their function.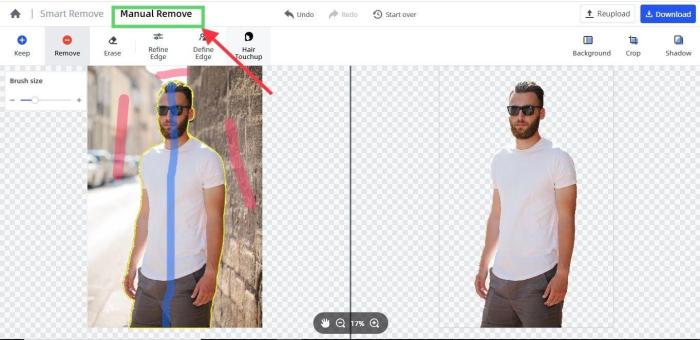 Step 4: Download Image
Now that you are done editing, download the image to save it to your hard drive. Use the "Download" button at the top right corner of the program to execute this operation.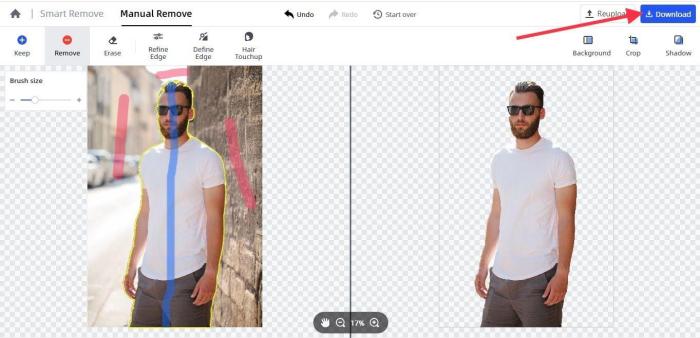 Part 2: Other 7 Automatic Image Background Remover Online Free Recommendation
Having gone through what FocoClipping functions are, I'm pretty sure you are convinced that it's indeed the best image background remover. But could there be other programs like this? Of course, there are. The background removal process for these toolkits is the same as that for FocoClipping. All you need is to visit the program website, upload an image, mark the foreground and background then wait for the built-in AI system to complete the process for you. Without wasting your time, let's walk through the other top 7 online image background removers.
AutoClipping is a wonderful online background removal service with a simple user interface. The program uses an advanced technique to erase backgrounds from images without compromising their quality. Also, the toolkit has many touch-up tools that end users can use to make their pictures look attractive.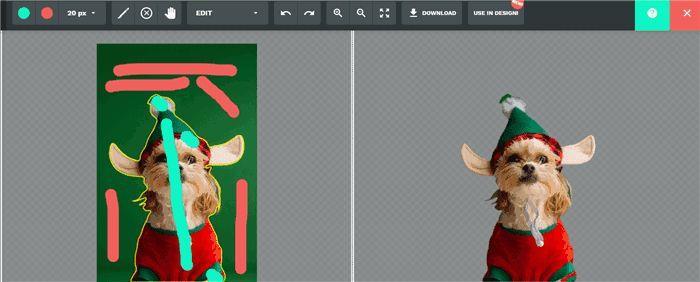 Pros
It has a user-friendly interface
Both auto-clip and manual clipping features employ AI-feature
Switch image backgrounds from one form to another without degrading the quality
Cons
The program lacks hair touch up, refines the edge and defines edge features
Not so perfect for portrait pictures
The speed of operation depends solely on the stability of your internet connection.
Befunky is another web-based image background removal with an auto-clipping feature. What this means, in essence, is that the program also uses smart AI technology to erase backgrounds from pictures. It has a clean and interactive interface, and the mode of operation is straightforward.

Pros
Perfect for removing backgrounds from graphics designs
Built with essential features like crop, resize, rotate, and many others
Possesses hundreds of ready-made templates that you can use to replace backgrounds
Cons
Not suitable for erasing portrait and product backgrounds
Edges lost during the background removal process can't be recovered as the program lacks refine and define edge features
It takes time to generate results of any command you enter
Slazzer is an automatic background remover- a program that uses an advanced Auto-Clipping AI feature to eliminate backgrounds from images so it becomes white or transparent (gray and black, just like a checkerboard).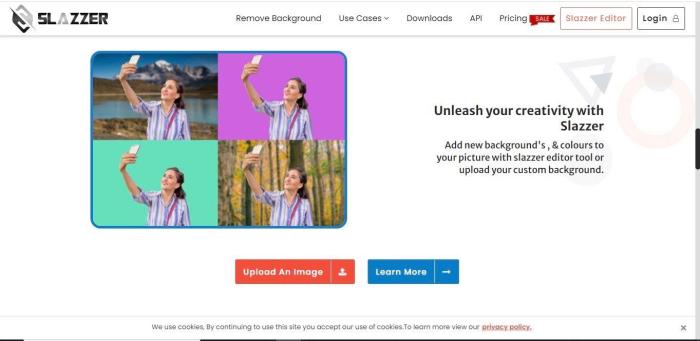 Pros
Remove or add new backgrounds to images
The program uses smart AI tech in executing all its services
The web layout is clean and simple
Cons
Limited editing features
You need to subscribe to a package to use all the features of the program
It can only be used on images with backgrounds- can't be used to remove or delete unwanted subjects from an image
Pixlr is a simple image background remover with amazing touch-up tools that you can use to improve the quality of your images. Both amateurs and professionals find the program handy because of the smooth user interface. Pixlr removes backgrounds from images at a fair speed with zero quality loss.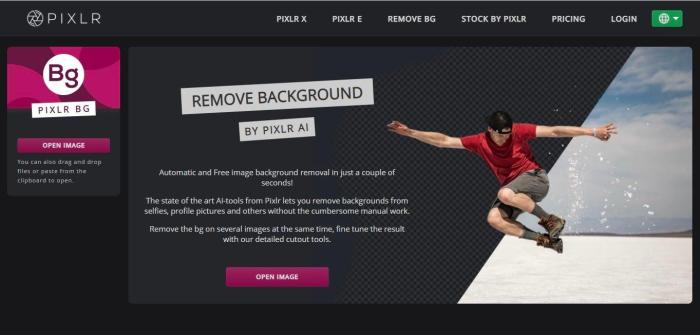 Pros
In just a few seconds you can remove unwanted backgrounds from images
The program has a simple and straightforward web interface
Designed with a detailed cutout tool that you can use to fine-tune your images
Cons
You have to register as a member of the website to use the program
Graphics designs can't be edited using Pixlr
The quality of your images isn't guaranteed
PhotoScissors is an amazing background removal service designed with an advanced Auto-Clip feature to assist end-users to eliminate unknown objects, subjects, or backgrounds. This freemium program works perfectly across multiple platforms such as Linux, Mac, and Windows. You don't have to be tech-savvy before you can operate it as the user interface is clean and simple.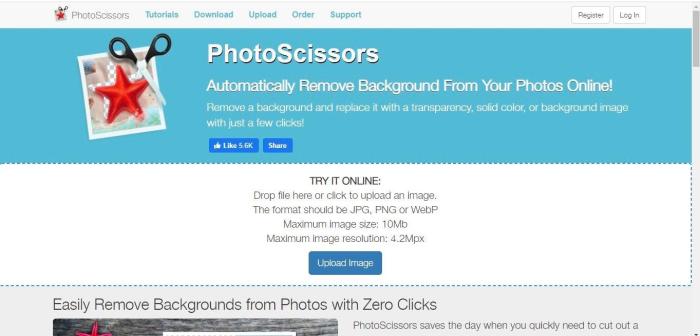 Pros
PhotoScissors lets you remove backgrounds from images with zero clicks
It has several templates that you can use to replace your current background
Customer support is usually available to attend to your complaints
Cons
There is a limit to the size of the image you post on the program
Only JPG, PNG, and Web image formats are supported by the toolkit
For high speed operation, you need a strong and stable internet connection
Fotor Background Remover is the last on our list. Like FocoClipping, this web-based program cuts out unwanted backgrounds or objects from any image within a few seconds after the successful insertion of the image. The program can also serve as an image editor because of the rich editing features it has.
Pros
Interactive user interface with drag and drop feature enabled
It can be used to take a snapshot of a PC screen
Removes backgrounds from images with just a few clicks
Cons
You have to subscribe to access all the features of the program
Too many ads appear on the web-page
End-users need to register or sign up to use the program
Part 3: Comparison Table of these 8 Free Online Image Background Removers
Here is a table of comparisons for the 8 programs. Check it out to see which program is good for you:
| | | | | | |
| --- | --- | --- | --- | --- | --- |
| Features | User Interface | Max. Upload Image Size | Premium Quality | AI Technology | User Experience |
| FocoClipping | Simple and Interactive | no limit | Premium Quality | √ | Great |
| ClippingMagic | Intuitive | No limit | High-Quality | √ | Superb |
| Remove. bg | Clean and simple | Limitless | High-Quality | √ | Fantastic |
| Slazzer | Straightforward | Limitless | High-Quality | √ | Good |
| Pixlr | Easy | Limitless | High-Quality | √ | Good |
| PhotoScissors | Interactive | 10Mb | High-Quality | √ | Superb |
| Fotor Background Remover | Friendly | 10Mb | High-Quality | √ | Good |
Conclusion
The removal of backgrounds from images should come with ease with these 8 free online background removal services. Just select any one of them and use it on your images to eliminate unwanted backgrounds. And within a few seconds, you are done. Not sure of what program to use? Then use FocoClipping. The program has excellent sheer speed, requires no installation or sign-up, and lastly, it's free to use.