What is the best free background remover?
What free app removes background?
Do you need an automatic background remover (AI-based) for your photo editing projects? Read this.
Having an AI-based tool by your hand for your photo editing program is necessary because the workload of your project may enormous. These tools can process pictures at high speed, enhance the professionalism of your artwork and help you increase efficiency.
Some photo editing tools have AI-tech integrated. However, we are focusing on background removal programs here (whether if they need installation). You can find a lot of background removal programs when you browse the internet, but not all of them fit you. For that reason, we've searched the internet with experts to find perfect tools for the job. However, before we dive into the list of AI-based background removers found by our research, let's see what automatic background removing means and their basic features.
Part 1: What is Automatic Background Remover
Automatic Background Remover is an AI-based program that erases backgrounds or unwanted objects from images without compromising the quality. Those programs can be in various forms both installed or online.
Features of Automatic Background Remover
It uses smart AI-tech to execute all tasks.
It is simple to use and lets you run your projects smoothly.
It removes background and objects at a high speed.
Part 2: Top 10 Online Automatic Background Remover Free
FocoClipping
FocoClipping is an all-in-one automatic background remover designed for multiple platforms to remove background from pictures. This AI-based program also has rich editing features that you can use to further improve your images. With the interactive user interface, you don't need to be an expert to use it. Although the program is fully automated, users could still use manual editing to make necessary adjustments. To do this, just switch to "Manual Remove", then use the "blue and red" brush to mark the objects and background of the image. Once you did that, FocoClipping will generate the result as you requested. Isn't that easy and convivence? Try FocoClipping today!
Features of FocoClipping Automatic Background Remover
FocoClipping uses smart AI tech to remove unwanted items from images with zero quality loss.
FocoClipping has an interactive user interface that lets you carry out all operations smoothly and quickly.
It supports advanced features like hair touch up, defining the edge, and refining the edge.
It can use the "Manual Remove" function to remove unwanted backgrounds or objects from pictures.
FocoClipping provides this service for absolutely free.
Guide to Remove Image Background Automatically with FocoClipping
To use FocoClipping to remove background or unwanted items from images, follow this step-by-step guide below:
Step 1: Insert an Image
Visit FocoClipping's official website and then click "Upload Image" bottom to select an image from your computer which you want to remove the background.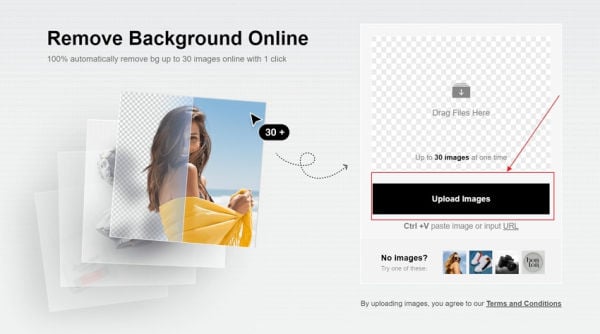 Step 2: FocoClipping Performs Auto-Clipping
After adding an image, the program will immediately use the smart AI tech built in it to remove the background leaving the object. Here is a picture of this step: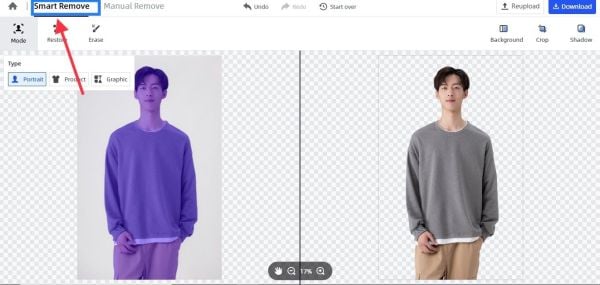 Step 3: Switch to "Manual Remove" for Manual Editing
In case you aren't satisfied with the result from using "Smart Remove", you can switch to "Manual Remove" to edit the image manually. Use the "Blue" brush to mark the object and the "Red" brush to mark the background. FocoClipping will use AI to make necessary adjustments.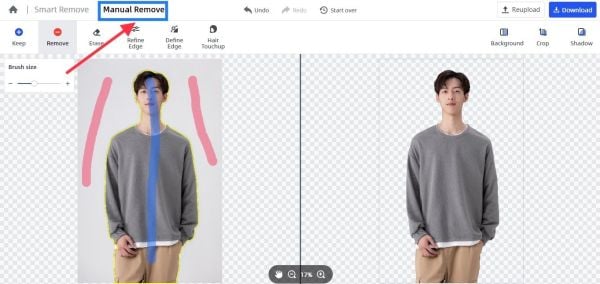 Step 4: Download Image
Once you are satisfied with your editing, click the "Download" icon at the top left corner of your screen to download the picture.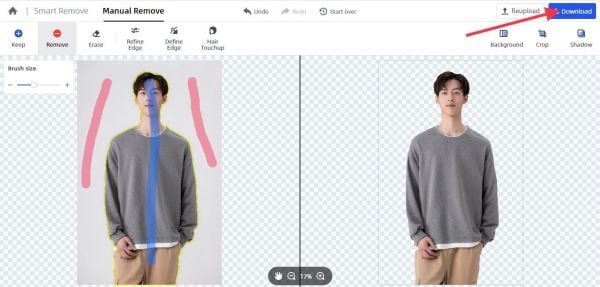 AutoClipping
AutoClipping is an online auto background remover developed to ease background removal processes. This handy program offers its services in free and premium versions. However, the free version comes with some restrictions like can not edit pictures manually. Manually editing can only be available by subscribing to the premium package.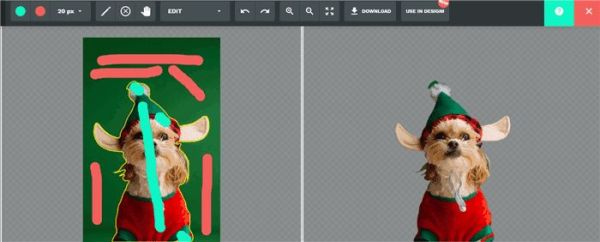 Pros
AutoClipping is built with smart AI tech to clip out those unwanted details or backgrounds from images
It is a handy program
It has rich editing features
Cons
You need to subscribe to a premium package if you want to use all the services the program has
There will be a watermark on images if you do not subscribe to the premium package
It may not accurate sometimes
Kapwing
Here is another open-source automatic background remover you can use to remove those unwanted detail from your images. The program has got loads of editing tools like resize, trim, rotate to edit your photos online.
Pros
It has loads of useful editing features
Kapwing is free to use
Kapwing has a clear user interface
Cons
You must be ready to edit your picture manually as its AI tech often provide results inaccurately
Kapwing requires users to sign in to their profile before use of it
Kapwing is not stable if your internet connection is weak
Befunky
Befunky is designed for novices and experts in the photography industry to solve those tiny details or items from images freely like removing backgrounds from pictures. It supports features like exposure adjustment, resizing, rotation, and many others that you can use when editing your images.

Pros
Befunky has a clear user interface
You can use the program to resize, rotate, and adjust images to fit your needs
It can remove backgrounds from images
Cons
It's not as handy as it appears
Befunky doesn't have a free trial
Befunky is quite complex
Fotor
Fotor is another great program that offers automatic background removal services. It is straightforward to use. Just go to the site and insert an image. Then wait for its result.

Pros
Automatically removes the background from images online
It has an interactive user interface
Fotor has the bulk processing tool
Cons
Only work great on PC
Files of Fotor are large
Few effects are free
Picsart
An amazing photo editing program with an interactive user interface. Piscart is built specifically to help you remove unwanted background from your images. It's a free tool and doesn't need to install to use.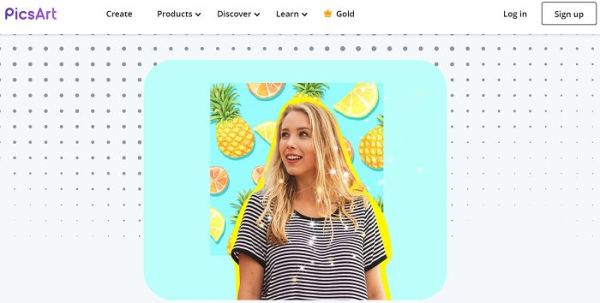 Pros
Remove backgrounds from images automatically with great quality
It's free to preview edited images before downloading
Piscart has many templates
Cons
No batch processing of images
The speed of operation depends on the network connection
You need to sign in before editing
Vance AI Background Remover
This is an AI-based program that supports the automatic removal of solid color backgrounds from images with zero quality loss and 100% free.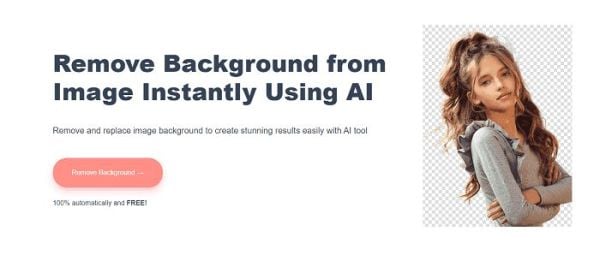 Pros
Used AI tech to remove background from images
It has a simple user interface
Users are allowed to preview edited images freely
Cons
There is no bulk process for multiple images
You need a stable internet connection
There are a few credits that are free
PhotoScissors
PhotoScissors is also an online automatic photo background remover. It's mostly used in e-commerce to edit product photographs before they are posted on eBay, Amazon, etc.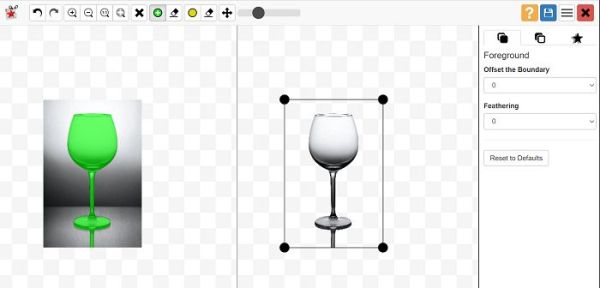 Pros
Perfect for e-commerce websites
Eliminates unwanted backgrounds within a few seconds
The website layout is straightforward
Cons
No way for you to use the manual editing feature
Inability to carry out batch processing
PhotoScissors can't process hair well
Canva
Canva is a handy program with lots of photo editing features. The toolkit gets rid of unwanted backgrounds freely and quickly without compromising the quality of your image. It removes complex details from the layers of your pictures with just a few clicks.

Pros
It's very easy to use
Canva erases backgrounds or complex details from an image using AI tech
There are several beautiful templates integrated into the program which you can select to design your image
Cons
You must pay a premium price to access all the aesthetic features of the program
The number of files you can upload is limited
Canva is not mobile-friendly, only great at PC
ClippingMagic
ClippingMagic is the last auto background eraser tool for this part. The program provides background removal and photo editing services for free. It supports batch processing of multiple pictures and then gets results instantly.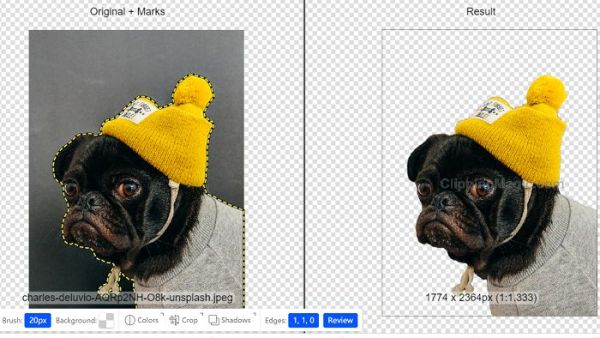 Pros
ClippingMagic is simple to use and has a high processing speed
No installation or registration is required from users
With just a few taps you can get rid of those solid color backgrounds from your image
Cons
The program has some features that aren't free to use
ClippingMagic can't edit multiple images at the same time
ClippingMagic have a minimum size of images
Part 3: Top 5 Automatic Background Remover Free Download [Desktop Software]
Listed below are the best 5 automatic background removers that you can install on your Computer:
Wondershare Fotopire
Wondershare Fotophire provides a great background removal service on graphics and portrait images. It processing at a high speed.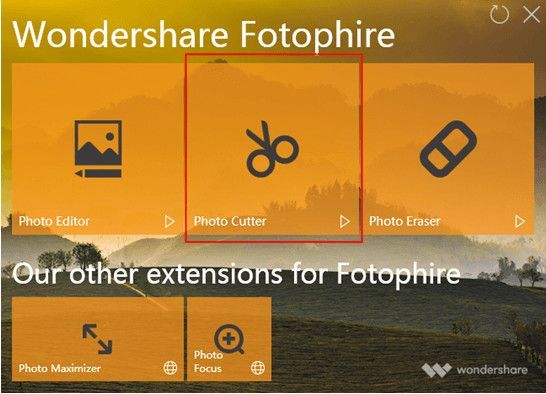 Pros
The software has an intuitive user interface
Both Windows and Mac are working fine with this
Wondershare Fotopire have a lot of editing tools
Cons
Hair strands lost during editing can't be restored
It takes time to generate results for manual editing
Wondershare Fotopire must be installed on the PC before it can be used
GIMP
GIMP is an intuitive photo editor that lets you erase or replace the background of an image using the automated or manual mode. Not only background removal services but GIMP can also be used to remove tiny details such as hair. The software can be installed from both Windows and Mac OS.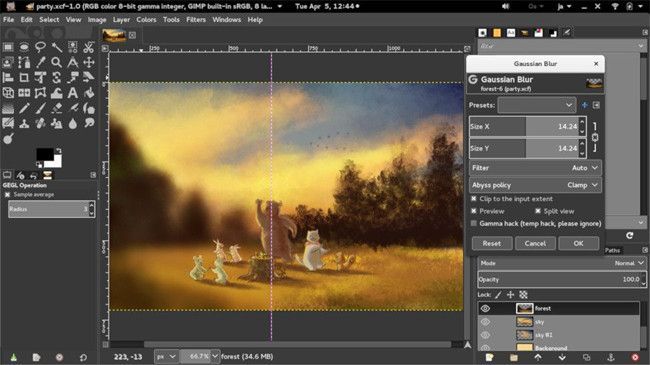 Pros
Works perfectly on all platforms
It has a user-friendly interface
GIMP removes backgrounds from images with no quality loss
Cons
Unless you are an expert, GIMP isn't as simple as it seems
Limited editing features
GIMP doesn't support vector graphic
Photoshop
This is a professional software used by photographers and graphics designers worldwide to adjust their images to fit their needs. Photoshop can also be used to remove the background. Because of the professionalism of the tool, you must practice a lot to easily operate it.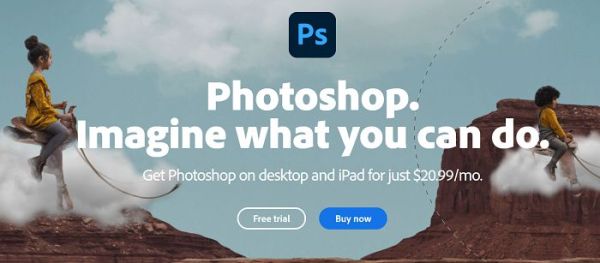 Pros
Photoshop can be used to edit images and graphics within a few seconds
It has lots of editing tools
You can use it to create amazing designs such as logos, business cards, and many others
Cons
The user interface is complex
You must be subscribed to a premium package to use its service
Linux PC owners can't use the software
Movavi Photo Editor
Movavi is an automatic background eraser tool that allows its users to remove backgrounds from photos. It has a clean user interface with amazing editing features.

Pros
Movavi have many useful editing tools
Movavi is effective for removing backgrounds from images
It's compatible with Windows and Mac OS
Cons
It's not so easy to use
The features are too professional
The interface of Movavi can not be shrank
Photo Background Remover
This is a powerful photo editing software with a background removal feature. Photo Background Remover uses AI in all its operations, both the manual and automatic modes.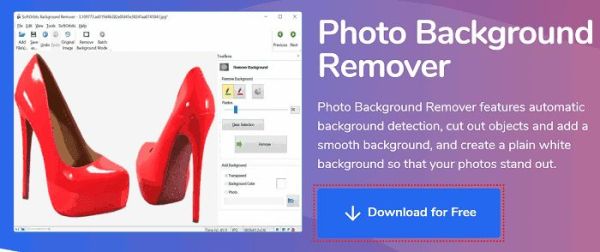 Pros
It was AI integrated during the development
It can let you choose between auto and manual clipping mode
It has a simple user interface
Cons
It can only be used in Windows OS
You need to subscribe to a package to use this tool
It's not perfect for product and graphics type of pictures
Part 4: Top 5 Free Automatic Background Remover App
You can find the top 5 free automatic background remover apps that you can use on smartphones below:
Simple Background Changer
Just as the name implies, Simple Background Changer changes the background of an image into various forms including opaque, transparent, and white. This Android app gives you control over the background of your photos.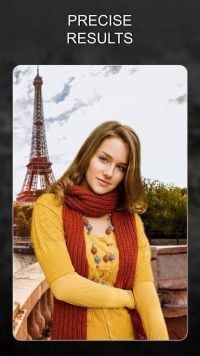 Pros
Simple Background Changer has an interactive user interface
It can transform opaque objects into a transparent one
It can remove background quickly
Cons
iOS users cannot use this software
You cannot use it to edit your images
It contains too many ads
Pro KnockOut
Pro KnockOut is designed for iOS users to remove unwanted backgrounds from images. The app can help you with both background eraser and photo editing. Then, you can save your photos in either PNG or JPEG format.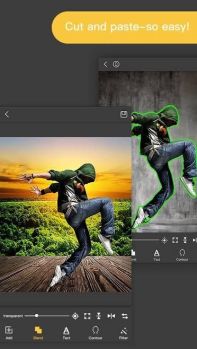 Pros
Supports several image formats
It changes image background with high quality
Edits and removes photographs regularly
Cons
The editing features are limited
Payment is required to use the service properly
Sometimes it's not accurate
Apowersoft Background Eraser
This is a cross-platform photo-editing application that supports the background removal from images. Apowersoft Background Eraser performs both auto and manual clipping without compromising quality.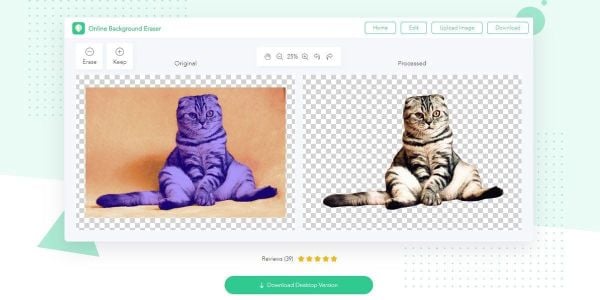 Pros
It supports both manual and auto clipping of backgrounds
It is simple to operate
It can be used in both Android and iOS
Cons
Subscription is required to use this tool
Apowersoft Background Eraser must be installed before it can be used
It offers its service at relatively high price
Pixlr
Pixlr is another automatic background removing tool with an interactive user interface for you to easily operate. It is an AI-based app that provides the automatic removal of backgrounds with just a few clicks.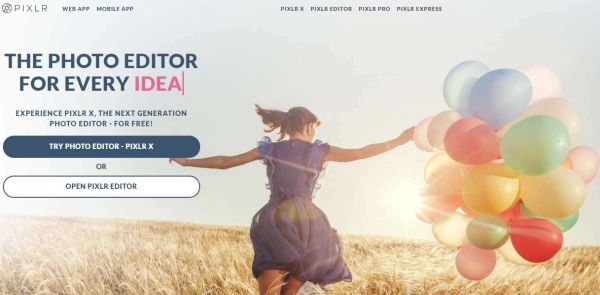 Pros
The app can be used on both Android and Mac OS
The user interface is simple and quick
It offers a free trial
Cons
You have to subscribe to use all the functions of the application
It's had a slow process speed
It doesn't offer a lot of editing tools
Malabi
Lastly, we have the Malabi app. This app is handy and has a fast-processing speed. It lets you create transparent backgrounds from images conveniently.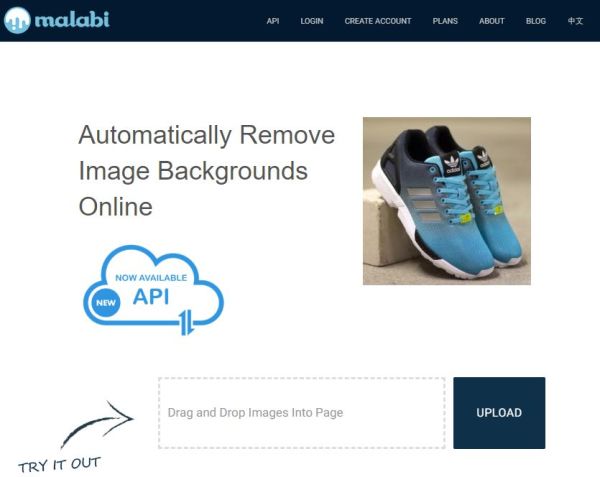 Pros
You can use both manual editing and auto clipping
Malabi has an intuitive user interface
Malabi is easy to use
Cons
Malabi works on both iOS and Android
It's a subscription-based application
It is not stable sometimes
Conclusion
In summary, these 20 AI-enabled automatic background removers are the best you can find on the internet. Just don't waste your time searching for more tools! In case you get confused about what toolkit to use amongst the list, FocoClipping is recommended as it is the most versatile of all the programs. Try it out now and see the magic on images.