Does anyone know about image eraser tools to erase objects or backgrounds from photos?
People want to use image eraser tools to edit their photos for various reasons. It doesn't matter if it's for professional or personal use; sometimes it's important to use a background image eraser free without having too much trouble. So we have gathered the best 5 image eraser tools for you that can be used by anyone without any complications. Erasing background from images is not a very complicated task if you have the perfect tool to do so. If you follow this article properly, you'll find multiple options that can help you in this task easily. So let's dig into the details, shall we?
Part 1: Best 5 Image Eraser Tools Review
There are many image eraser tools available for both online and offline use. To clear all the confusion, we have gathered all the best 5 image eraser tools that can remove background or unwanted objects from a photo without breaking a sweat. From advanced to simple usage, you can use these tools for any kind of erasing task any time you want.
Among all the online image eraser tools available in the market, FocoClipping tops the list because of its advanced AI algorithm and realistic photo editing features. It's a high-quality photo editing online tool that can be the perfect image eraser tool for you. Though the user interface is user-friendly and it gives a simple vibe, it has some major photo editing features that can make your photos look really professional. With proper guidelines from us, you can use this intriguing online tool to erase background from your photos without facing any complications.
Key Features of FocoClipping Image Eraser
It uses an advanced AI algorithm to remove background of an image.
It can detect multiple people or objects in an image without any problem.
It can help you to separate smaller details of an image when editing.
By keeping the edge details of every object, it can make your photos look good.
It's built-in filters and effects to enhance photos.
Detailed Guide to Use FocoClipping to Erase Image Background:
Step 1: First you need to visit the FocoClipping website from your computer browser and you'll find an interface like below. Then click on the "Upload Image" button that will open your file manager to browse and select the desired image. After selecting the image, it will be automatically uploaded to the system.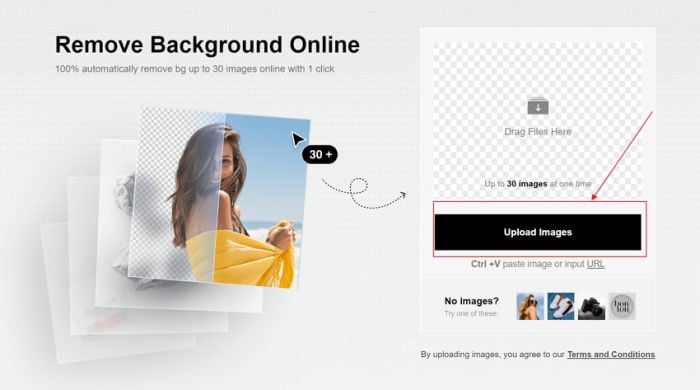 Step 2: After that, you'll get to an interface like below, where you'll find a preview of both the original and automatic background removed version of the image. This automatic background removal was done by the smart AI system of FocoClipping.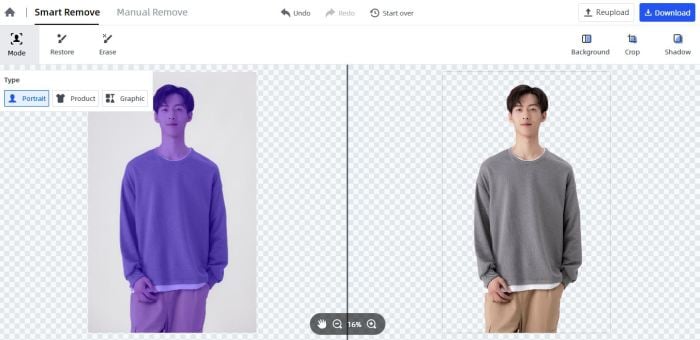 Step 3: Now you can check if the image needs any manual editing or not. If needed, then you can use the "Manual Mode" tab to go to the manual editing process. Use the Keep, Remove, Erase, Refine Edge, Define Edge, Hair Touchup, etc. tools to precisely edit the image into its final version. You can also add a background, crop the image or add a shadow into it from the options available in the system.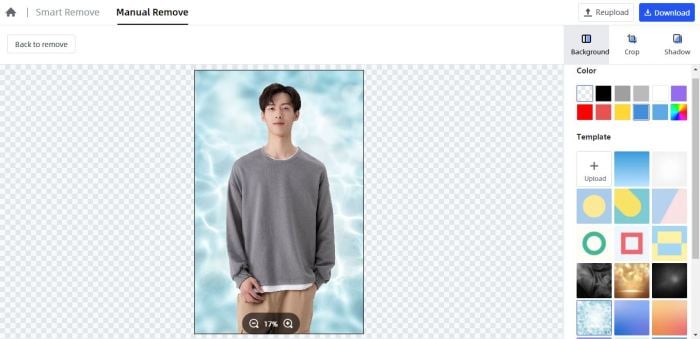 Step 4: Finally when the image is ready to download, simply click on the "Download" button to download the image to your computer. When you click the download button, you'll get to choose the "PNG" or "JPG" format of the image. Choose your desired file format and the image will be successfully downloaded within seconds.
PicMonkey is an online image eraser tool that can help you to remove background from images easily with its image erasing feature. This online tool also has automatic background erasing system that can remove backgrounds from an image easily. This allows you to create great professional-looking photos that look really great. You just have to convert the photo into a layer and remove the background by selecting the layer in one click.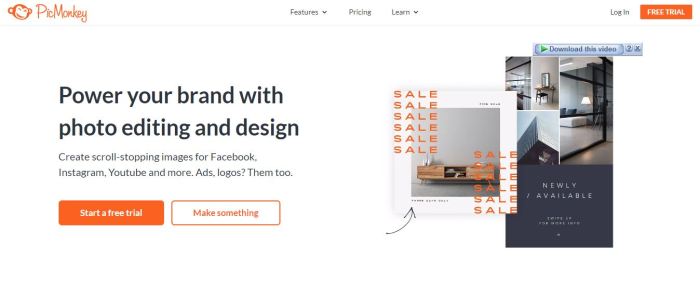 Features:
Interesting photo editing features to enhance your images.
It can help you to create great Facebook and Instagram posts, ads, cover images, etc.
It can help you to build your brand with various branding tools.
Platform: online website, iPhone, and Android OS.
Price:3 packages Basic: 7.99$, Pro: 12.99$ and Team: 33.99$.
Photoshop is a famous photo editor for professionals. It can be a great image eraser tool for you if you can handle the vast amount of features it can offer. With so many options, Photoshop is one tough tool that can be handled by pro users only. So maybe all these features and advantages of Photoshop are praiseworthy but you need to practice or follow some tutorials to learn to use the tool for editing an image. Photoshop can also help you to make your photos into paintings, design illustrations for creating great images.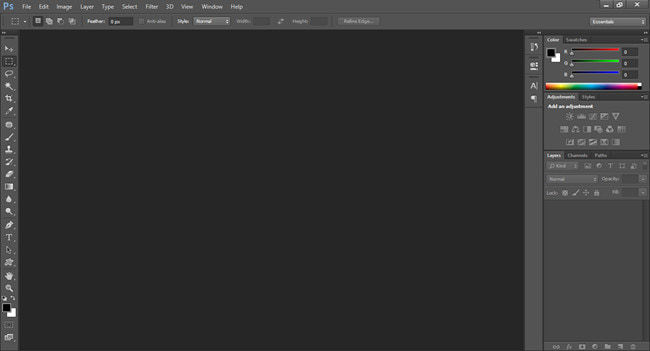 Features:
It has many advanced tools and built-in templates.
It can help you to erase or change the background of an image by using the "Pen" or "Quick Selection" tool.
It offers advanced brushes for getting smooth curves and lines in an image.
Platform: Available for Windows and Mac OS.
Price: 3 packages available Annual plan: Paid monthly US$20.99/mo, Annual plan: prepaid US$239.88/yr, Monthly plan: US$31.49/mo.
Photo Background Remover is a really helpful tool that allows users to easily erase any unwanted object from an image and paste it to another image without messy edges. This amazing app is preferred mostly for editing product-based images so they can be used for listing them on various e-commerce sites online. This simple and easy-to-use background eraser tool has the watermark feature to brand your images. It has basically 2 modes for detecting the background area that you need to remove, and then the tool allows you to choose the right one.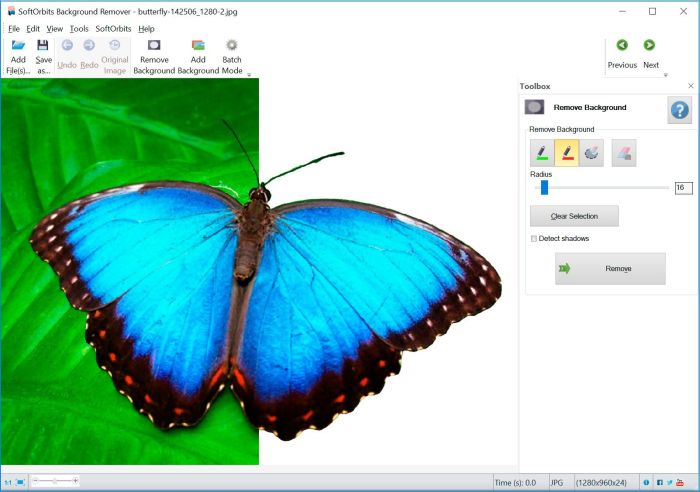 Features:
It has a batch operation tool to process multiple pictures at one go.
Automatic background detection helps to remove the background easily.
It allows editing pictures with a simple cut and pastes process.
Platform: Available or Windows OS.
Price: 2 packages Personal: 11.99$ and Business: 24.99$.
GIMP is a simple image eraser tool that can clean or remove the background from any image. It allows users to customize its interface for fitting their image editing needs. It has many different kinds of features that will help you to make your images look better than ever before and to fill your needs.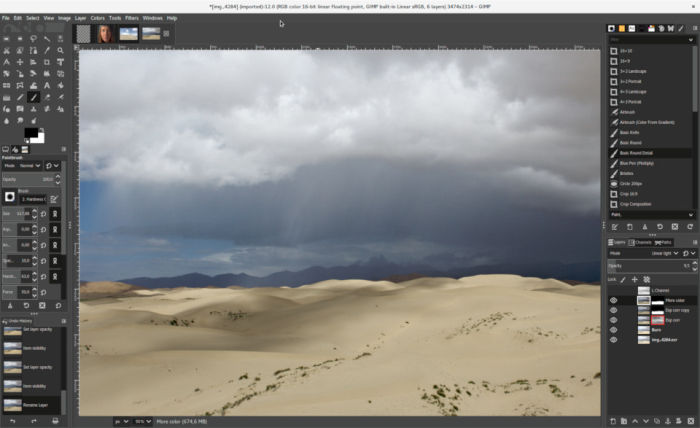 Features:
It comes with scripts and plugins.
It has a digital retouching feature that erases unwanted details from the picture.
It helps you remove barrel distortion from your pictures.
Platform: Available for Windows, Mac, and Linux OS.
Price: Free to use.
Part 2: Practical Image Erasers Tips to Make your Images Perfect
The best way to make your images perfect is by using a good-quality image eraser if there is anything wrong with the background. Also, there are some other factors that you must keep in mind if you want to make your images perfect. So we will provide you with some tips that will help you in this process.
Here is a list of 5 practical tips related to erase images to make images perfect.
You must work with layers because that makes the image easy to edit.
You should keep the original file format intact so that the image quality stays the same.
You should make sure that while resizing your photos, you must maintain the image quality.
Always try using advanced options to remove messy backgrounds.
Blurry and out-of-focus pictures are never nice at all, so make sure you fix those issues to get a nice result.
Conclusion:
The bottom line is, the best way to fix your image and make them look great is by using an advanced image eraser that can provide you good results. So FocoClipping can be the best choice as an image eraser online free. All the 5 background image erasers listed in this article are top class but you still need a nice and easy-to-use tool for getting your work done without any hassle. FocoClipping offers you both easy-to-use features and advanced options so that you can get your work done easily.