What Is Photo Background Remover?
Looking for the best photo background remover for your photo erasing services? Then look no further as you've just navigated your way to the No.1 tech website that shares the latest info regarding photo editing software, especially background erasers.
It's so appalling to search each background remover you find on the internet to see which is perfect for your job. However, Besides the stress of searching, it's also time-wasting. For these reasons, we've researched on the web with experts in the industry to see which tools are best for the removal of unwanted backgrounds from pictures. We obtained several tools from our research and going to share with you the best 10 of them for the year 2022.
Part 1: Best 10 of Photo Background Remover for PC and Mac Users
As previously mentioned, this article will introduce you to the best 10 photo background removers in 2022. However, this list was segregated into two categories; based on their compatibility (Mac compatible and Windows compatible).
Best 5 Photo Background Remover for Mac Users
There are many photo background removers available for Mac users. But we are introducing you to the best 5:
Super PhotoCut
Super PhotoCut is a free photo background remover designed specifically for Mac OS. This app focuses on removing backgrounds in images and doing this with zero quality loss. This tool supports over 20 background effects that you can apply to your images to make them look attractive. You don't have to be such a tech guy to operate this app as its layout is quite straightforward. However, Super PhotoCut also has its setbacks. Except for the background removal service, this software doesn't offer any other services like the removal of unwanted subjects or other features. Although the app supports AI tech, the process is slow so users need to wait minutes before getting results.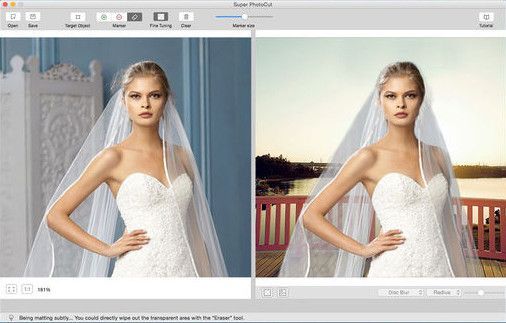 Pros
This service has a simple and clear user interface
It supports over 20 background effects such as Disc Blur, Gaussian Blur, Box Blur, etc
There is a manual editing mode for you to edit complex images
Cons
Any operations lost while editing can't be recovered
The software works only on Mac OS
It doesn't support bulk processing
GIMP
GIMP is another handy tool that provides background removal service on Mac OS for free. It's built with several removal tools like the eclipse select tool, rectangle select tool, fuzzy select tool, and free select tool. GIMP also supports countless customized templates that you can use to design your image backgrounds after erasing the previous background. One major problem with this tool is the complexity of it to remove unwanted backgrounds.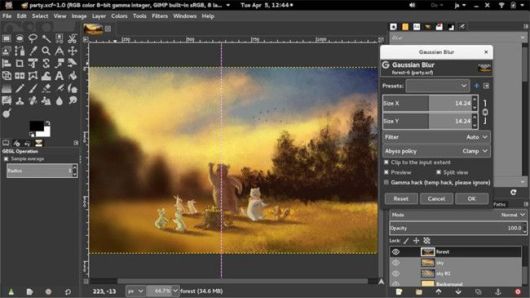 Pros
It works smoothly on Mac OS
You don't have to be a hardcore tech guy to use the software
GIMP supports several templates that you can use to customize your image background
Cons
Some features of the app are less intuitive
It has floating panels
You can't use it on graphic designs
Acorn6 Image Editor
Acorn6 Image Editor is a simple yet professional software that allows you to erase the background of an image by using the magic wand selection tool. You could also use the instant alpha eraser tool for this purpose. The software lets you create photo collages, add texts, and shapes to images, and lastly create designs from scratch.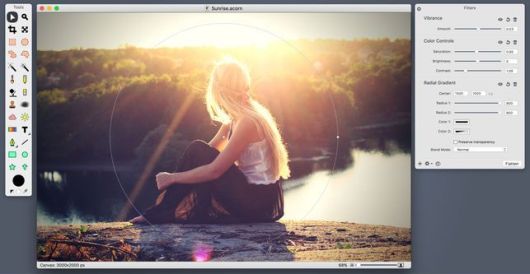 Pros
It lets you merge images using photo collages
Design images from scratch with high quality
The user interface of this software is intuitive and clean
Cons
It doesn't have the refine edge feature
Complex images can't be edited on this software
Acorn6 Image Editor must be installed before use
Fotor Photo Editor
Fotor Photo Editor lets you adjust images to your satisfaction. With just a few clicks, you can remove backgrounds from photographs, or add wonderful effects, artistic filters, emoji, and texts. You do not need to be an expert before you can use this software. It works perfectly on Mac OS.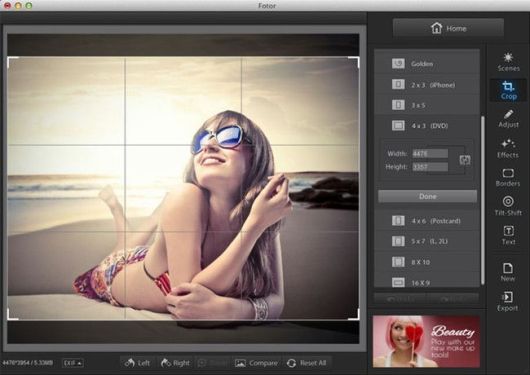 Pros
Easily remove background from images with just a few taps
Compatible with Mac OS
It has a clean web-layout
Cons
You must subscribe to a premium package to use all features of this software
Fotor Photo Editor doesn't give rooms to edit product photographs or graphics
You must install the software to use it
Movavi
Lastly, we have Movavi photo editor as one of the best software that can remove backgrounds of photos on Mac. This app has got lots of incredible templates that you can use to replace your image background after erasing the current one. Movavi supports the direct sharing of images on Facebook, Twitter, and several other platforms.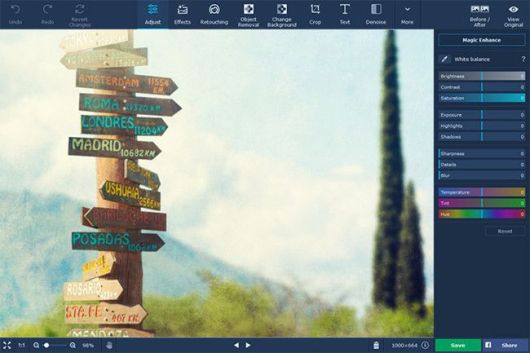 Pros
Movavi has an interactive user interface
It can share images directly to your social media channels
Replace your image background with colorful templates
Cons
It supports limited editing features
There is no way for you to recover lost hair strands
The principle of operation is complicated
Best 5 Photo Background Remover for Windows
We just listed the best 5 photo background remover software for Mac, comparably we provide other 5 for users with Window OS.
Photo Background Remover
This Windows OS photo editing software provides background removal services for images like portraits and products. Besides it also provides designs service. It has an interactive user interface so users often find it is easy to operate. You can use this software to create slideshows, add elements, crop, and transform image backgrounds.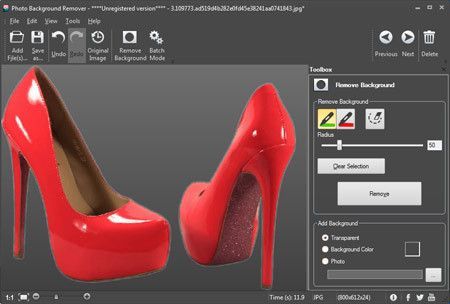 Pros
Erase the background of a photograph with premium quality
Create amazing slideshows and add elements to your images
You don't need to register an account to use the software
Cons
It doesn't support the 'Refine Edge' feature which is required to adjust the rough edges of images
Unless you cancel your current subscription plan, the service automatically renews without notifying you
Photo Background Remover can't be used on Mac OS
Wondershare Fotophire
Another excellent photo erasing software that you can use to remove background from photos is Wondershare Fotophire. This tool is also useful in photo editing as it has a lot of editing features such as frames, filters, effects, and many others. You can use it to balance your image saturation, quickly rotate and cut your photographs without worrying about the quality with Wondershare Fotophire. Furthermore, this software can also be used to create amazing slideshows that can be shared on various social media platforms.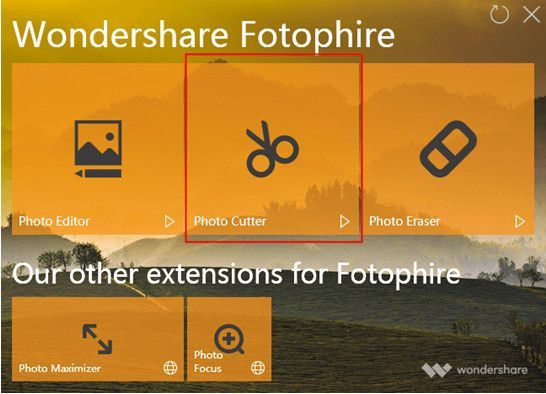 Pros
Simple user interface
The free version of the software doesn't support watermark
This software can add frames, filters, and lovely effects to images
Cons
The subscription plan is fixed
Mac and Linux users can't use this software
Wondershare Fotophire required a large memory space
PhotoScissors
PhotoScissors is another groundbreaking software that Windows OS users can use to get rid of unwanted backgrounds from images. This software has rich editing features that you can use to improve your pictures to make them look attractive and mind-blowing.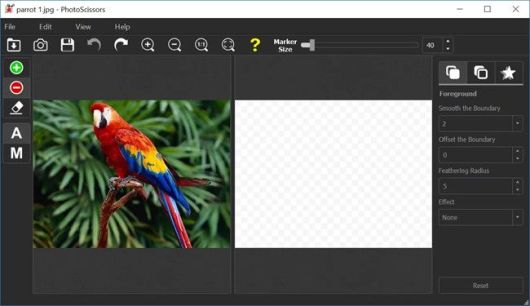 Pros
PhotoScissors offers a basic package that is free for you to test its features before you subscribe to it
It's mostly used in the e-commerce industry
It can replace your image backgrounds with transparent
Cons
There is a restriction on the size of the file you uploaded on this software
Unless the resolution size of your image is 10MB, you can't upload it on PhotoScissors
The manual bg mode takes time to generate results
Photoshop
Photoshop is multipurpose software used for photo editing, graphics designing, etc. This tool supports removing unwanted backgrounds from images. Also, you can use it to merge different images or cut out their portions without compromising their quality. In addition, you can use Adobe Photoshop to quickly create stunning designs for your website.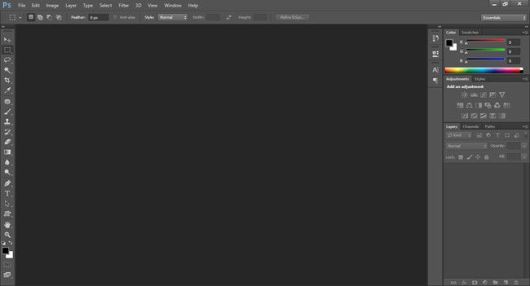 Pros
It can remove background and make necessary adjustments to your images
Works perfectly on all platforms
It can be used to create stunning designs such as logos, business cards, and other graphics
Cons
You must practice as often as possible so you can operate it
Adobe Photoshop requires its users to subscribe to a premium package to access
The subscription plan is way too high compared to other software
Auto Background Eraser + Changer
Quickly remove backgrounds from images with Auto Background Eraser + Changer app with no stress. The mode of operation is simple. All you need to do is add an image from your local drive, edit it, and then export it. You can also share the image online with your friends via social media platforms. Furthermore, you can also restore an image to the default form.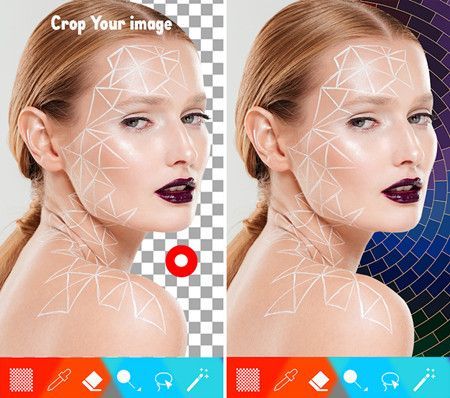 Pros
The app is simple to use since it has an interactive interface
Crop, trim and add elements to your images using the built-in editing features
All edited images are shareable on your social media
Cons
There is no hair touch up and define edge features
The manual editing feature is slow and inaccurate
It supports just a few templates to replace the background of images
Part 2: Free Online Photo Background Remover Without Downloading Software [Highly Recommended]
FocoClipping is an incredible photo editing program with outstanding features that supports background removal. It lets you separate the object of an image from the background with ease. This program uses AI tech in the auto clipping and manual removal of backgrounds. Just add an image to the web interface and then wait for the AI algorithm to execute the task and then generate the result. FocoCipping supports editing features like adding effects and backgrounds, refining and defining edges, hair touch up, and many other features. It can be used in many fields such as e-commerce, product photography, graphics design, and more. To use FocoClipping, you don't need to download or install the program on your devices. Which means you can use it anywhere around the globe.
Key Features of Online Photo Background Remover- FocoClipping
Supports hair touch-up, refine the edge, and define edge features.
FocoClipping uses smart AI tech in the process of removing unwanted backgrounds or subjects from an image.
There has a manual editing feature for you to fix images with complex details.
This service provides over 300 customized templates that users can use to replace or transform their image backgrounds.
FocoClipping has a simple and intuitive web layout.
Easy Guide to Use Online Photo Background Remover- FocoClipping
Here is an easy guide that you can follow while using FocoClipping to erase your image backgrounds:
Step 1: Enter FocoClipping Webpage
Go to FocoClipping.com, click the "Upload Image" icon, and then select an image to edit from your local drive.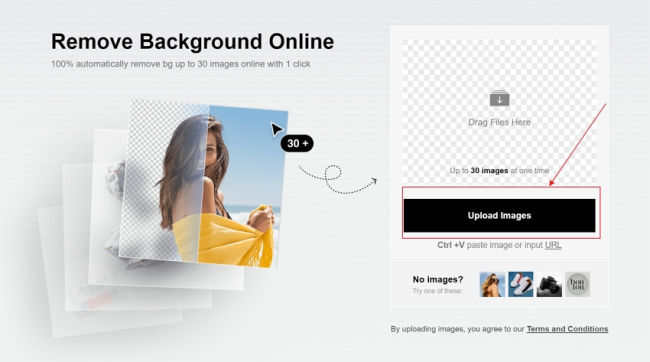 Step 2: Auto-Clip the Background
Now you have an image to remove backgrounds on the program. The built-in AI feature will immediately discard the unwanted background leaving the object.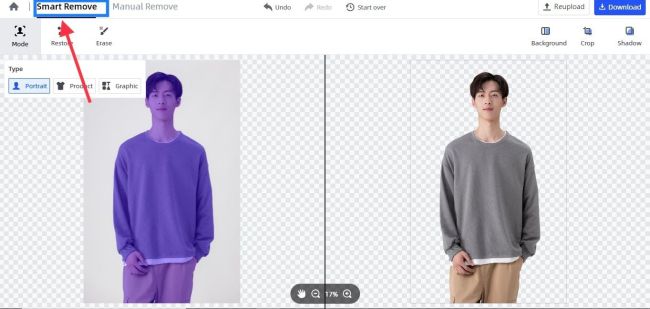 Alternatively, you can use the "Manual Remove" feature. Just click the icon "Manual Remove" found beside "Smart Remove" to activate the manual editing mode. Use the "Blue"or"Red"colors to"keep"and"remove"respectively.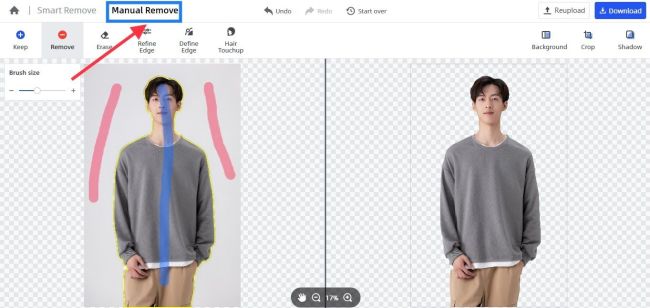 Step 3: Download Image
Once you have done removing the background of your image, the next thing to do is to download it. Click on the"Download" tab at the top right corner of the program to do this.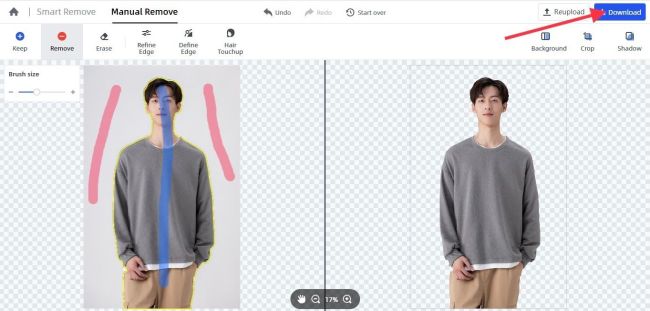 Conclusion
With the 11 photo background removal services (10 installable programs and 1 web-based program) provided in this article, the removal of unwanted backgrounds should come with ease. All the programs introduced are top-notch and cost-less. You don't have to be a Tech Hecker to operate it.
For the best quality and processing speed of your work, we recommend FocoClipping- an online photo background remover. It's simple to use, processing quickly and free. This program allows you to perform numerous magic tricks like removing backgrounds, objects, or subjects of an image. After that, you can also use the hair touch-up feature to recover lost hair.