I want to remove objects in the background from some of my photos. Can anyone suggest to me some good photo object remover online?
Removing objects from photos is not rocket science. It's a common thing to do if you are a photo editor or someone who just wants to remove objects from photos for personal use. Many eCommerce websites also use background object remover to remove objects from product photos. So if you are in the same situation, a good photo object remover online can help you out easily. In that sense, we have gathered the best 5 online photo object removers for you in this article. With the help of the online object remover from photos, you can fix your problem of object removal in no time. Read this whole thing and you'll know which one suits you the best.
Part 1. Top 1 Awesome Photo Object Remover Online Review
If you are searching for the best photo object remover online, then FocoClipping can beat all kinds of online photos editors available in the market. It's an excellent online photo object remover that will help you to remove any kind of unwanted object from as many photos as you want in a few simple clicks. It has an advanced AI algorithm system that allows it to adapt each time with different images. It offers various editing options for different types of photos. So if there is one photo object remover available online, it's FocoClipping for sure!
Core Features of FocoClipping:
It can easily remove the whole background of a photo in a single click by using a smart AI algorithm.
It can detect multiple objects/people in a single photo and remove the unwanted object easily.
It keeps the edge details of the object that you want to keep after removing an unwanted object from a photo.
It allows users to use various filters and graphics to enhance images.
It has a manual removal option to remove objects from complex photos.
Tutorial to Remove Unwanted Objects from Photos Online by FocoClipping:
Step 1: Open the official site of FocoClipping on your computer browser. You will see the following homepage on the screen. Click on the "Upload Image" button. Now, browse the file manager of the computer drive, select and upload the image you wish to edit.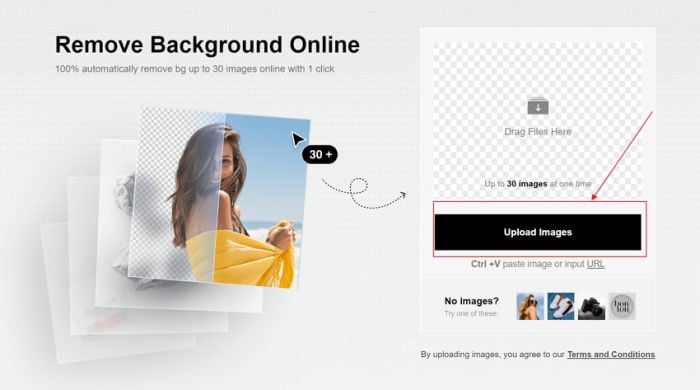 Step 2: Now wait till the image is processed by the system within a few seconds. You'll see that FocoClipping has already removed the background from your image by using its AI smart system. It's called the "Smart Remove" mode.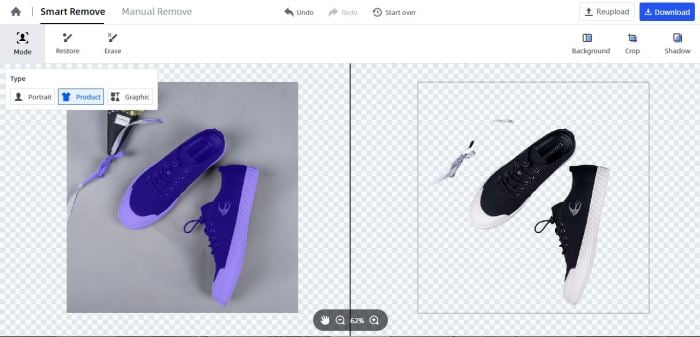 Step 3: The background is removed from your image but there is still some unwanted object left in it. So you need to click on the "Erase" option from the top of the window and wait till the page loads properly. When the page is loaded, use the erasing brush to wipe out all the leftover objects.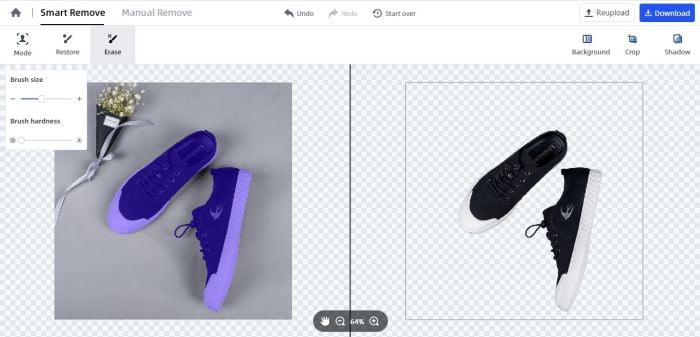 Step 4: Now you can also use the "Background", "Crop" and "Shadow" options to edit your image if you want. Finally, your image is ready for download. Just click on the "Download" button and you'll get options to choose for the file type. Select your desired file type and download the image to your computer.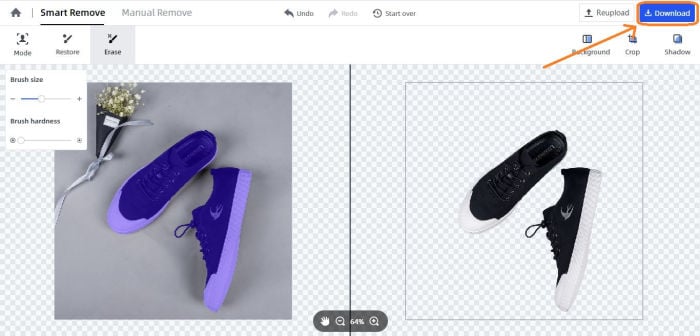 Part 2. Other 4 Photo Object Remover Online Recommendation
Though FocoClipping is your best choice as an object remover from photo online, there are some other online tools that you can use as well. In this part, we are going to introduce you to 4 other online object removers from photos that can help you finish the task properly. Let's look into the details to know more about them.
Inpaint is a great online background object remover that can remove objects from a photo. It's really easy to use this tool and it has some great features that can help you out. If you are frustrated about some unwanted object in your photo, it can magically remove that object by using advanced technology.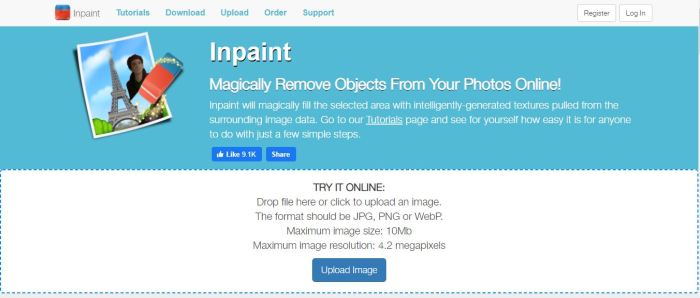 Features:
Magically remove objects from photos from selected areas.
It has higher restoration quality with the Inpaint algorithm.
Highest 4.2 megapixels image size or 10 MB file size limitation.
Price: Free to use online.
Fotor is another good-quality online photo object remover that will allow you to remove objects from photos by using its clone effect. It's free to use and it maintains original picture quality without using any filter or effects. It has some basic features but it's still a good object removal that you can use when needed.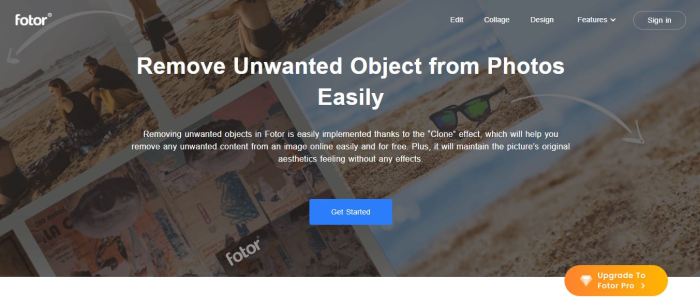 Features:
It allows users to use the clone effect to remove any unwanted object from photos.
It can maintain the original quality of the uploaded photos.
It can help you to revive photos that can be unusable for unwanted objects.
Price: Free to use online.
PicsArt is a very helpful photo object remover online available for various platforms. It has a fast and effortless way of removing objects from photos without causing you any trouble. It doesn't matter if it's a background issue, unwanted text, or a logo; there are many situations when you need to edit a photo to get the best result. PicsArt can help you to edit your photo and make it look more professional.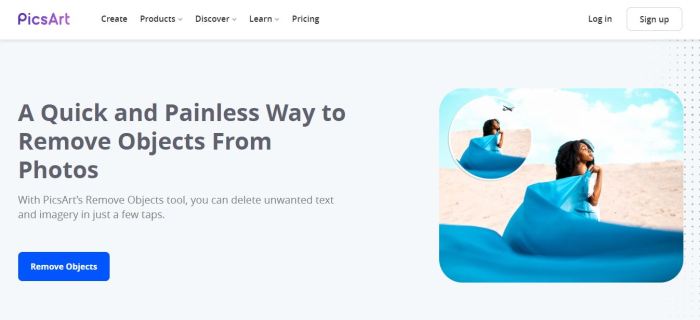 Features:
It has a "Remove Objects" tool that can remove unwanted objects from a photo.
It can help you remove unwanted text or logos from a photo.
It can remove objects such as bottles, dirty dishes, power lines, and buildings that could destroy a good photo.
Price: Free to use online.
LunaPic is another basic photo editing tool that can be a useful object remover from photos online. It has some basic features and a simple user interface. So any new user can handle all the options and simple object removal tasks with ease.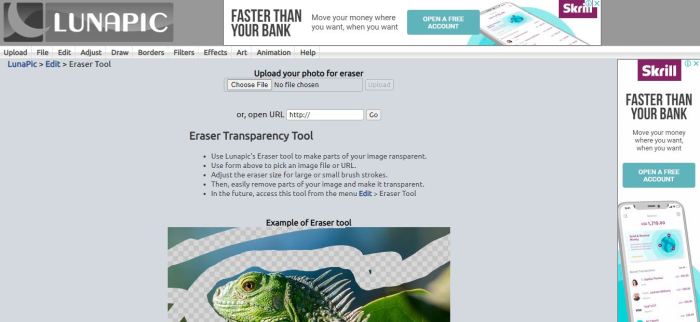 Features:
It has an eraser tool that can help users to make parts of a photo transparent.
Many filters and effects are available to make your photos look good.
Various editing features are available to edit your photos.
Price: Free to use online.
Conclusion:
To conclude this informative guideline, there are many photo object remover available online. If you are confused with so many options, reading this article surely has made you more confident about using a tool online. You can use any of these awesome 5 online photo object removers that can help you to remove any kind of unwanted object from a photo. But if you still consider our suggestion, then using FocoClipping can be the best choice for you as it has all the advanced features that you can use for editing photos.